Megatron took over the Hasbro Transformers panel this morning at SDCC and it was hilarious. From claiming to have rigged the Hasbro line at the toy shop for the Decepticons, to revealing new figures, it was one of the more clever ways to present a panel I have ever seen. The room cracked up every time he interrupted, and he even took over their Twitter account!
He was a nice Decepticon leader and gave us a ton of cool reveals in both the Last Knight lines and especially Generations. Starting with the movie line, we went in depth with how the Dragonstorm quick change figure was developed, and I had no idea how tough that figure was to get right. Honestly: that much effort put in makes me appreciate the quick change figures so much more than I did. The leader class one is even cooler, as he is changing into two separate robots in that form. Megatron then I interrupted again to make sure we saw HIS new awesome figure as well, to thunderous applause. Cogman, Bumblebee, and an amazing 2007 version of Optimus Prime rounded us out for Last Knight figures, and we were cooking.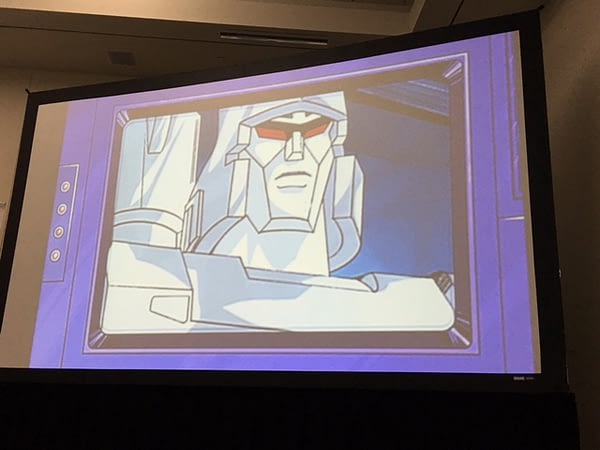 Generations was next, arguably the most fan-friendly line on the market right now. Power of the Primes will be the final part of the trilogy that began with Combiner Wars and continues with Titans Return. Liege Maximo with fit into Skullgrin Decoy Armor and also can ride around in an all-new Beach Comber!!! The Decepticon brothers Dreadwind and Blackwing are also on their way. Then, the three heavy hitters, to insane applause: a new Jazz, a more classic-looking Starscream, and finally, FINALLY, an amazing looking Rodimus Prime!!! Accurate to the oringinal animated film!! He's got the touch!!! Man I can't wait to get that one.
They also showed a short trailer for the Transformers Combiner Wars cartoon that has aired previously. That is only watchable on Go90, a platform I have never heard of. All in all, Power of the Primes looks like it will be a home run, and bring this trilogy to an epic close.
Enjoyed this article? Share it!