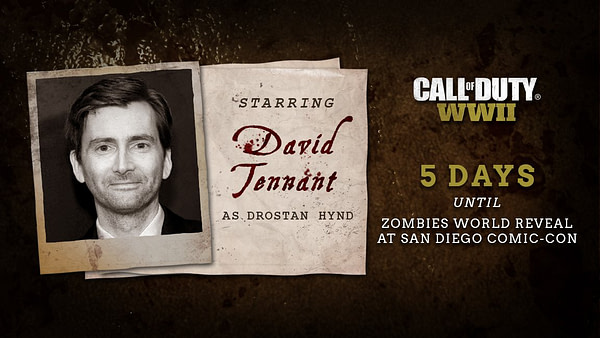 Call of Duty: WWII Zombies is getting its official reveal at San Diego Comic Con. Which is not to be confused with the game's actual reveal which happened by livestream way back before E3. The zombie mode is called "Army Of The Dead" which is actually pretty much exactly what we expected.
We don't know much about the game's zombie mode through official channels, other than the fact that it is indeed getting one. And apparently now the Tenth Doctor will star in it as Drostan Hynd. Yes, you've read that sentence and headline correctly. David Tennant is adding his considerable acting talent to a COD game. Specifically, a COD game's zombie mode and not its regular campaign voice cast.
Activision made the casting announcement on  Twitter, in a flagrant bid to get people to show up to their panel. Because who at SDCC doesn't love all things Tennant?
Only 5 days until the #WWIIZombies world reveal at #SDCC2017.

Introducing our first cast member: DAVID TENNANT as Drostan Hynd! pic.twitter.com/pA2YzUzkcl

— Call of Duty (@CallofDuty) July 15, 2017
So far, the only official details we have about COD: WWII Zombies is that it will give us a new take on the tired trope that is Nazi zombies. However, if you are into rumors and leaks, the Zombies trailer leaked on 4chan and reddit ahead of the con. That trailer has since been removed, for obvious reasons.