War for the Planet of the Apes
{{ reviewsOverall }} / 10
Users
(0 votes)
War for the Planet of the Apes is an extremely satisfying conclusion to one of the best trilogies that has come out in recent years.
Director: Matt Reeves
Summary: After the apes suffer unimaginable losses, Caesar wrestles with his darker instincts and begins his own mythic quest to avenge his kind.
It's kind of amazing that a studio like 20th Century Fox looked at the plan for the three Planet of the Apes sequels and signed off on them. These three movies are nothing like the big budget blockbusters that we've come to expect from the summer months, and the fact that not only do they work, but they work like gangbusters is nothing short of a miracle. The first two movies were great, but this final installment is something new all-together. While the marketing has been pushing the "war" aspect of this movie, the reality is something much slower and meditative. There is a war and when the fighting is happening it's fantastic but that's not what the movie is actually about. What we're looking at is two different people desperately trying to survive, and while some movies like to make both sides seem at fault, War for the Planet of the Apes doesn't do that. One side is good, the other is bad, and the time for nuance was two movies ago.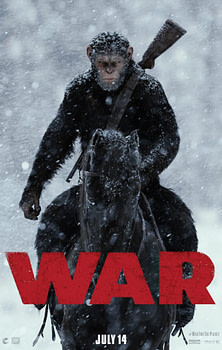 In this case the nuance isn't who the good and bad guys are but more how all of this is going to come to an end. We are reaching the end of Caesar's (Andy Serkis) journey and now he's faced with becoming as ruthless as the men trying to kill him. There is no subtlety when it comes to the humans in this movie; they seem to have adopted fascism and skinhead culture, and in a series of twists, we find out just how far they are willing to go to maintain superiority over the apes. With the scene of the humans forcing the apes to work and the idea of rebellion and equality between species, there are some very direct parallels being drawn here to how the humans treat the apes compared to how white men treated people of color — though specifically African Americans — before slavery was abolished.
The things that worked in the previous movies all work here but the fact that this so confidently goes through entire sections where characters who can't speak sign to each other like it's no big deal is rather astounding. It doesn't seem like something that would fly in this modern era of filmmaking, but it does. We can have our crazy action scenes of apes battling humans but we can also have slower moments such as every interaction with the character of Nova. Amiah Miller steals every scene she's in and has a charisma and kindness that comes entirely through her eyes. It's a tough performance and Miller makes it look easy. The entire cast makes all of this look easy from Woody Harrelson effortlessly becoming a terrifying villain to Serkis acting circles around people in a motion capture suit. This is one of Serkis' best performances and it's a crime that he's not going to get the recognition he deserves for it.
War for the Planet of the Apes is a miracle movie but it doesn't seem aware of how amazing it really is. It confidently moves from set piece of set piece like it's no big deal, when in fact it's a huge deal. This series believes in its audience and knows that they are smart and patient enough to enjoy slow-moving moments. That kind of respect for the audience is hard to find in a blockbuster season that wants to throw everything at the wall and see what sticks. War for the Planet of the Apes knows what it is, what it wants to do, and accomplishes it all beautifully. One of the best of the summer of not the year and absolutely recommended.
What people say... Leave your rating
Order by:
Be the first to leave a review.
Show more
← bottom