Tranaformers: The Last Knight
{{ reviewsOverall }} / 10
Users
(1 vote)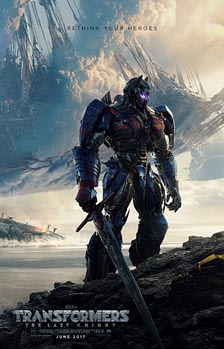 Transformers: The Last Knight is nothing more than an incoherent mess of a movie, with a plot that makes no sense and action scenes so all over the place you can't follow them.
Director: Michael Bay
Summary: Humans and Transformers are at war, Optimus Prime is gone. The key to saving our future lies buried in the secrets of the past, in the hidden history of Transformers on Earth.
The Transformers movies have never been great. In fact, they actually seem to be getting worse. While Age of Extinction was slightly better than the previous two by virtue of having robot dinosaurs, it was still a mess. There were hopes that the series would make a change for the better the same way that the Fast and Furious movies did, but that is not the case. That is not the case at all.
The Last Knight is such a mess of a movie that it is impossible to spoil, because days later the plot still doesn't make any sense. Instead of getting bogged down with action scenes and product placement, this might be the first time in the series where the movie gets bogged down by its own mythology. This is is a world where you're expected to believe it's possible to cover up centuries of giant robots being around.
There are many things that have been lost to time, but the idea that the Transformers have existed since the Dark Ages and no one bothered to ever write it down is just stupid. It's stupid in a way that even these movies can't write their way around, when they aren't contriving reasons to get one of their female characters in a tight black dress and a push-up bra. They try to hang a lampshade on it, but by doing so they just draw attention to it.
Then they have Cade (Mark Wahlberg) mansplain Arthur C. Clarke's third law of science fiction to a woman with a graduate degree while bragging about his lack of student loans. This is after Cade meets a Latina woman for the first time and calls her "J-Lo" — because that is what counts as a joke in this world.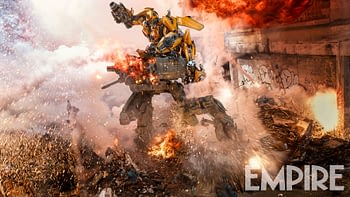 The big "final battle" features some amazingly infuriating moments like a character inserting herself into the battle in the dumbest way possible, and the movie seems to think acknowledging how dumb that is counts as a joke. There are piles of disposable characters whose names you won't remember five minutes after the movie starts. There are C-3PO and BB-8 knockoffs so blatant you have to wonder when Disney and Lucasfilm are going to jump in and sue someone at Paramount.
The humans are somehow the most important part of the movie instead of focusing on the giant robots, the giant robot dinosaurs, and the giant robots that come together to form a giant robot dragon. There's a Suicide Squad-style intro sequence for the Decepticons, for no apparent reason other than Suicide Squad made money and this series is desperate.
Also, if you're one of those people who gets headaches from IMAX 3D then stay far, far away from this movie. As someone with glasses, I often judge 3D based on whether or not I walk out with a migraine. The Last Knight not only gave me a migraine, but it gave me one that lasted for almost 12 hours.
Transformers: The Last Knight cements the fact that this series is never going to be good. It's time to move on and say that this series is a waste of everyone's time and we should just move on. They are trying to create this sprawling mythology throughout the movies when, in reality, they are just creating a bunch of pointless explosions. The filmmakers clearly think we'd rather see human soldiers firing guns than a bunch of alien giant robots being awesome. Don't bother.
What people say... Leave your rating
Order by:
Be the first to leave a review.
Show more
Enjoyed this article? Share it!