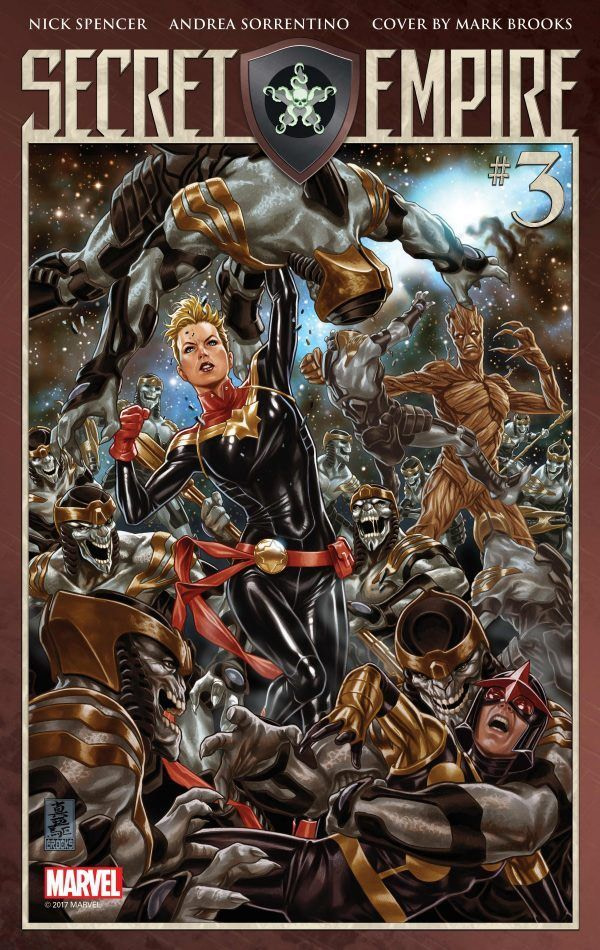 This is the Top Ten Bleeding Cool Bestseller List, as compiled by a number of comic stores from their sales on Wednesday and Thursday. It measures what are known as the "Wednesday Warriors", those who can't wait to the weekend to get this week's comics. We salute you, and the keenness you bring to your passion.
Secret Empire, Saga and Flash were so close together they may have well have shared the top spot. But Secret Empire sneaked outr ahead, even with Saga's 25 cent price point…
Secret Empire #3
Saga #43
Flash #23
Wonder Woman Annual #1
Teen Titans Lazarus Contract Special #1
Cable #1
Trinity Annual #1
Star Wars: Doctor Aphra #7
Monstress #12
Old Man Logan #24
Thanks to the following retailers,
Who had this to say,
Strong DC sales, even though it was a light week for DC titles–still, their four Rebirth offerings took our store's top four slots. Image took two spots, Dark Horse took one with Joe Golem, and Marvel took the remaining three. Alas, Secret Empire is still fighting an uphill battle against reader biases, so it only made it to sixth place in our store's top ten.
We're seeing a real interest in early issues of the Rebirth books, now that most of the other stores in our area have sold out of the early issues. As a result, we've burned through our last copies of several of the first three months' Rebirth offerings.
—-
Saga #43 was a huge hit this week and 25 cents and an even bigger hit on Wednesday when we gave it away for free. Secret Empire has picked up some steam, people's trepidation seems to be dissolving a little about Hydra Steve. The hype leading to Wonder Woman day and the release of the movie sold us out of the Wonder Woman annual fairly quick. The finale to the Lazarus Contract was also a noteworthy hit this week.
We had a large collection of reader grade keys come in two weekends ago and it still is generating a lot of sales including Fantastic Four #52, otherwise nothing much to mention.
—–
5th week Wednesdays usually generate some interesting results, but it's worth noting Saga would've been #1 by a mile without the .25 cover price. We sold out of the Teen Titans Special pretty quickly, which was a surprise. Also surprising was Kill or Be Killed, Aliens: Dead Orbit, and Moon Knight all charting! Good week.
—-
It is a miracle! Marvel has a majority of the top ten this week. Oh, wait it's the 5th Wednesday of the month so not much came out and they still got beat by the Flash for the number one spot. Marvel sales are a fraction of what they were years ago. Hoping any day now for a major Marvel announcement on how they are going to turn their sales around. It was a pretty weak comic sales week. Hopefully part of that was because people were away thanks to the holiday.
Speed Racer back issues were selling this week. Yes, Speed Racer saw some love.
—–
Another strong week for Image at our store. The 25 cent Saga #43 absolutely destroyed everything else on our top 10 list, more than doubling the sales of our runner-up Monstress #12 (which actually sold what would've been a pretty impressive number for any other week). Sex Criminals #19 followed closely. The Wonder Woman Annual snuck in near the bottom of our list. Hopefully, people are just too busy seeing the movie to buy the comic this week!
James Stokoe's great Aliens: Dead Orbit #2 closed out our top 10 in all its chestbursting glory.
—–
With it being a 5th week of the month, and DC only putting out a handful of books this week, the door was wide open for Marvel to dominate the top 10. But, that didn't happen. The highest placing Marvel book this week only managed to come in 3rd behind Saga and Flash. As a matter of fact, Marvel could only must 4 of the top 10 spots, while DC still held 3 of the top 10 spots. Image powerhouse titles Saga and Monstress and Albatross hit series Nam Wolf were firmly placed in the top 10 as well. Cable was the only other Marvel book anywhere near the top 10 spot for us, but would have come in at the 14th spot.
Notable other indie titles Little Nightmares, 4 Kids Walk into a Bank, and Judge Dredd Blessed Earth were barely outside of the top 10 for us this week, with strong positive word of mouth potentially taking each of those series into the top spots on their next issues.
Deadpool, Gwenpool, and Generation X all continue a downward trend fromWednesday and Thursday buyers.
—-
X-Men and Venom back issues from the 80s and 90s continue to do well, and all Avengers from 100-350 seem to be picking up steam. Copper age DC is holding steady, with spikes for anything Batman or Wonder Woman related. And, speaking of Wonder Woman, we have noticed a huge uptick in everything Wonder Woman, no doubt in conjunction with the new movie release.
—–
In typical fifth week fashion, Marvel actually has more books in the FFF Top Ten than the average week, but DC still comes out on top with Teen Titans Special at #1 and Flash 23 and Trinity Annual at #3 and #4 respectively. Saga sold very well (#2) which is no surprise as we push it pretty heavily at our store. The 25 cent price tag didn't hurt either. Marvel's flood of books fill out the rest of the Top Ten with Secret Empire and Doctor Aphra being the top selling Marvel books. This might be the only week for a while where Marvel outsells every other publisher. Talk about Fifth Week problems!
For the Top Twenty, Flash 22 managed to sneak into the #17 spot which goes to show that people are still interested in The Button despite it having ended 3 weeks ago. Kill or Be Killed from Image was #13 which is where it usually sits even in a full week. Ed Brubaker has his fans, but it's still tricky to get new readers into him in the middle of a story. Spenser and Locke from Action Lab was #19 which is a nice surprise. It's good to see the indie books that don't fall under Image or Dark Horse sell well.
This week we were still putting our store back together from Megacon which was our best year yet! Unfortunately, that means we haven't sold too many back issues this week.
—-