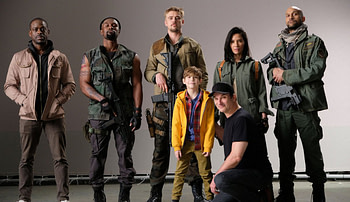 Director Shane Black is making a predator movie and this is something that we need to remind people of. Black is a fantastic director and thus far we don't know much about the movie that he is planning. We do know that he has a fantastic cast and that the movie, which began production back in February, has just wrapped. The cast has been posting little goodbye messages on their various social media accounts.
Jacob Tremblay quoted the original in his tweet.
#ThatsaWrap! Time for me to #GETTOTHECHOPPA!!! ✌ #ThePredator pic.twitter.com/a1NvWUJ0nd

— Jacob Tremblay (@JacobTremblay) June 1, 2017
Meanwhile Boyd Holbrook made fun of a certain Presidential campaign.
Olivia Munn got a cute wrap gift from Tremblay.
They are kind of bros.
The Predator will be directed by Shane Black and will star Yvonne Strahovski, Jacob Tremblay, Boyd Holbrook, Olivia Munn, Sterling K. Brown, Thomas Jane, and Keegan-Michael Key. It will be released on August 3, 2018.