Transformers is a helluva franchise. From the cartoon (made to sell toys) to the movies (made to sell toys?) almost everyone has heard of it. Apparently there's another movie due out this summer, since merchandise for it is in full effect. When I saw an ad for the Transformers Slush at Sonic, I knew what I had to do. There's a Sonic up the street from my house, so this was an easy undertaking. For $2.43, I couldn't say no — but to be fair, most of the flavor combos didn't appeal to me. Out of all of them, Optimus Prime was the most appealing. Also, ordering an Optimus Prime slush with a straight face is really hard.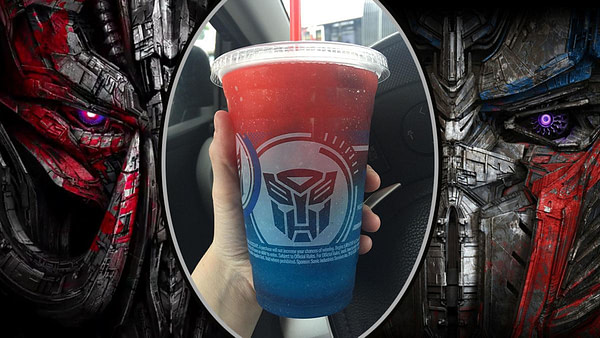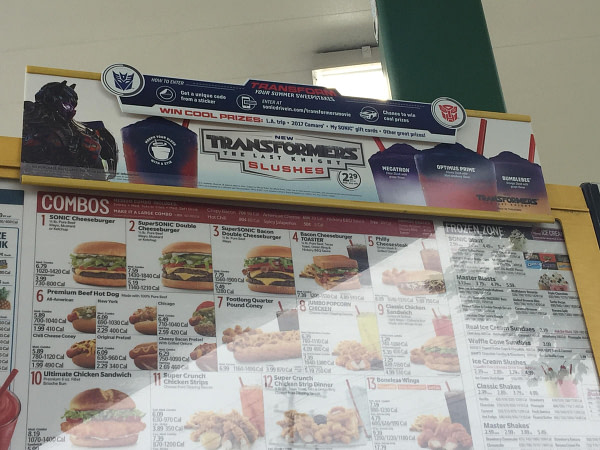 Visually, the drink looks awesome. The red and blue eventually melt into a purple, which is nice. Taste-wise, it's merely OK. It's way too sugary for me, and the taste is a little overpowering. If it's hot as balls outside and this is your only option for relief, go for it. If you want a cool Transformers Slush, now is your time to shine, buddy. For the rest of us, hard pass.
SONIC's Transformers: The Last Knight Slushes come in a series of unique flavors representing three of the film's most popular characters inspired by Hasbro's iconic toy line: Optimus Prime®, Bumblebee™ and Megatron®. The Optimus Prime® Slush combines cherry Slush topped with a flavorful layer of blue raspberry. Bumblebee™ Slush starts with orange Slush and a layer of grape flavor. Megatron® Slush is a base of sweet, classic clear Slush topped with a layer of icy grape flavor. To activate, fans just stir the concoction to create a refreshingly one-of-a-kind, icy flavor adventure.

"Partnering with Paramount Pictures and the new Transformers: The Last Knight movie provides a vertical integration opportunity with one of the most-loved movie franchises ever and allows us to play off our strength in frozen beverages," said Lori Abou Habib, vice president of national marketing for SONIC. "The three Slush flavor combinations have refreshing flavor profiles that can't be replicated anywhere else, something our guests expect from SONIC, are served in a movie-themed clear cup to show off the color-changing process."