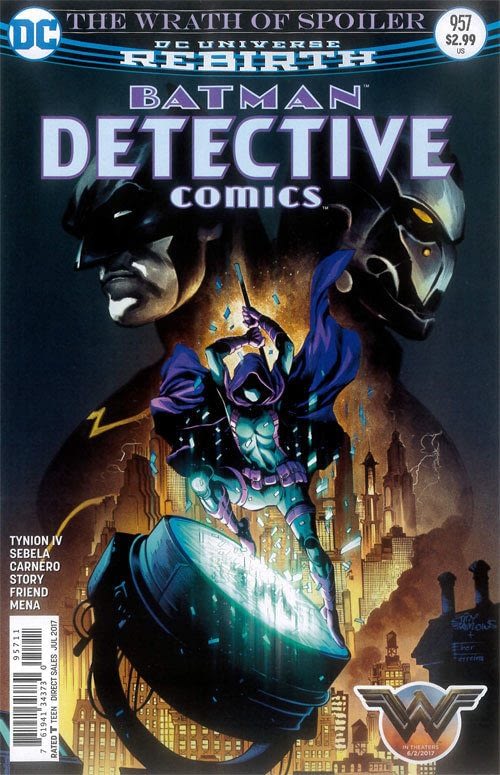 This is the Top 10 Bleeding Cool Bestseller List, as compiled by a number of comic stores from their sales on Wednesday and Thursday. It measures what are known as the "Wednesday Warriors" — those who can't wait to the weekend to get this week's comics. We salute you, and the keenness you bring to your passion.
Remember that interview where Joe Quesada mocked DC Comics' performance with Batman and Superman as porn stars who couldn't get it up? Well, they seem to be doing a little better now. And look, Captain America has just joined them for a threesome.
Detective Comics #957
Action Comics #980
Captain America: Steve Rogers #17
Justice League Of America #7
X-Men Blue #4
Deathstroke #19
Wonder Woman #23
Venom #150
Black Panther #14
Seven To Eternity #6
Thanks to the following retailers…
…who had this to say:
Another strong DC week, with Deathstroke soaring because of The Lazarus Contract. Marvel took one top ten slot with X-Men Blue #4, Image took one slot with Redneck #2, and Dynamite shared a spot with Batman/Shadow — otherwise, it was all DC!

Lots of interest in low-price 1980s and 1990s DCs and Marvels — many readers are pleased that they can get well-written and well-drawn superhero comics for less than the current cover price.

—–
Due to remodelling, we were only open Wednesday this week so our results are most likely a little different than had we been opened Wednesday and Thursday. Marvel did get three titles in the top this week. Hellblazer even made it into the top ten. Would have ordered more Action Comics 980, had I known Harley Quinn was featured on it.

—–

It was a strong week for creator-owned titles at our store. Image pretty much dominated with five different titles in our top 10. The bestseller was the new issue of Hickman and Dragotta's epic sci-fi Western East of West, but Hickman's other book The Dying and the Dead, with artist Ryan Bodenheim, wasn't too far behind, despite the interminable wait between issues #3 and #4.
—–

Interestingly, if you look outside the top 10 this week, there were some really good titles that fans are starting to pick up on as well, and I expect to see the rise of those titles in the weeks to come. TMNT Universe may be on issue #10, but we have watched as the sales number grow on it each week. If you are reading the book, this probably isn't a surprise, and other titles like Old Guard, Highlander and Kamandi Challenge, continue to gain new readers.

Marvel woes seem to be continuing, outside of a few titles each week, with seemingly shoe-in hits of years gone by like Guardians of the Galaxy and Infamous Iron Man, only selling a few copies and not much interest. Even Captain America Steve Rogers and Secret Warriors are slipping during their big crossover event, Secret Empire. Without the Weapon X tie-in this week, Totally Awesome Hulk would have been in this bunch too.

With school ending, we're starting to see a little more of the summer shoppers looking for back issues. Copper Age continue to do well, and CBCS and CGC graded books continue to be in demand. Of the graded books, we have seen an increase in the interest for non-signature books and a decrease for signature series books.

—–

Image wins the week in an upset! Seven to Eternity #6 outsold everything else, looks like we have a legitimate mega-hit on our hands. Image took spots 3 and 4 as well with Redneck #2 and East of West #33. Deathstroke #19 also got a nice boost because of the 'Lazarus Contract' storyline. Making its way onto our list for the first time was Venom #150, with incredibly strong art from Tradd Moore.

Marvel silver and bronze continue to outsell all other types of back issues, but Spawn is also a strong mover… we get several people in a week looking to fill out their runs.

—–

DC sells well, Flash 22 killing it, and Marvel fell pretty short this week with Venom #150 appearing at number 14.
We're at Megacon this weekend so we aren't able to bring you your normal barrage of comments.

—–

Business as usual for most Rebirth titles, but Venom, Captain America, and Totally Awesome Hulk all got huge spikes this week, Venom for the anniversary issue and the other two for the crossovers they relate to.

We scored a huge run of reader copies of big key Silver Marvel titles, from first Daredevil to first Hawkeye, first Brotherhood of Evil Mutants to first Kang, and all places in between. Probably 300 books. The Daredevil #1 sold almost immediately. Reader grade stuff never lasts long around here.
Enjoyed this article? Share it!