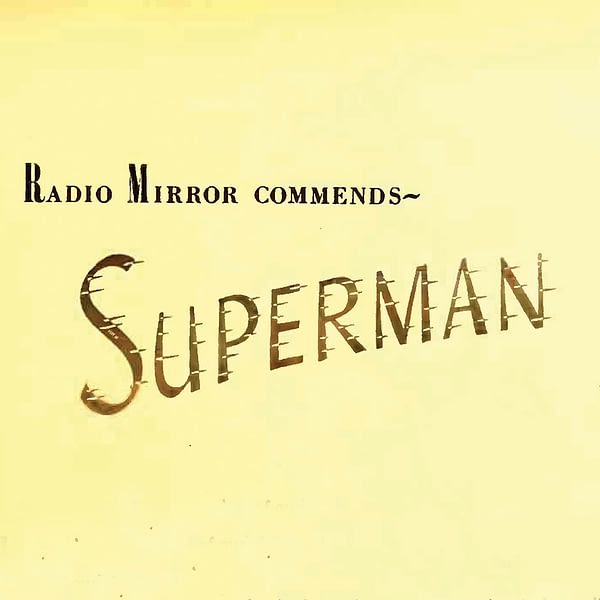 When it comes to comics history books, it takes a lot to impress me, but Rick Bowers' 2012 release Superman versus the Ku Klux Klan is on my short list of the most interesting comic-history-related titles to appear over the past decade. A few years ago, I had a brief email exchange about the book with Bowers — a former newspaper reporter and author of Spies of Mississippi — and it's obvious that the man does his research.
Now comes word that Bowers' book will be turned into a film from Lotus Entertainment and Paperchase Films, written by Katherine Lindberg and produced by Marc Rosen and Marco Vicini.
Superman versus the Ku Klux Klan tells the tale of the post-WWII storyline from the Adventures of Superman radio show titled Clan of the Fiery Cross.  In the wake of World War II, with Nazis on the decline both in reality and as fictional villains, the producers of the popular Superman radio show needed new challenges for their hero to battle against, and they unearthed such a challenge from the newspaper headlines of the day, in the form of the again-ascendant Ku Klux Klan.
At the same time, journalist Stetson Kennedy was attempting to infiltrate the Klan for an expose on its activities which would become the 1946 book Southern Exposure.  There has been some controversy about Kennedy's work, over methodology and embellishment in recent years, and Bowers wisely presents the development of the Clan of the Fiery Cross and Stetson's own Klan investigations as separate tracks in his narrative.  Although the Anti-Defamation League announced in 1947 that, "It is now revealed that Superman's informant was Stetson Kennedy, brilliant young Southern liberal who had joined the Klan and the (neo Nazi) Columbians under the assumed name of John S. Perkins.", Bowers concludes, "whatever the exact communication was, it is clear that information did flow from Atlanta through the ADL to the producers of Superman", and that's about how I see it too.
The text is well-salted with interesting little moments that build toward the development of Clan of the Fiery Cross, but my favorite historical figure from the book is not Kennedy himself, or radio producer Bob Maxwell and his team, nor even Jerry Seigel or Joe Shuster. Though she has a minor role in the context of this story, a few of my favorite moments from the book come from Josette Frank, who may be familiar to a few DC Comics history buffs as the director of the Children's Book Committee of the Child Study Association of America, and one of a handful of "staff advisors" that DC Comics brought on to help stem the rising tide of "comics are bad for kids" media articles that had begun to trickle through the public's consciousness throughout the 1940s. It's natural to wonder if such efforts are window dressing, but in Frank's case, she took this role very, very seriously.  As detailed in an outstanding series on her role at DC at the Comics Detective blog, she put a great deal of effort into her commentary to the company, making notes on everything from content to the legibility of word balloons.
In one small moment from the book which has some interesting parallels to the political climate that comic book publishers find themselves in today, Frank set about to carefully investigate what impact this prospective storyline might have on children. In her typically thorough fashion, she had shared scripts in development for Clan of the Fiery Cross with other experts to solicit their opinions, including famed cultural anthropologist Margaret Mead.  In a meeting Frank called with Mead and producer Maxwell, Mead told them to avoid stories "dramatizing" threats to democracy from fascism and other movements, on the basis that this was "inappropriate to the building up of serene attitudes". This is a general 1946 equivalent to the Nazi-punching controversies of today, which caused Maxwell to reply, "What makes you think there is any serenity in children's programming?"
Such parallels are likely part of what prompted Lotus and Paperchase to want to make this saga into a film. It'll be interesting to see how they deal with any rights issues that might come up with Warner Bros, but I hope that doesn't get in their way.  It's a cool story, told well by Bowers, and deserving of wider attention. Enjoyed this article? Share it!