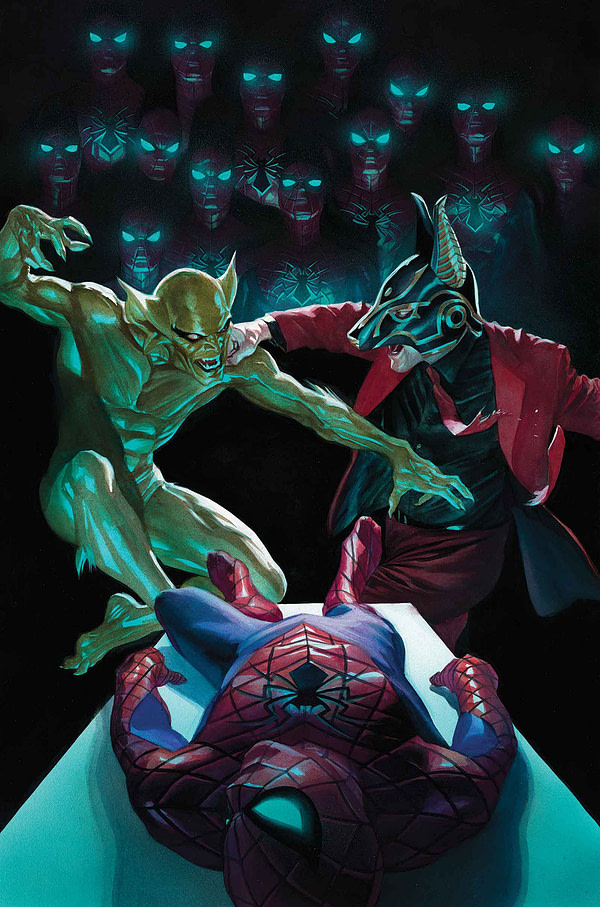 A follow-up on the marketshare data and courtesy of Diamond Comic Distributors, a look at the top 100 comics and graphic novels sold to comic book stores in February 2017. It missed out The Walking Dead #163, Invincible and Outcast as they all sold for 25 cents each and Diamond says that doesn't count.
Without the overshipped comics to bump up their chart positions in February, Marvel's sales are looking ropey compared to DC, bulked up by the fact that Marvel have more titles out in February. They top the chart with Darth Maul and have another Star Wars title in the top ten, but their best-selling superhero comic is Amazing Spider-Man #24 at #13 which didn't actually have any Spider-Man in it, a spinoff of Clone Conspiracy which only makes it in at #24. Big event book IVX #4 is slumped to #16, 5 book in the top 10, 8 in the top 30, 11 in the top 40, while DC Comics series that used to flounder – Flash, Superman, Wonder Woman, are doing far stronger than before. DC also benefits for a handful of their titles being made returnable, and their respective chart position sales are docked 10% as a result.
And is it me or does Green Lantern/Planet of The Apes look a little on the underordered side?
TOP 100 COMIC BOOKS
Based on Total Unit Sales of Products Invoiced in February 2017
TOP 100 GRAPHIC NOVELS
Based on Total Unit Sales of Products Invoiced in February 2017
| | | | | |
| --- | --- | --- | --- | --- |
| RANK | DESCRIPTION | PRICE | ITEM CODE | VENDOR |
| 1 | SEVEN TO ETERNITY TP VOL 01 | $9.99 | DEC160767-M | IMA |
| 2 | LOVE IS LOVE GN | $9.99 | OCT160480 | IDW |
| 3 | BATMAN DETECTIVE TP VOL 01 RISE OT BATMEN (REBIRTH) | $16.99 | NOV160317 | DC |
| 4 | SNOTGIRL TP VOL 01 GREEN HAIR DONT CARE | $9.99 | DEC160774 | IMA |
| 5 | WONDER WOMAN TP VOL 01 THE LIES (REBIRTH) | $16.99 | NOV160320 | DC |
| 6 | MARCH GN BOOK 03 | $19.99 | JUN160408 | IDW |
| 7 | SUPERMAN ACTION COMICS TP VOL 01 PATH OF DOOM (REBIRTH) | $16.99 | NOV160319 | DC |
| 8 | HAL JORDAN & THE GLC TP VOL 01 SINESTROS LAW (REBIRTH) | $17.99 | NOV160318 | DC |
| 9 | OUTCAST BY KIRKMAN & AZACETA TP VOL 04 (MR) | $14.99 | DEC160821 | IMA |
| 10 | CIVIL WAR II HC | $50.00 | OCT160999 | MAR |
| 11 | SCOOBY APOCALYPSE TP VOL 01 | $16.99 | NOV160345 | DC |
| 12 | DEADPOOL BACK IN BLACK TP | $16.99 | NOV160970 | MAR |
| 13 | HARLEY QUINN AND HER GANG OF HARLEYS TP | $16.99 | NOV160332 | DC |
| 14 | AUTUMNLANDS TP VOL 02 WOODLAND CREATURES (MR) | $16.99 | NOV160705 | IMA |
| 15 | FUTURE QUEST TP VOL 01 | $16.99 | NOV160344 | DC |
| 16 | SHERIFF OF BABYLON TP VOL 02 POW POW POW (MR) | $16.99 | NOV160359 | DC |
| 17 | WONDER WOMAN HER GREATEST BATTLES TP | $9.99 | NOV160343 | DC |
| 18 | DEADPOOL AND MERCS FOR MONEY TP VOL 01 MO MERCS MO MONKEY | $15.99 | NOV160962 | MAR |
| 19 | MMW RAWHIDE KID TP VOL 01 | $24.99 | JAN140790 | MAR |
| 20 | SAGA TP VOL 01 (MR) | $9.99 | AUG120491 | IMA |
| 21 | BATMAN NIGHT OF THE MONSTER MEN HC | $24.99 | NOV160321 | DC |
| 22 | INJUSTICE GODS AMONG US YEAR FIVE TP VOL 01 | $16.99 | NOV160333 | DC |
| 23 | MARCH GN BOOK 02 | $19.95 | NOV141657 | IDW |
| 24 | RICK & MORTY TP VOL 04 | $19.99 | NOV161705 | ONI |
| 25 | BATMAN TP VOL 01 I AM GOTHAM (REBIRTH) | $16.99 | OCT160291 | DC |
| 26 | SAGA TP VOL 06 (MR) | $14.99 | MAR160684 | IMA |
| 27 | LOCKE & KEY SMALL WORLD DLX HC ED | $14.99 | OCT160351 | IDW |
| 28 | WOLVERINE VS DEADPOOL TP | $29.99 | NOV160971 | MAR |
| 29 | WOLVERINE OLD MAN LOGAN TP | $29.99 | JUL100692 | MAR |
| 30 | DAREDEVIL OMNIBUS HC VOL 01 | $125.00 | AUG160985-M | MAR |
| 31 | WIND IN THE WILLOWS HC ILLUS DAVID PETERSEN | $24.99 | JUN160571-M | IDW |
| 32 | STAR WARS DARTH VADER HC VOL 02 | $39.99 | AUG160997 | MAR |
| 33 | BLACK HISTORY IN ITS OWN WORDS HC | $16.99 | DEC160625 | IMA |
| 34 | NAMELESS TP (MR) | $14.99 | DEC160818 | IMA |
| 35 | WOLVERINE OLD MAN LOGAN HC NEW PTG | $34.99 | AUG160994 | MAR |
| 36 | TOKYO GHOUL GN VOL 11 | $12.99 | DEC162096 | VIZ |
| 37 | ECLIPSE TP VOL 01 | $9.99 | DEC160754 | IMA |
| 38 | DAREDEVIL BACK IN BLACK TP VOL 03 DARK ART | $15.99 | NOV160966 | MAR |
| 38 | DOCTOR STRANGE PREM HC VOL 03 BLOOD IN AETHER | $24.99 | NOV160958 | MAR |
| 40 | ALL NEW ALL DIFFERENT AVENGERS TP VOL 03 CIVIL WAR II | $15.99 | NOV160960 | MAR |
| 41 | MONSTRESS TP VOL 01 (MR) | $9.99 | APR160803 | IMA |
| 42 | WONDER WOMAN TP VOL 09 RESURRECTION | $16.99 | NOV160341 | DC |
| 43 | CAPTAIN MARVEL TP VOL 02 CIVIL WAR II | $16.99 | NOV160959 | MAR |
| 44 | EXTRAORDINARY X-MEN TP VOL 03 KINGDOMS FALL | $17.99 | NOV160964 | MAR |
| 45 | PAPER GIRLS TP VOL 01 | $9.99 | JAN160645 | IMA |
| 46 | STAR WARS MARVEL YRS OMNIBUS HC VOL 01 | $125.00 | AUG140892 | MAR |
| 47 | NEW TEEN TITANS TP VOL 06 | $19.99 | NOV160338 | DC |
| 48 | RICK & MORTY LIL POOPY SUPERSTAR TP VOL 01 | $19.99 | OCT161708 | ONI |
| 49 | SPIDER-GWEN HC VOL 01 | $34.99 | AUG160993 | MAR |
| 50 | EMPRESS BOOK ONE PREMIERE HC | $24.99 | NOV160947 | MAR |
| 51 | ROBIN WAR TP | $19.99 | NOV160336 | DC |
| 52 | ALPHA FLIGHT BY JOHN BYRNE OMNIBUS HC | $100.00 | AUG160992 | MAR |
| 53 | FLASH TP VOL 01 LIGHTNING STRIKES TWICE (REBIRTH) | $17.99 | OCT160292 | DC |
| 54 | COLOR YOUR OWN WOLVERINE TP | $9.99 | NOV160973 | MAR |
| 55 | SUPERMAN TP VOL 01 SON OF SUPERMAN (REBIRTH) | $16.99 | OCT160297 | DC |
| 56 | INJUSTICE GODS AMONG US YEAR FIVE HC VOL 02 | $24.99 | NOV160334 | DC |
| 56 | SAGA TP VOL 02 (MR) | $14.99 | APR130443 | IMA |
| 58 | PAPER GIRLS TP VOL 02 | $12.99 | SEP160815 | IMA |
| 59 | ALL NEW X-MEN TP VOL 03 INEVITABLE HELL HATH SO MUCH FURY | $15.99 | NOV160963 | MAR |
| 60 | STAR WARS MARVEL YRS OMNIBUS HC VOL 02 | $125.00 | DEC140946 | MAR |
| 61 | BATGIRL AN ADULT COLORING BOOK TP | $15.99 | NOV160323 | DC |
| 62 | ANGEL CATBIRD HC VOL 02 CASTLE CATULA | $14.99 | OCT160036 | DAR |
| 63 | X-MEN LEGACY TP VOL 01 PRODIGAL | $15.99 | JAN130760 | MAR |
| 64 | HE-MAN & MASTERS OF UNIVERSE NEWSPAPER COMIC STRIPS HC | $29.99 | OCT160035 | DAR |
| 65 | WALKING DEAD TP VOL 01 DAYS GONE BYE | $14.99 | NOV128157 | IMA |
| 66 | HOW TRAIN YOUR DRAGON TP VOL 01 SERPENTS HEIR | $10.99 | OCT160034 | DAR |
| 67 | BRITANNIA TP | $9.99 | DEC162066 | VAL |
| 68 | DEADPOOL AND SECRET DEFENDERS TP | $29.99 | NOV160969 | MAR |
| 69 | WONDER WOMAN 77 TP VOL 02 | $16.99 | NOV160342 | DC |
| 70 | HAWKEYE BY MATT FRACTION AND DAVID AJA OMNIBUS HC | $99.99 | NOV140863 | MAR |
| 71 | GREEN LANTERN TP VOL 08 REFLECTIONS | $16.99 | NOV160335 | DC |
| 72 | MMW UNCANNY X-MEN HC VOL 10 | $100.00 | AUG160988-M | MAR |
| 73 | SAGA TP VOL 05 (MR) | $14.99 | JUL150565 | IMA |
| 74 | WAR OF KINGS AFTERMATH REALM OF KINGS OMNIBUS HC | $125.00 | AUG160990 | MAR |
| 75 | STAR WARS LEGENDS EPIC COLLECTION TP EMPIRE VOL 03 | $39.99 | NOV160987 | MAR |
| 76 | BATMAN THE GOLDEN AGE TP VOL 02 | $29.99 | NOV160325 | DC |
| 77 | ROBIN SON OF BATMAN TP VOL 02 DAWN OF THE DEMONS | $16.99 | NOV160337 | DC |
| 78 | STAR WARS DARTH VADER TP VOL 01 VADER | $19.99 | JUL150827 | MAR |
| 79 | LAKE OF FIRE TP (MR) | $16.99 | DEC160761 | IMA |
| 80 | BATMAN BEYOND TP VOL 03 WIRED FOR DEATH | $14.99 | NOV160326 | DC |
| 80 | SAGA TP VOL 04 (MR) | $14.99 | OCT140644 | IMA |
| 82 | BATGIRL A CELEBRATION OF 50 YEARS HC | $39.99 | NOV160322 | DC |
| 83 | INVISIBLES TP BOOK 01 (MR) | $24.99 | NOV160356 | DC |
| 84 | MY LITTLE PONY FRIENDS FOREVER TP VOL 08 | $19.99 | DEC160568 | IDW |
| 85 | TEEN TITANS TP VOL 04 WHEN TITANS FALL | $16.99 | NOV160340 | DC |
| 86 | WOLVERINE EPIC COLLECTION TP SHADOW OF APOCALYPSE | $39.99 | NOV160974 | MAR |
| 87 | KILL OR BE KILLED TP VOL 01 (MR) | $9.99 | NOV160670 | IMA |
| 88 | JLA GODS AND MONSTERS TP | $16.99 | NOV160331 | DC |
| 89 | ONE PIECE GN VOL 81 | $9.99 | DEC162085 | VIZ |
| 90 | CAPTAIN AMERICA RETURN OF WINTER SOLDIER OMNIBUS HC | $99.99 | DEC140966 | MAR |
| 91 | X-MEN AVENGERS ONSLAUGHT OMNIBUS HC | $125.00 | FEB150870 | MAR |
| 92 | WATCHMEN TP | $19.99 | FEB140265-M | DC |
| 93 | SAGA TP VOL 03 (MR) | $14.99 | JAN140556 | IMA |
| 94 | JUSTICE LEAGUE TP VOL 01 THE EXTINCTION MACHINE (REBIRTH) | $16.99 | OCT160295 | DC |
| 95 | JUNJI ITOS DISSOLVING CLASSROOM GN (MR) | $12.95 | NOV161967 | RAN |
| 96 | STAR WARS MARVEL YRS OMNIBUS HC VOL 03 | $125.00 | APR150895 | MAR |
| 97 | ANNIHILATION CONQUEST OMNIBUS HC | $125.00 | JAN150887 | MAR |
| 98 | GHOST RIDER WOLVERINE PUNISHER TP HEARTS OF DARKNESS | $15.99 | NOV160977 | MAR |
| 99 | JUGHEAD TP VOL 02 | $17.99 | DEC161261 | ARC |
| 100 | BATMAN THE KILLING JOKE SPECIAL ED HC | $17.99 | NOV070226 | DC |