If it only seems two weeks since Diamond released the data for January's marketshare, it is.
Marvel did have a number of promotional pushes in February for a number of titles that involved retailers increasing their orders to get extra discount and the like. But nothing like the overships from previous months that bumped up their "unit" market share. Which is why Marvel has slipped from having an 11 point lead on DC's unit share in January, to a 0.17 point lead, Marvel's 33.65% against DC's 33.47%. A dramatic turnaround, also considering Marvel shipped 140 different items in January compared to DC's 116.
Marvel's higher prices, while they may affect unit marketshare, do continue to bump up their "retail market share", refleeting the amounts of actual dollars spent. And here Marvel has a 7 point lead at 37.46% to DC's 30.23% but that still puts DC Comics back over the psychologically important 30% line. Just.
Also, without the Marvel overship, and with the only-discounted-by-10% DC Comics returnable, DC does dominate the top ten, in a scene closer to the weekly Bleeding Cool Bestseller Lists that measure actual sales to customers rather than retailers. In fact Marvel doesn't have a single superhero title in the top ten, just Star Wars: Darth Maul at the top and Star Wars further down. Just Batman, Supersons and Justice League titles. Although we know the 25 cent Walking Dead #163 sold far more than any of them. Diamond doesn't count such discounted titles. Though Walking Dead #164 still made it in.
But both Marvel and DC's unit marketshare has slumped a bit and that's the effect of Image's 25 cent comics – including the 750,000 selling The Walking Dead #163. So Image have a just-under 10% share of dollars as usual, but over 18% of unit sales. In fact everyone's unit sales share is slumping as a result. Will Saga #43 do the same in May?
TOP COMIC BOOK PUBLISHERS
RETAIL MARKET SHARE
PUBLISHER
SHARE
MARVEL COMICS
37.46%
DC ENTERTAINMENT
30.23%
IMAGE COMICS
9.58%
IDW PUBLISHING
5.83%
DARK HORSE COMICS
2.57%
BOOM! STUDIOS
2.08%
DYNAMITE ENTERTAINMENT
1.52%
TITAN COMICS
1.16%
VIZ MEDIA
1.10%
ONI PRESS INC.
0.86%
OTHER NON-TOP 10
7.62%

UNIT MARKET SHARE
PUBLISHER
SHARE
MARVEL COMICS
33.64%
DC ENTERTAINMENT
33.47%
IMAGE COMICS
18.13%
IDW PUBLISHING
3.27%
DYNAMITE ENTERTAINMENT
2.06%
BOOM! STUDIOS
1.84%
DARK HORSE COMICS
1.45%
TITAN COMICS
0.92%
VALIANT ENTERTAINMENT LLC
0.61%
ONI PRESS INC.
0.60%
OTHER NON-TOP 10
4.01%
COMPARATIVE SALES STATISTICS
 
DOLLARS
UNITS
FEBRUARY 2017 VS. JANUARY 2017
COMICS
-4.67%
3.65%
GRAPHIC NOVELS
9.05%
3.04%
TOTAL COMICS/GN
-0.82%
3.61%
TOYS
23.91%
3.09%
FEBRUARY 2017 VS. FEBRUARY 2016
COMICS
-4.47%
17.29%
GRAPHIC NOVELS
-3.30%
-12.98%
TOTAL COMICS/GN
-4.11%
14.70%
TOYS
25.46%
0.38%
YEAR-TO-DATE 2017 VS. YEAR-TO-DATE 2016
COMICS
-2.06%
12.11%
GRAPHIC NOVELS
-7.60%
-10.88%
TOTAL COMICS/GN
-3.76%
10.26%
TOYS
3.18%
-0.94%
NEW TITLES SHIPPED
| | | | | |
| --- | --- | --- | --- | --- |
| PUBLISHER | COMICS SHIPPED | GRAPHIC NOVELS SHIPPED | MAGAZINES SHIPPED | TOTAL SHIPPED |
| MARVEL COMICS | 104 | 36 | 0 | 140 |
| DC ENTERTAINMENT | 82 | 33 | 1 | 116 |
| IMAGE COMICS | 46 | 14 | 1 | 61 |
| IDW PUBLISHING | 36 | 22 | 0 | 58 |
| TITAN COMICS | 24 | 6 | 0 | 30 |
| BOOM ENTERTAINMENT | 24 | 3 | 0 | 27 |
| DARK HORSE COMICS | 13 | 13 | 0 | 26 |
| VIZ MEDIA | 0 | 23 | 0 | 23 |
| DYNAMITE ENTERTAINMENT | 16 | 4 | 0 | 20 |
| ONI PRESS INC. | 10 | 5 | 0 | 15 |
| OTHER NON-TOP 10 | 94 | 138 | 20 | 252 |
TOP 10 COMIC BOOKS
TOP 10 GRAPHIC NOVELS & TRADE PAPERBACKS
| | | | | |
| --- | --- | --- | --- | --- |
| RANK | DESCRIPTION | PRICE | ITEM CODE | VENDOR |
| 1 | SEVEN TO ETERNITY TP VOL 01 | $9.99 | DEC160767-M | IMA |
| 2 | LOVE IS LOVE GN | $9.99 | OCT160480 | IDW |
| 3 | BATMAN DETECTIVE TP VOL 01 RISE OT BATMEN (REBIRTH) | $16.99 | NOV160317 | DC |
| 4 | SNOTGIRL TP VOL 01 GREEN HAIR DONT CARE | $9.99 | DEC160774 | IMA |
| 5 | WONDER WOMAN TP VOL 01 THE LIES (REBIRTH) | $16.99 | NOV160320 | DC |
| 6 | MARCH GN BOOK 03 | $19.99 | JUN160408 | IDW |
| 7 | SUPERMAN ACTION COMICS TP VOL 01 PATH OF DOOM (REBIRTH) | $16.99 | NOV160319 | DC |
| 8 | HAL JORDAN & THE GLC TP VOL 01 SINESTROS LAW (REBIRTH) | $17.99 | NOV160318 | DC |
| 9 | OUTCAST BY KIRKMAN & AZACETA TP VOL 04 (MR) | $14.99 | DEC160821 | IMA |
| 10 | CIVIL WAR II HC | $50.00 | OCT160999 | MAR |
TOP 10 BOOKS
| | | | | |
| --- | --- | --- | --- | --- |
| RANK | DESCRIPTION | PRICE | ITEM CODE | VENDOR |
| 1 | LEGEND OF ZELDA ART & ARTIFACTS HC | $39.99 | JUL168360 | DAR |
| 2 | NEIL GAIMAN NORSE MYTHOLOGY HC | $25.95 | DEC162208 | WW |
| 3 | SHADOW DOUBLE NOVEL VOL 114 DEATH BY PROXY & LOOT OF DEATH | $14.95 | NOV162123 | SAN |
| 4 | LEGO BATMAN MOVIE ACTIVITY BOOK WITH MINIFIGURE | $8.99 | NOV162102 | SCH |
| 5 | DRAGON AGE ADULT COLORING BOOK SC | $14.99 | OCT160028 | DAR |
| 6 | UNBEATABLE SQUIRREL GIRL SQUIRREL MEETS WORLD HC | $13.99 | DEC162185 | HAC |
| 7 | LEGEND OF ZELDA ART & ARTIFACTS HC LTD ED | $79.99 | OCT168812 | DAR |
| 8 | VINTAGE ROMANCE COMIC BOOK COVERS COLORING BOOK TP | $9.99 | DEC160595 | IDW |
| 9 | DOCTOR WHO GOOD BAD & ALIEN SC | $9.99 | NOV158049 | PEN |
| 10 | VAMPIRE HUNTER D NOVEL SC VOL 25 (MR) | $11.99 | OCT160081 | DAR |
TOP 10 TOYS
| | | | |
| --- | --- | --- | --- |
| RANK | DESCRIPTION | ITEM CODE | VENDOR |
| 1 | DBZ MS PIECE MANGA DIMENSIONS SON GOHAN FIG | MAY168161 | BAN |
| 2 | BATMAN V SUPERMAN DOJ WONDER WOMAN STATUE | NOV150319 | DC |
| 3 | BATMAN ANIMATED BATMAN BEYOND AF 3 PACK | JUL160450 | DC |
| 4 | DC BOMBSHELLS KATANA STATUE | JUL160448 | DC |
| 5 | MARVEL GALLERY DR STRANGE PVC FIG | JUL162621 | DST |
| 6 | SUICIDE SQUAD MOVIE JOKER & HARLEY QUINN STATUE | AUG160374 | DC |
| 7 | MARVEL FEMALE THOR BISHOUJO STATUE | AUG162818 | KOT |
| 8 | BATMAN ANIMATED NBA GIRLS NIGHT OUT AF 5 PACK (RES) | NOV160375 | DC |
| 9 | BATMAN ANIMATED SERIES PREM COLL NURSE HARLEY STAT | AUG162553 | DST |
| 10 | WALKING DEAD TV DARYL DIXON LTD ED STATUE | MAY160736 | TMP |
TOP 10 GAMES
| | | | |
| --- | --- | --- | --- |
| RANK | DESCRIPTION | ITEM CODE | VENDOR |
| 1 | POKEMON KANTO MONOPOLY | DEC163203 | USA |
| 2 | HARRY POTTER DECK BUILDING GAME | DEC163201 | USA |
| 3 | MTG TCG OATH OF THE GATEWATCH BOOSTER DIS | NOV158284 | WIZ |
| 4 | MTG TCG CONSPIRACY TAKE THE CROWN BOOSTER DIS | JUL168216 | WIZ |
| 5 | YU GI OH TCG RAGING TEMPEST BOOSTER DIS | SEP168277 | KON |
| 6 | TMNT DICE MASTERS HEROES IN A HALF SHELL BOX SET | SEP163197 | NEC |
| 7 | D&D MINIATURES SET FIVE 8CT BOOSTER BRICK | JUN169191 | NEC |
| 8 | CLUE STAR WARS CLUE GAME CS | OCT168250 | HAS |
| 9 | MARVEL HEROCLIX SUPERIOR FOES OF SPIDER-MAN BOOSTER BRICK | MAY163107 | NEC |
| 10 | MTG TCG 2016 COMMANDER CASE | AUG168994 | WIZ |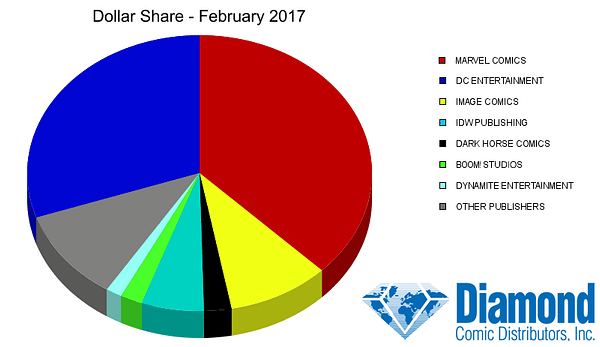 Dollar Market Share – February 2017
Unit Market Share – February 2017