 I like Marvel Senior Vice President of Publishing and Executive Editor Tom Brevoort. I don't think it's mutual, it comes with the job, but we've talked on and off over the decades. And one thing I know is that Tom loves the Fantastic Four
As USA Today once reminded us, Tom Brevoort has been a fan of the Four since he was a kid. He one told College Juice, "back when I was just a reader, my favorite book was Fantastic Four" and it's a book he edited with love and fondness at Marvel.
But it was cancelled, under instruction from Marvel's chairman Isaac Perlmutter, as a result of license negotiation with Fox Studios before the release of their movie, going south. Fantastic Four licensing was also cancelled, trading cards, posters, T-shirts, toys, all pulled as well.
But one license has been maintained, that between Marvel and IDW's Artist Edition line pioneered by Scott Dunbier at the publisher and copied by everyone from Dynamite to Titan to Dark Horse to DC Comics. But Marvel lets the master do it himself.
And yesterday IDW announced their latest, a new Jack Kirby volume reproducing Kirby's double-sized original artwork from the Fantastic Four. And Scott Dunbier told the world,
Here's the press release for Jack Kirby's Fantastic Four World's Greatest Artist's Edition, coming in July.https://t.co/pheGo4WLNQ

— Scott Dunbier (@sdunbier) February 23, 2017
To what I saw as Tom Brevoort's plaintive response,
@sdunbier You remain a bright light in a dire world.

— Tom Brevoort (@TomBrevoort) February 24, 2017
That's the voice of a man who really really wants to publish The Fantastic Four. But, right now, isn't allowed to. And when someone who isn't even at Marvel, is.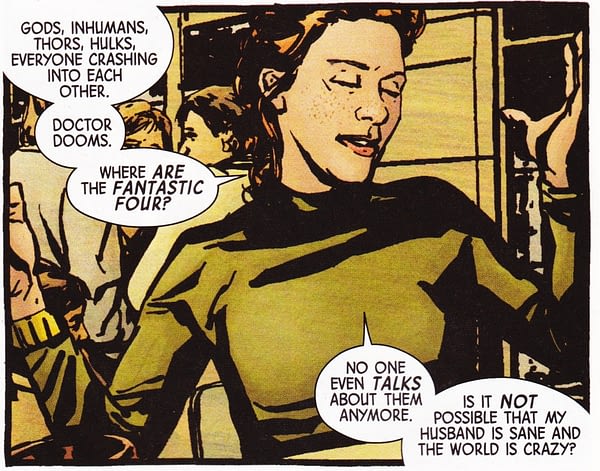 He's not alone it seems.
Anyway, Jack Kirby's Fantastic Four World's Greatest Artist's Edition is 168 pages and 15" x 22" – the same size as Kirby's original art.
This book will feature reproduction of the original art for four complete "twice-up" stories from Fantastic Four #33 (Side-by-Side With the Sub-Mariner), #45 (Among Us Hide… the Inhumans!), #47 (Beware the Hidden Land!), and #60 (The Peril and the Power!)
In addition to the four issues, the book will contain reproduction of the original art for 22 Kirby Fantastic Four covers, many pin-ups, splashes, and interior pages from classic issues dating back all the way to Fantastic Four #3.
The Artist's Edition will become available in this July. I think Tom will be getting a copy.
Enjoyed this article? Share it!