Sex Criminals #16
{{ reviewsOverall }} / 10
Users
(0 votes)
Summary
Suzie's just a regular gal with an irregular gift: when she has sex, she stops time. One day she meets Jon and it turns out he has the same ability. And sooner or later they get around to using their gifts to do what we'd ALL do: rob a couple banks.
This is sensationally good comicsing, and if you're not yet reading, it's a perfect start. Well, a perfect "middle," perfect "near start," I dunno. Perhaps ask Matt Fraction and Chip Zdarsky what the plan is for Sex Criminals, because they are taking their sweet ass time getting it to us, but they don't half deliver hard.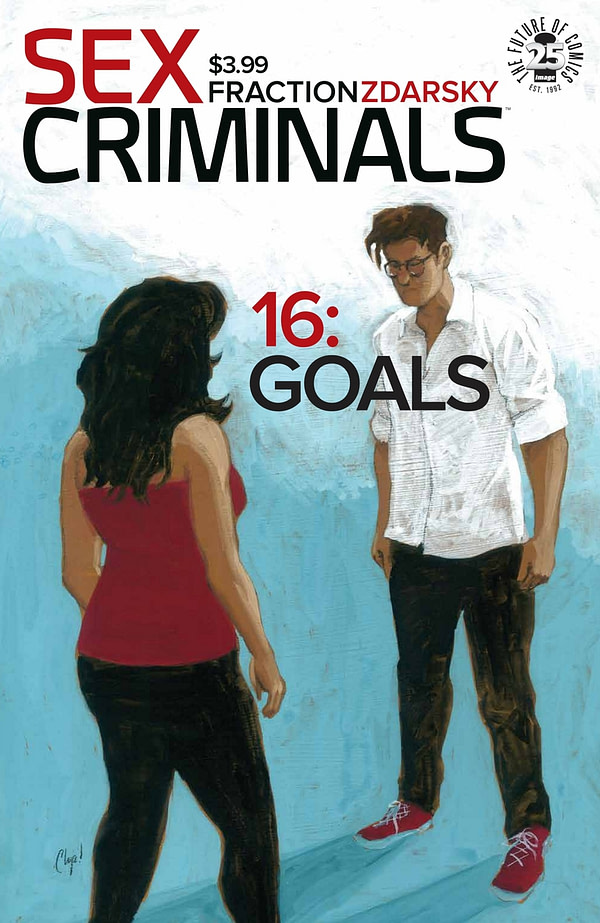 For this review what I listened to varied, whilst reading for the first time it was the sweet sounds of silence, but during the review reading (with customary stops for other editing and BC stuff) I went through:
¹ Yep, that's the production version,
not the nasty "real band" one.
I'd say I'm starting at the very beginning, but these two really do begin there with a monster recap (see it in full in the preview on image.com). Perhaps it's because it's been so long between issues (which they mention), perhaps it's because they wanted to pull apart (everything!) the recap thing, perhaps it's just because; they present the most drawn out, yet succinct (you shut up), and easily the best, run down of events I've ever seen in a comic.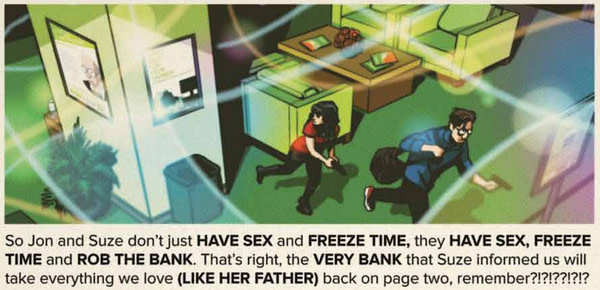 They review the entire comic to date, ably giving all the major motivations, characterisations, plot points, blah… But what this all *really* shows you is exactly the tone, level, and just how many levels deep the Fraction meta can go. Something that they very literally spell out for you on the 2nd page of this.
Honestly? On first read I started getting a little antsy that I was about to lose half a comic to someone telling me what's happened so far. Luckily I was able to slap myself in the face (embarrassing in this café) and drop my crappy entitlement issues and dive back in to it. I was now happily cruising, trusting two fabulous storytellers to tell me what's happened, cleverly, with humour, then, as a guy, to "fuck better." Fair does.
So that diving continued, head first, into the story proper, with what you could probably describe as at least a 50-60% talking heads comic, those heads being Jon and Suze's recent finds Alix, Dewey, Ana, and Dr. David. Immediately it's back (perhaps unintentionally, but I don't think so) into meta land, disassembling everything that Jon and Suze have 'accomplished' so far with 4 words: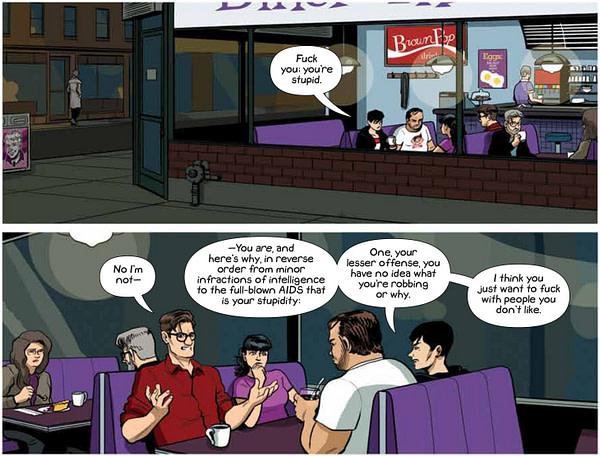 OK, it's a lot more than four in the end, and it's great, they analyse why they were ever doing any of this, what is the point of it all, what was the endgame?
Perhaps it's just Fraction getting his insecurities (of which he should have none … Casanova, man, c'mon) out of his system. It just seems to me that they're second guessing every story choice they've created so far with that simple meta attack from Alix that goes balls deep on J&S' rather basic raison d'etre to get back at the bank.
It's a brilliant move from the condensation of the century, to the dissection of the decade, to an effectual restart (er of this rotation?) of at least the principle 'cast', if not the book. They even get to the point where they literally talk about "what were 'the good old days'." Is that a reference to the current desire of DC (and Marvel?) to get back to their meat and two veg? Maybe. All the same the story effectively comes full circle and in so brings humour that can be irreverent, slapstick, and even purely situational and/or observational. Some of that encompassing nerds, markers, spooning, and later (in the coda) the customers of sex workers … I laughed my face off in the middle of the night to some of this.
But the big (totally subjective) reason I fell for this issue, and gave me the real feels, was the amazing handling of self worth, and dealing with a void inside. I don't know if this is a Gen X thing (me), a millennial thing (the characters?), or a whatever thing, but Jon staring at himself in his head is so immediately affecting and ironically feels making it completely got to me. Even on the first review pass (my second read) it had me weirdly both welling up, and nodding emotionless in agreement, at its perfect distillation of the sensation and life swallowing nature of that emptiness inside.
In many ways that's always been the core strength of Sex Criminals' Fraction and Zdarsky. Read any of the letters columns (a huge part of these books) and you'll see the phenomenal effect that they have on their readers. From repression, asexuality, and sex shaming, through to Jon's depression, they tackle issues of sexuality and the self (often linked, of course) without sacrificing narrative and character, but also not being needlessly right-on or preachy. Suze helps spell this out to us in this issue (and previously when they parted) and we're straight back in to the story.
You don't have to try and explain it to me. We don't have to talk about it, and I won't judge you because of it.
Then they're back into their game. It's the same with the red panels above, it's all so fluidly handled and expressed that it's a natural state.
Honestly, you could pick up any issue of sex crims and be completely blown away. However, here, you'll get as close to perfection as you can, and still be eased in.
Phenomenal stuff. See in October for #17!
What people say... Leave your rating
Order by:
Be the first to leave a review.
Show more