Everyone does blank sketch covers, comic books published with a vast white expanse on the cover with the aim to be given to artists to create their own unique sketch covers for the comic in question.
Everyone it seems apart from Spawn. which never has.
Until now.
Scorpion Comics has two retailer exclusive sketch variant covers for Spawn #265 – not sure how that fits in with Image Comics' retailer exclusive cover policy, maybe it's because there's a lack of cover here.
They come in two blank varieties, Spawn #265 Gold Blank Variant Cover with a gold Spawn logo and the traditional markings, borders and bleed lines of art boards, limited to 666 copies.
And the Spawn #265 Red Blank Variant Cover with a red logo, without markings and limited to 1500 copies.
Anyway, it does give us the excuse to also run this Johnny Christmas cover for our friends Yesteryear Comics from Teenage Mutant Ninja Turtles Universe #1 out this week.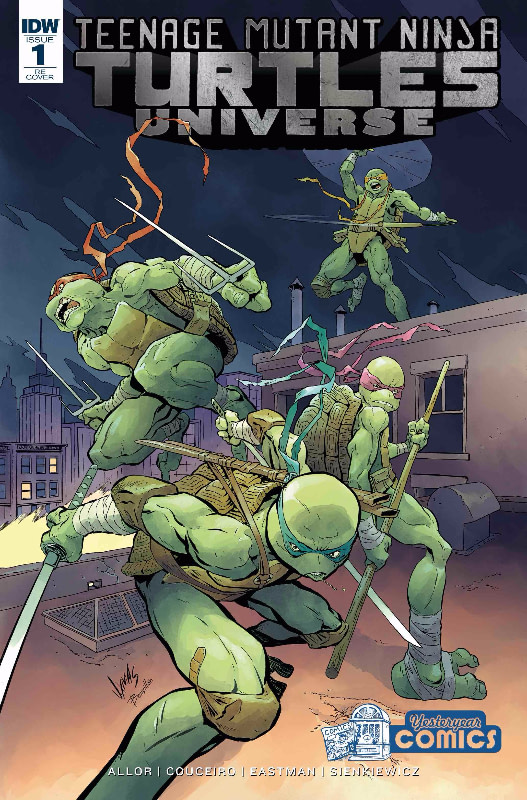 While Jesse James Comics have found the staff on the cover of their next exclusive cover of Bob's Burgers #14. That's a very definable baseball cap for Jesse there…
I recently pitched a cover for Bob's Burger #14 to Fox and Bento Box. Though Dynamite came back and said it was denied.  They actually came back with a cooler ideal.   I can't Thank Fox, Bento Box, and Dynamite for making a cover that is unique and highlights the TRUE way a Exclusive cover should be.  It's relevant to our customer base  and consistent with our other 6 covers, keeping our Brand as part of the cover.  It also shows that our team at Jesse James Comics is recognized as part of our future success.  This is also out 130th Exclusive cover.