Bleeding Cool ran an article on the chaos over the Sons On Anarchy cast appearance at Space City Comic Con last weekend that went a tiny bit viral.
Sons of Anarchy's Charlie Hunnam has now issued a response to the media furore that followed, addressing attendees of the show.
Dear Space City Fans,
I wanted to reach out personally and offer a sincere apology and some clarification from my perspective on the events that caused this past weekend's comic con event to descend into the unmitigated disaster that it became.
On Monday of last week it became clear that the organizer of Space City was not going to honor the contract that he had made with me to appear at the event. I injured my lower back on Tuesday evening and spent most of Wednesday in bed. After an MRI on Thursday my Doctor advised that I do not travel, but I refused to let down my fans, so I flew to Houston with a slipped disk knowing that I was not going to get paid.
When I arrived at Space City it was clear that my misgivings about this event were to be dwarfed by the reality, and I quickly realized that the whole thing was a complete disaster. I believe this was precipitated by the event organizer failing to honor many of the participant and customer obligations, as he had failed to honor mine. As my only interest was to make fans happy, I got straight to work signing autographs and posing for pictures.
On Saturday morning I arrived on time to the event and attempted to hold the event organizer accountable for what I perceived to be his gross misconduct. He remained steadfast in his refusal to take any responsibility. Without further recourse I was forced to suck up the grand injustice that was being perpetrated upon us all. Therefore, for all of Saturday, I appeared at all scheduled photo ops and signed as many autographs as I could. The entire event descended into utter chaos at the end of the day and I was powerless to effect any positive change. At this point, I felt I needed to remove myself completely as I could no longer be a part this giant con.
I was and continue to be deeply saddened by this unfortunate event. My fans are extremely important to me and I would never willingly let you down. I, like you, was bamboozled by this unscrupulous event organizer. To this end I am working on a solution to honor my commitment and make it up to you.
Again, I offer my sincere and heartfelt apology for all of the disappointment that this event caused. I implore you to do everything you can to seek appropriate restitution from the event organizer. I'll continue to do the same.
With love and respect,
Charlie Hunnam
Here are a few of the people's responses on Facebook,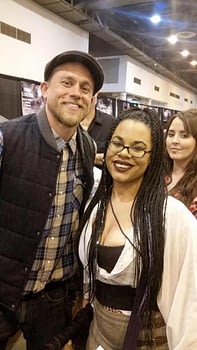 Danae Vance
I had (and shelled out BIG for) a Charlie Hunnam VIP badge and waited to get an autograph/selfie in his lineup on Saturday. After waiting close to 2hrs and with less than 10 people in front if me, the convention handlers closed his line to rush him off to the professional photo op's. I was GUTTED.

Luckily Charlie, being the *amazingly* kind guy he is, heard me shout his name and ask him to sign my art and take a photo. Still devastated I didn't get time to actually talk with him (like was promised with my package), but I'm so grateful that he ignored his body guard and/or rude ass con people to take a quick photo and auto. And now factoring in his health issues (that I never would've guessed from how kind, bright and friendly he appeared)?? I'm so saddened by this whole experience but I'm even sadder (and angrier) at all the articles I've read completely dragging Charlie. This was a bad situation for EVERYONE around, the fans AND cast/Charlie.
Hanna Gurganus 
After a disaster of a day at the Comic con due to unprofessional treatment and not being given what I paid for It was Charlie Hunnam and his nice behavior that made the day for me on fri in a con that was in disarray from the second I walked in
Mishana Peugh
He and the SOA cast were amazing. I don't know many people that would continue to do a job without getting paid. I, like many, did not get what was promised from Space City Comic Con. All of the advertising and promotions done by Space City involving the SOA cast were fraudulent. I do hope that Charlie and the rest of the SOA cast know how much we appreciate all that they did and that they will return to Texas at some point.
Jamie Stewart Watts I was there, it sucked, and I didn't get all that I paid for. But, despite the circumstances, Charlie and the rest of the SOA cast did their very best to make all of the fans happy. For that I am grateful!
Shannon Adams
Charlie Hunnam I was a vendor and I spoke with people working for the comic con and Charlie was scammed. I know that for a fact because I was told they were planning on paying him sunday if ever. Charlie caught on quick though because he is smart. It was the most unorganized event I have attended. I stood in a 1 hour line to register, another 1 hour line to get my vip tickets and i was 2 hours late to my damn booth. Than they screw over charlie who took it like a king and treated all of his fans amazing. I stood in a 5 hour line saturday to meet charlie and he had to leave right before I got upfront and that really sucked. Standing in these lines were exhausting I cant imagine how it was for charlie with a slipped disc. Your fans love you charlie boy…but you need to file charges on this guy.
Sirena Rubio
He is the whole reason we went to this con Sunday & we were absolutely DEVASTATED he wasn't there. We were able to switch for photo ops w/ David LaBrava & Tommy Flanagan (who were extremely cool & understanding) of course nothing could replace the opportunity w/ Mr. Hunnam but I'm grateful we were able to catch pics with these guys, they're awesome! Hope this doesn't deter Mr. Hunnam from attending future events & Houston would really love to see you again. Thanks for keeping us informed, as we had no idea what was going on. Hope you feel better.
Enjoyed this article? Share it!