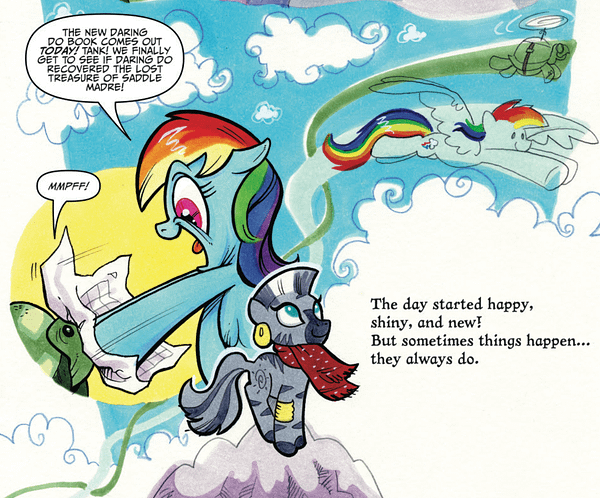 Only My Little Pony #41 truly conveys the joy of New Comics Wednesday. So what did you get this fine day? Well hopefully you got No Mercy #9, which is probably the best comic book I read today. By Alex De Campi and Carla Speed McNeil (who have both worked on My Little Pony too) it takes one of the characters from the teen thriller and tells a story of instutional abuse before opening up the reality of the situation. A fine, fine comic book, that works as a one-off, or part of the ongoing narrative. I do hope you'll try and track it down. Hot Damn #1 teaches us life's real lesson. Don't do drugs like all the damn time. I think everyone could agree with that one. If only Nancy Reagan had modified her language….
So this is how I picture Dan Slott right now. Wrath Of The Eternal Warrior #6 continue to wrath its wrath for the reader. Did I mention all the wrath?
Justice League had one punch. Another Castle #2 by Andrew Wheeler and Paulina Ganucheau seems to have one tap instead.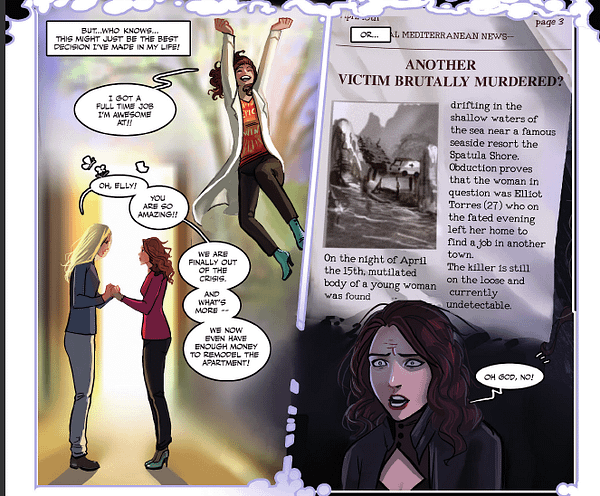 Bloodstain by Linda Sejic sums up the whole volume in one brief competing narrative montage. That's about right!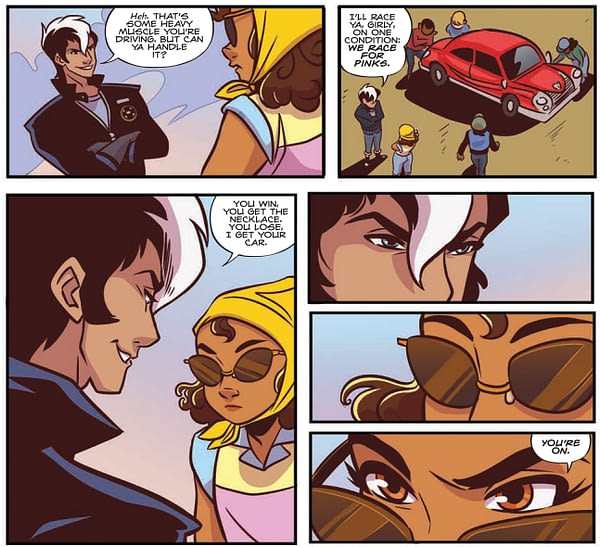 Goldie Vance #1, the new Boom Box series from Hope Larson and Brittney Williams gives a slightly one sided arrangement here.Though one someone lowers their shades, it's a bad idea to bet against.
I know doing it by text is considered heartess, but I think I'd prefer that to a Glasgow kiss. Heartthrob #1 by Christopher Sebela, Robert Wilson IV, and Nick Filardi presents modern social mores.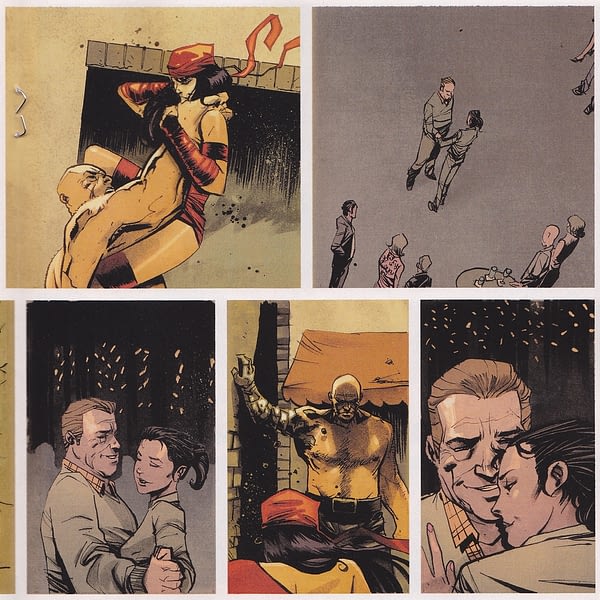 The Illuminati presents the second least likely sob story of the week (C-3PO gaining the crown) as the impact of what Pleasant Hill did to its inmates is more powerfully portrayed in Illuminati. No one comes out of this one sympathising for SHIELD….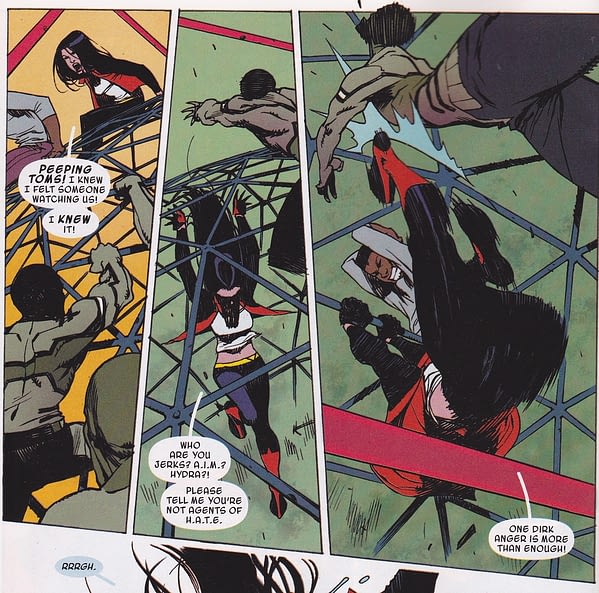 As Spider-Gwen decides that the universe for Silk and Spider-Woman is now called Prime Earth instead of 616 (the ire of Brevoort must have been mighty on last issue's slip), we also get further proof that Dirk Anger and the Agents Of HATE are also in Prime Earth continuity…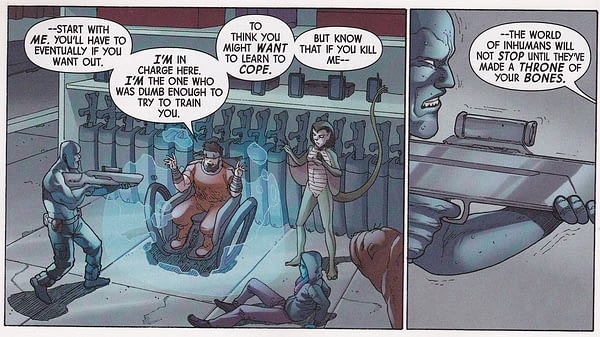 Say, I though Inhumans was meant to be like a George RR Martin novel rather than Brian McNaughton. The negotiation of their place in the world still continues….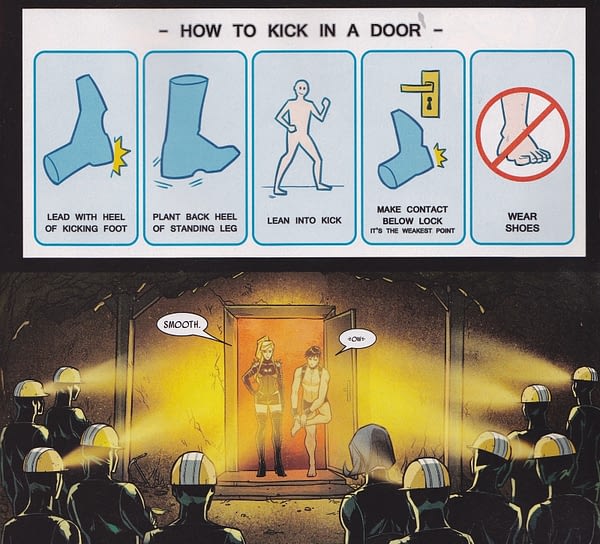 Mockingbird is already rivalling Darth Vader and The Vision for my favourite Marvel title, and for those who miss Fight Club 2 now that it has ended, you might as well jump right in, it feels as if the comic is just continuing… with such confident comics storytelling tricks as the above!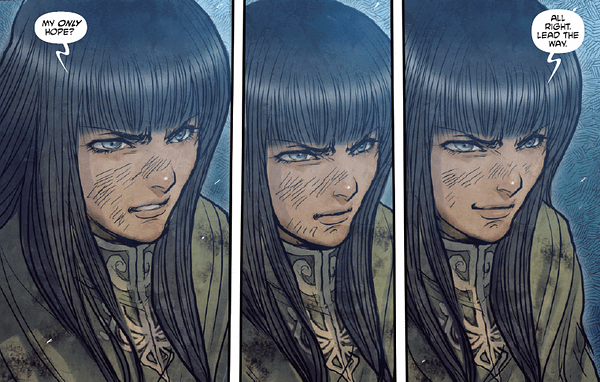 While Monstress makes the case for not running "stat" panels… A&A: The Adventures Of Archer And Armstrong #2 and provokes wrath from wretchedness. Enough to make anyone green and off their food.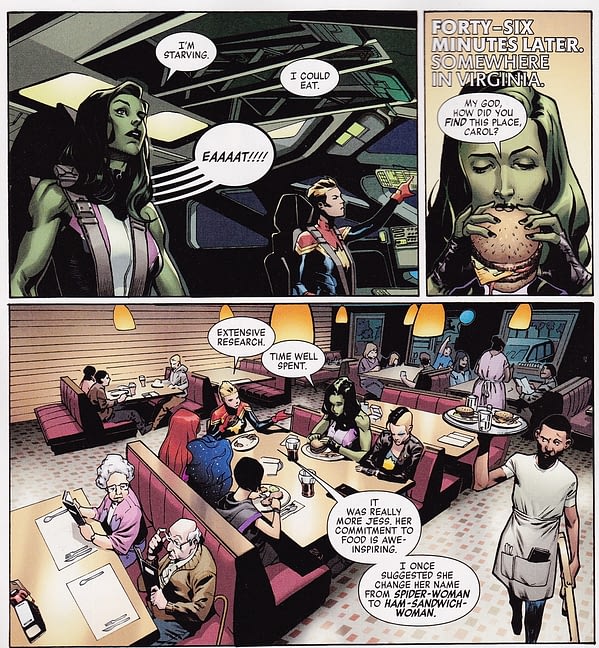 Okay, so we're half right. As She Hulk enjoys a burger that appears to be bigger than her head in A-Force, Carol Danvers makes the kind of joke that would be really insensitive if Spider-Ham was around. I just hope no one tweets it out and causes a shaming storm. Talking of which…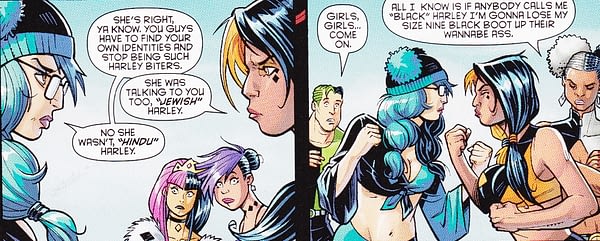 Harley Quinn And The Gang Of Harleys has a little inter-gang feuding and the racial epithets start to spill. Never have quote marks been used in comics with such disdain. As Harley does her best impersonation of Emp in Empowered and if we didn't think we had enough Harleys… we get another.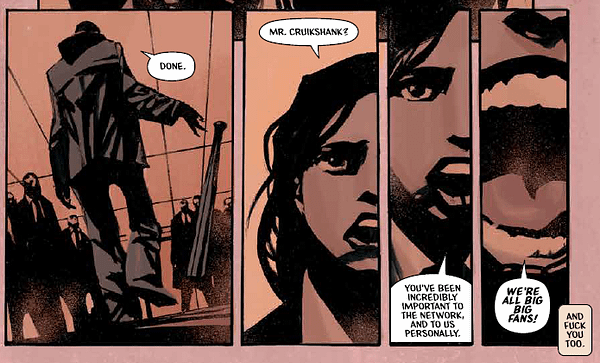 That great comic Starve? Sometimes I could swear it's about Alan Moore…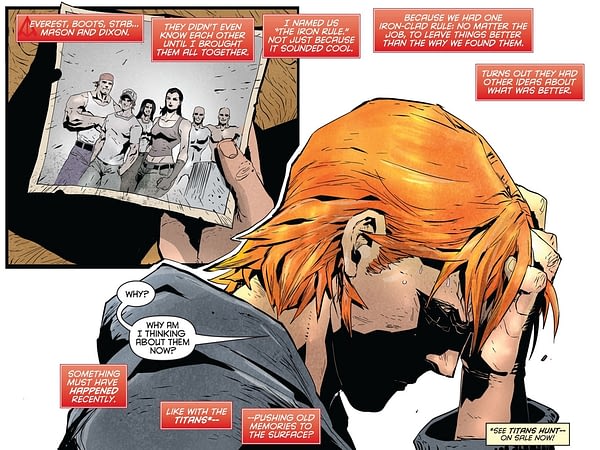 More memory issues for comic book characters as Arsenal remembers another aspect of is past previously buried. When he drunk to forget, he really drunk to forget.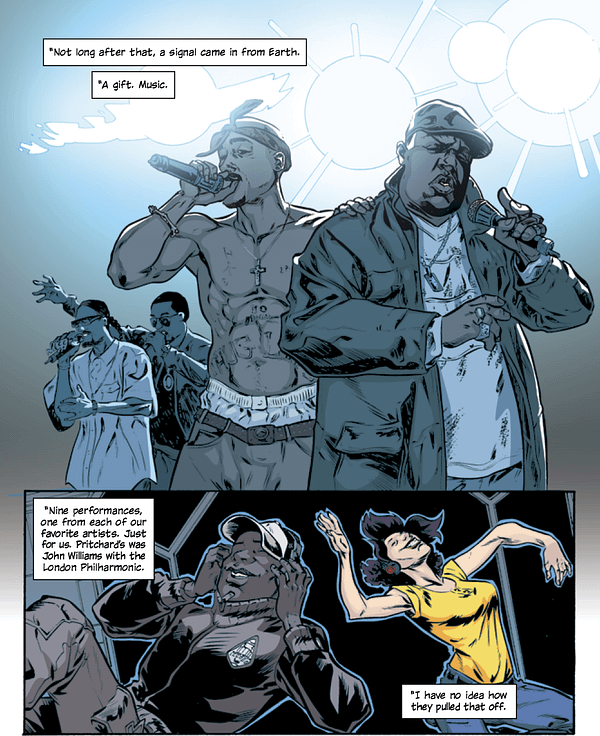 Comics are often a power fantasy. Even when it comes to music. Letter 44 #24 creates the almost impossible on a far more mundane level this issue.
Sing them, folks. Sing those Kennel Block Blues… woke up this morning… only the dog was left. Even my pants had walked away…. Yeah, October Faction #15? Well at least he's got one…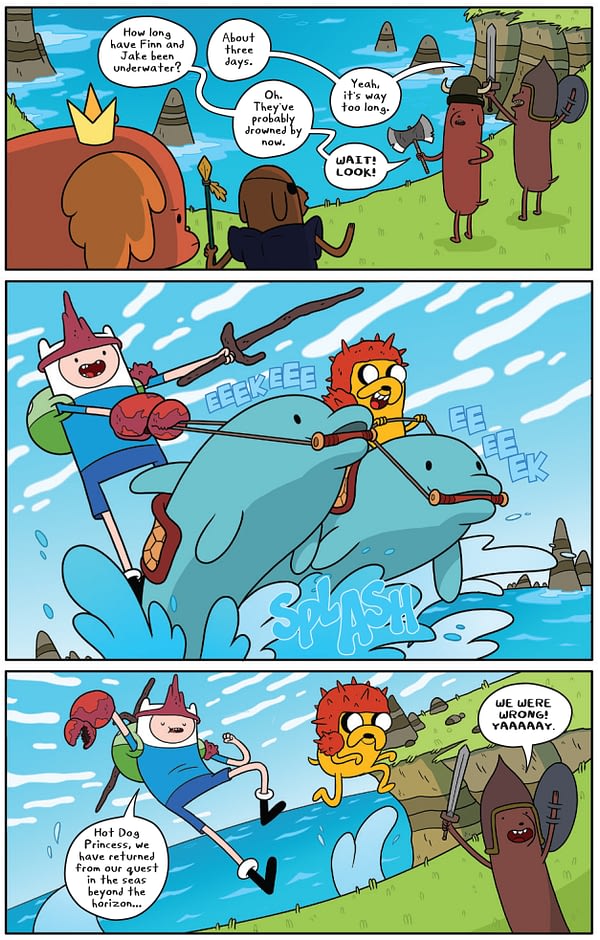 Though Adventure Time #51 has a pretty good go at it as well…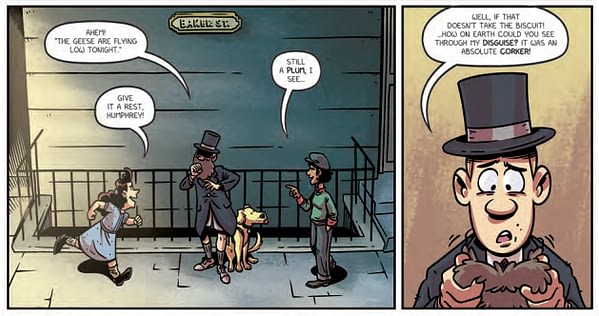 The Baker Street Peculiars has a disguise that I really think Superman should adopt now that everyone knows who he is. Batman/Superman are fighting the elements of the Zodiac…
While so is the Amazing Spider-Man, getting a little literal with the animal imagery.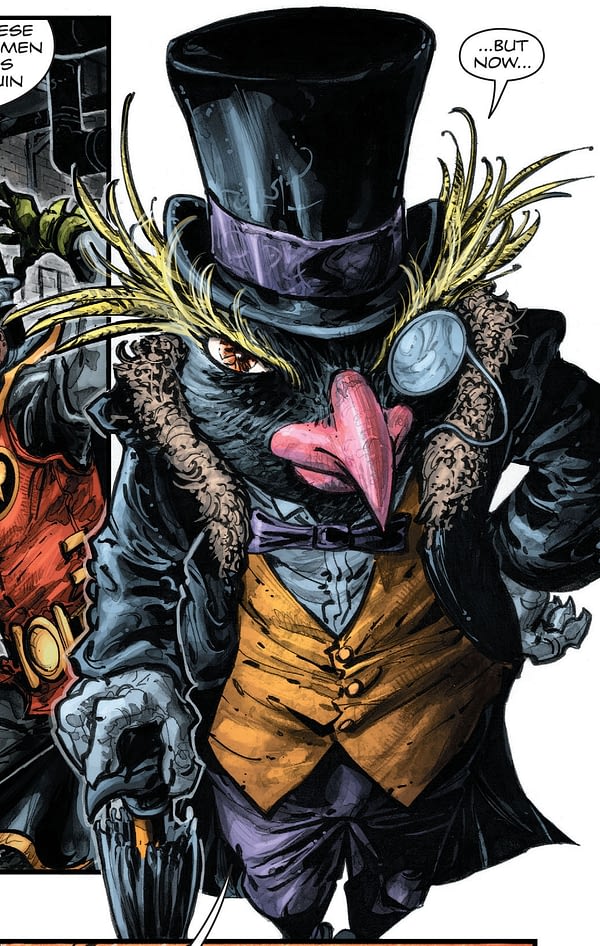 Though not as much as some. Talking of which, what is the sign of the Penguin, in Batman/TMNT?
Moon Knight #1 also sees a more literal animalistic take. Real? Or in his mind? Or does it matter?
In Uncanny Avengers, Deadpool takes a moment to talk to a human embodiment of a cosmic cube. What's the worst that could happen? And gets a plug in for Robert Kirkman as well…

While we get a little sartorial history for the Marvel Universe in Gwenpool. The proprietor of Big Ronnie's looks a little different from the Daredevil costumier in the Netflix show…
Although where folks change into their costumes since all the photo booths went away I have no idea… as Jupiter's Circle turns to yesteryear to find a spot.


This explanation by O-O-O may be a little more meta than it appears. Darth Vader forbade him from fitting droids with needles to suck up blood from their victims so as to be able to utilise the Force. But he's able to talk about it and suggest it – as long as he doesn't actually do it. O-O-O is Darth Vader writer Kieron Gillen here and Darth Vader is Lucasfilm. As it should be.
The nice thing about Pretty Deadly? It always lives up to its name…
Enjoyed this article? Share it!