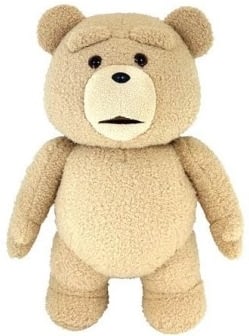 We've talked about the film Ted 2 before. How it is a completely unrealistic and unbelievable movie. Not for the talking bear, that's a given, but for the way it portrays New York Comic Con as a place you can just walk into without being lucky enough to book a ticket months before.
I mean, seriously.
Well, Ted 2 is now available on Blu-ray and DVD in the UK. And there's a chance at least to win the more believable aspect of that experience, a talking bear.
The prize is a 24 inch R-Rated Talking Plush Ted. To win, you must a) live in the UK, b) follow @bleedingcool on Twitter and c) retweet the tweet associated with this post. And, if we DM you as a random chosen winner, respond in 24 hours…
With The Home Release Of Ted 2, You Can Win A Talking Ted https://t.co/AsMY6gSZDE

— Bleeding Cool (@bleedingcool) November 26, 2015
Copyright: © 2015 Universal Studios and MRC II Distribution Company LP. All Rights Reserved
Enjoyed this article? Share it!