Travis Ellisor writes;
Some speculation on Justice 3000…. as exclusively revealed by CBR yesterday, about fifteen minutes after Bleeding Cool did. Somehow. And based on Howard Porter's designs…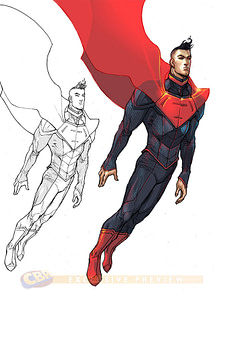 Superman –
It could actually be the present day Superman, since he has time traveled to the Legion's time many times before. Or he just lived that long.
It's probably Mon-El, who has basically the same powers as Superman (and he's filled in for Kal-El before). But the cool choice would be Kent Shakespeare, one of Superman's descendants who was a member of Keith Giffen's "Five Years Later" Legion. Batman –
It might be a Legionnaire who could pose as Batman, like Karate Kid or Timber Wolf. But the truly nerdy choice would be Brane Taylor, the Batman of the Legion's time who has never actually met the Legion. Bonus points if they include Tom Wayne, from P. Craig Russell's Robin 3000 miniseries.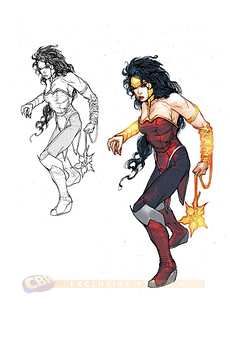 Wonder Woman –
It could be Night Girl, the super-strong, black-haired former member of the Legion of Substitute Heroes. But she's only strong in the dark, so probably not. The Legion fanboy choice would have to be Laurel Kent, yet another descendant of Superman.
Or Donna Troy. Somehow.
The Flash –
It could be Bart Allen, and it certainly looks like him. But instead I think it's his father Don Allen, formerly of the Tornado Twins.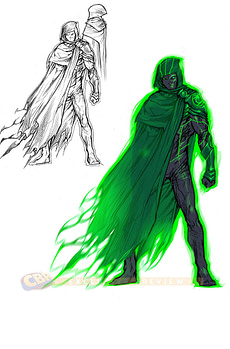 Green Lantern –
Possible choices include Rond Vidar, the deceased Legionnaire and Green Lantern or Sodam Yat, the seemingly immortal Daxamite Green Lantern. But that could be a woman under there, like Celeste McCauley, former Legionnaire and the living embodiment of Green Lantern energy.
As a bonus I've included an image from Superman/Batman #80, where Kent Shakespeare, Lauren (Elna) Kent, Brane Taylor and Tom Wayne are all shown to be the Superman, Superwoman, Batman and Robin of the 31st Century.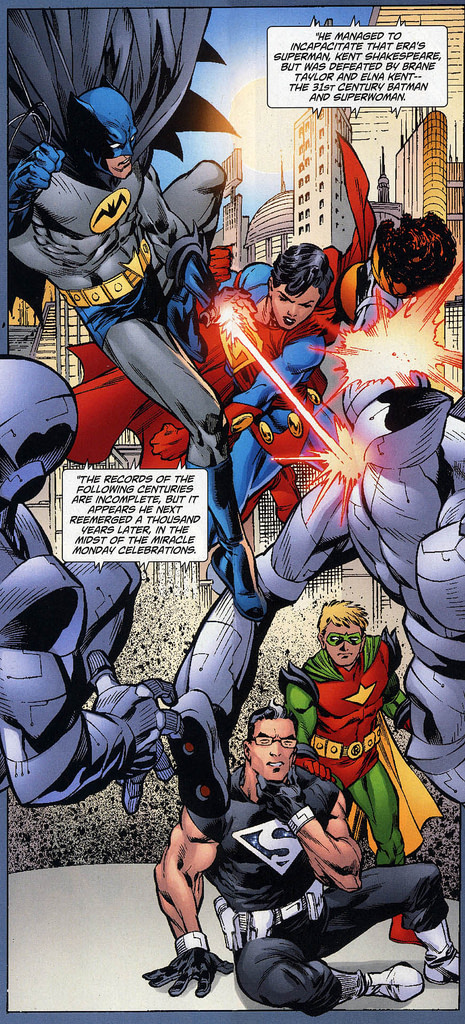 Rich updates: Sorry Travis, I'm told from a reliable source that they all incorrect. Although Wally West is close…