DARK SHADOWS: YEAR ONE #3
Marc Andreyko (w)
Guiu Vilanova (a)
Patrick Berkenkotter (c)
FC • 32 pages • $3.99 • Teen+
Will Barnabas' bloodlust destroy everyone he has ever loved? Angelique, the immortal witch, wants revenge on Barnabas for spurning her love… and it looks like his soul mate Josette shall pay the price! As bodies pile up, the cold-blooded Reverend Trask continues his witch-hunt. Who will survive his righteous fury!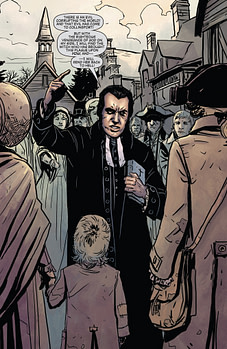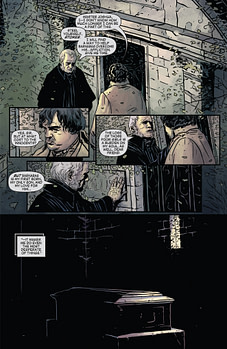 GREEN HORNET: LEGACY #38
Jai Nitz (w)
Jethro Morales (a)
Phil Hester (c)
FC • 32 pages • $3.99 • Teen+
What's worse than a supervillain? Green Hornet asks that very question when he teams up with the nefarious Nikki Stripez to crack a ring of human traffickers in Century City. What will this deal with a devil cost Britt Reid? Heroes and villains unite!
WARLORD OF MARS: DEJAH THORIS #26
Robert Place Napton (w)
Carlos Rafael (a)
Paul Renaud, Fabiano Neves (c)
2 regular covers will be shipped in equal ratios
FC • 32 pages • $3.99
Drawn to danger, Dejah Thoris has survived murder plots and bloody global conflicts.  After these recent events, the royal family insists that she take a quiet, safe holiday. But her sojourn of relaxation turns into a nightmare, as the young princess bears witness to a dangerous discovery in an unknown region of Barsoom!
VAMPIRELLA STRIKES #6 (of 6)
Tom Sneigoski (w)
Johnny Desjardins (a
Johnny Desjardins, Fabiano Neves (c) 
Fans & retailers, order the cover of your choice!
FC • 32 pages • $3.99 • Teen+ 
Vampirella, Janus, and the demon hound Cleo travel to the South China Sea for a final battle!  Will the imprisoned angel Evanuel finally be freed from the clutches of the demon Balthazar?  Will the fallen Janus at last find absolution, and be allowed to return to Heaven? And what horrific act will bring Vampirella that much closer to God?
EVIL ERNIE #6
Jesse Snider (w) 
Jason Craig (a)
Ardian Syaf, Dan Brereton, Kyle Hotz, Stephen Segovia (c)
ORIGIN OF EVIL PART 6! Writer Jesse Snider & artist Jason Craig complete their critically acclaimed new origin for the fan-favorite, undead anti-hero! And the praise keeps gushing out! League of Comic Geeks combines reviews from across the web to give a "Critical Consensus," rating both
ROBERT JORDAN'S THE WHEEL OF TIME: THE EYE OF THE WORLD #35
Robert Jordan, Chuck Dixon (w)
Francis Nuguit (a) Adam Moore (c)
FC • 32 pages • $3.99 
The Prophecy Has Been Fulfilled! The Dragon has been reborn! The Dark One has been dealt a great blow, and the people of the world rejoice, finally, in the coming of spring! It has been a long journey for Rand al'Thor and his friends, and it has changed them all forever.
GEORGE R.R. MARTIN'S A GAME OF THRONES #15
George R.R. Martin (w) Daniel Abraham (adaption)
Tommy Patterson (a) 
Mike S. Miller (c)
FC • 32 pages • $3.99 • Teen+
George R. R. Martin's fantasy masterpiece continues.  With her unborn son proclaimed "the stallion who mounts the world," Daenarys has more cause than ever to rejoice in her marriage to Khal Drogo. But when her brother, the mad Viserys, demands his promised crown, Dany's future takes an unexpected turn. Meanwhile, in King's Landing, Robert Baratheon is mortally wounded while hunting. Robert decrees that Eddard Stark shall be Lord Regent until Prince Joffrey comes of age, but Eddard knows the boy is no son of the dying king's. Yet where in this serpent's nest of intrigue can he turn for help to secure the throne for the rightful heir? And in the frozen north, Jon Snow, newly promoted to the Black Watch, suffers a shock to his pride—and takes the next fateful step toward his destiny.
WARLORD OF MARS VOL. 3 TP
Arvid Nelson (w)
Daniel Sampere, Stefano Martino, Leandro Oliviera (a)
Joe Jusko (c)
FC • 168 pages • $19.99 • Mature
John Carter has freed Mars from Issus, the false goddess whose tyranny once ruled the entire planet… but at a great personal cost. Dejah Thoris, his beloved princess, was kidnapped by a renegade priest bent on revenge! Activating a doomsday device to destroy the fragile Martian atmosphere, the evil Shang flees into the unknown regions of the north. Carter, aided by his son Carthoris and trusted alien pet Woola, must unite the many races of Mars – despite the ages of distrust and open warfare – to avert Judgment Day!
Collection Features:
• Issues 19-25 of the hit series written by Arvid Nelson and illustrated by Stefano Martino, Vincente Cifuentes, Leandro Oliveira, and Everton Sousa
• All of the covers by Joe Jusko and Lucio Parrillo
Enjoyed this article? Share it!