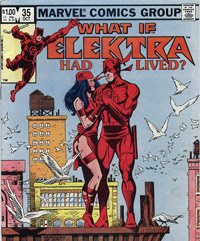 At the ComicsPRO meeting this past weekend, Marvel SVP David Gabriel told retailers that we would be seeing the return of the What If? title to Marvel Comics.
Adored by continuity fans, the What If? title originally told stories of alternate continuities, taking the narrative paths not chosen by their writers and artists – although often they'd used the same writers and artists to explore those directions, such as Frank Miller's What If Elektra Had Lived? (pictured).
He also told attendees to expect something big for Superior Spider-Man #9 and for the 50th aniversary of X-Men.