Cameron Hatheway writes for Bleeding Cool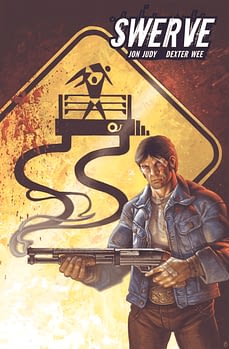 While I was never a fan of professional wrestling, I definitely remember feeling its presence in middle school. It had always been on television, but the friends I was hanging out with at the time were addicted to the stars of the WWF (before the lawsuit) and even staged matches in their backyards on the weekends. I just didn't see the point, for it was well-known at the time that everything was faked. The only wrestlers I recognized were from Slim Jim commercials or movies like 3 Ninjas: High Noon at Mega Mountain, and for the longest time I was under the impression that Steve Austin was the CEO of Cold Stone Creamery. I didn't even know that Fezzik had a long and successful career before The Princess Bride, let alone his own posse!
So although I never smelled what The Rock was cooking, that doesn't mean I don't appreciate other people's passion for the sport, nor the entertaining stories of what these titans are like outside of the ring. It's definitely still a force to be reckoned with in pop culture, with millions of fans worldwide. That's where the original graphic novel Swerve by Jon Judy and Dexter Wee comes in, however they don't revolve their story around the razzle dazzle of today's legends, but rather set it in the gritty 1970's instead.
The setting: San Antonio, 1976. The main character: Eric Layton, one-time NFL player before suffering a career-ending injury to his knee. Desperate for cash to pay for his mother's surgery, Eric explores the only option available to him: wrestling in an All-Star league that travels the southwest circuit. His new boss Tony Frank runs the operation while simultaneously running drugs and prostitutes on the side, using his own wrestlers to sometimes deliver product and bash a few skulls if need be. Since Eric is in dire need for cash, he's willing to dive headfirst into this new world if it means for a bigger paycheck, morals be damned. Wrestling by day, killing the competition by night becomes the norm, until Eric suddenly realizes there's no way out of this corrupt lifestyle.
The title of the graphic novel refers to the wrestling term of setting up one surprise, then delivering another, and sure enough the reader gets plenty of swerves throughout. Each chapter introduces a new term, and Jon Judy very craftily ensures the terms are indeed relevant to the plot. When I initially thought this story was going to focus on wrestling, Judy does a great job balancing the crime aspect with the wrestling storyline, and always keeping the reader on their toes. Just when you think you're comfortable with where the story is going, Judy swerves you all over the place, but not enough that it becomes tiresome. The major swerve at the end was one I didn't see coming, but made perfect sense when I let it sink in.
Dexter Wee's art style is reminiscent of Sean Phillips and Steve Epting at times, and maintained that gritty look and feel of the 70's we're used to in movies. Even the way the art flowed reminded me of a good action movie, for this story and characters are ripe for Hollywood.
If you're a fan of Brubaker's Criminal or Cooke's Parker, I highly recommend you pick-up Swerve when it comes out this February. It's currently available over at comiXology in single issues if you want a taste, but I was fortunate enough to read it all in one sitting and definitely couldn't put it down until I was finished. While sometimes people forget about Arcana amongst the sea of indie publishers, they'll then go and release a hit like this and remind us of their bountiful arsenal of good comics.
Swerve (Arcana)
Written by Jon Judy
Art by Dexter Wee
154 Pages, Color
Diamond Code: DEC12 0813
Cameron Hatheway is the host of Cammy's Comic Corner, an audio podcast. You can watch him perform an Atomic Shining Wizard Superfly Banzai Powerbomb on Twitter @CamComicCorner.
Enjoyed this article? Share it!