Uberfan Jesse James of Jesse James Comics interviewed Tony Parker. He then blackmailed us into running the results. Please don't shoot us, Mr James, we surrender!
It's very rare to go into one of the 16 stores in Arizona on a Saturday, and not see a Creator hanging out. They are either doing a signing or just chatting with owners or customers. So, the first time I walked into Atomic Comics there was this guy, at a table, with tons of art work. He was talking to someone so I kind of leaned over to look at his work and then realized this was no Rookie, this guy was very good. Over the last 3 years I have become friends with him. We have had a lot of conversations about the comic book world and of course his love for the Seattle Seahawks. He is one guy you would stack BB 's for and be by his side in battle. His Name is, Tony Parker, he has taking some time to talk to us about how he started and where he wants to go in the World of Comics.
At what Age did you say "Lets do this?"
It's always been there, but the path twisted around a bit. It wasn't until my senior year in college that it fully settled in. I was finishing off my second half of a Criminal Justice/Psychology Dual Major, and realized fully that neither were for me. I was graduating Cum Laude, and was offered Grad level studies, but I respectfully turned them down. I was taking about two lines of notes per class, but filling a page in a sketchbook in that class time. I tried the self taught path for a while, but with no success. Thankfully, I was able to take art classes from an amazing instructor who kicked my ass from Hell to Breakfast, and help put me on a great path.
Who's art style first caught your eye? Did you have a mentor in your career?
I still remember picking up that issue of Uncanny X-Men #248 at a 7-11 off the campus of University of Alaska Fairbanks, and incessantly tracing and copying from it. He totally asploded my mind. Michael Bay scale explosion scale. As far as a mentor, I've been lucky to have been artistically helped by some incredibly talented individuals. Peter Steigerwald put up with my constant hassles at comicons, and gave me great advice. Mesa Community College Professor Jim Garrison was the one who kicked my ass from the previously mentioned Hell to Breakfast taught me how to draw. I had multiple streams of help from other creators who helped me grow artistically as well. I learned business the hard way, but listen to all entertainer business types. Living vicariously is a valuable thing. Side note-make sure to research any company that you might work for, and never be afraid of walking away from a bad offer.
Did you start out doing the Marvel/Dc characters first in your career or was it more your own expression of what a hero would look like?
I went a third way. I was work for hire, starting with fantasy and the Warhammer properties.
How did your Boom, Do Androids Dream of Electric Sheep help you out in growing your style and your overall career?
They were great about letting me take risks. The risks started with storytelling, then developed to allowing me to use an ink wash/line technique that people seem to enjoy. I try to see drawing as being similar to acting. There are nuances that can be changed to help reinforce the story. DADOES also brought me international exposure. It caught me off guard when French websites started asking for interviews. Before DADOES, no one outside the Pen and Paper RPG community had heard of me. After, a few people have vaguely heard of me.
How did you handle working on a maxi-series of 24 issues and always keep coming up with fresher ideals towards the end?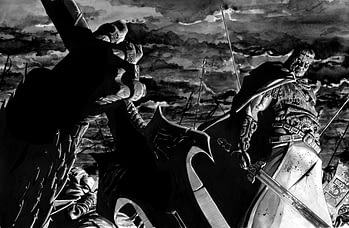 Working on it long term actually made it easier to come up with new ideas. The longer I worked on it, the more I could focus on the storytelling and adding both nuance and easter eggs. A lot of this is because as you're working on a book, ideas come to mind. Often, they come too late for the pages you're working on at the moment. They get stored away, often never to be heard of again. Working on a longer series allows for these ideas or snippets of ideas to be used. I heard that it takes about 4-6 issues for an artist to get a good feel of a book. I support this theory. By the end, I was able to add both subtle and blatant metaphorical layers to the book without taking anything away from the amazing source material.
Tell the Bleeding Cool Fans about your new assignment with Aspen's Dead Man's Run?
Sweet merciful crap, it kicks ass. Prison break from Hell. That by itself is amazing. Add in the stellar Greg Pak writing, it jumps up a level. I get giddy every time I get a new script. I want to draw the whole book in a day, just so I can see the end result. Like Walking Dead on AMC, Terminator 2, Aliens, and many more classics of entertainment? That's Gale Ann Hurd and Valhalla Entertainment adding their brilliance. Mix in the utter beauty of Aspen Studios (Peter Steigerwald coloring colors, David Curiel coloring interiors, and Vince Hernandez editing), and whoa Nelly, it's a recipe for awesome. I'm just happy to be on board. I'd add more about Hell being a physical location under a Federal Prison in the California Desert, a brilliant cartographer, a war hero with a shady past, AND GOING THROUGH HELL, but I don't want to spoil anything.
What impact has Greg Pak made on your work?
First off, his amazing writing forces me to bump my work to a new level to try to keep up with him. He also has a great sense of visual storytelling, and gives me suggestions to improve the book. He's also an incredibly nice and friendly person who is a wonder to collaborate with.
How does the con circuit effect your deadlines?
Tremendously. I only do a few shows a year. I love the interaction with fans, and I am incredibly appreciative of all of them. However, I figure that they'd rather have a book show up on a regular basis, than meet me. I have to plan for shows at least a few weeks out to compensate for missing a couple days of work, and even then I usually end up working at the hotel room after the con floor is closed.
How do you feel now that you're doing more portfolio reviews? Does it help your confidence that more people are asking for your opinion?
I'm just happy to help when I can. I'm appreciative that others value my opinion, but I understand that it's just one persons view.
Your thoughts on digital?
Total double edged sword. It's a great option for those who have limited storage space, and those who don't live within the practical range of a comic shop. However, it's important that brick and mortar shops stay around not just because I have many friends who run them, but for the industry itself. There's something for not only the tactile reaction to reading a physical copy, but the option to browse books that might not have a good digital presence. It's all about finding that balance.
You're a very strong supporter of Hero Initiative. Can you tell us how important this cause is to both to yourself and other creators out there who haven't had the chance to experience this great Honor?
It's pretty much summed up in the mission statement. If it wasn't for those that came before me, then I wouldn't be doing what I love to do. It's the least I can do.
I've called you the Iron man over the last couple of years. What keeps you going?
I love what I do. I haven't worked a day in years. I just feel bad that I can't help out more, in both the local and national comic scene.
Three writers you would love to work on a project with in the future?
I can't mention the one that I'm working with now, since I'm working with him currently, and don't want to add any awkward pressure (though I'd absolutely love to). I can't also mention the writers that I'm ecstatic to be scheduled to work with, as I don't want to say any spoilers. That being said, I'm going bold and breaking the mold. I'm listing five, knowing they're all impossible. Should Steven Moffat ever do comics, I'd love to see what he would bring. Between Jekyll, Coupling, Doctor Who, and Sherlock, I'd love to see what he'd bring to Comics. Grant Morrison, especially with new or unestablished characters. He does great with characters he's free to play with. Alan Moore, fully knowing that I'd have to add a day to the week to read the scripts. Joss Whedon, but that's pretty much everybody. Finally, Katsuhiro Otomo. I'd learn Japanese to make it easier for him.
Any secret upcoming surprises for the Bleeding Cool fan?
If I told you, your heads would explode like Scanners.
Your favorite character to draw?
Varies from day to day, sometimes changing midday.
How about a book that you'd love to work on?
As silly as it sounds, I care more about the story and the writing. If I want to draw a character, I can do it when I have a spare minute. Now getting a great script and being able to be on a team that tells a great story, that's something special.
Enjoyed this article? Share it!