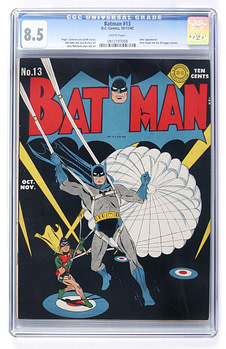 An all time classic BC post returns to the top spot the day after The Dark Knight Rises trailer #3 is released.  At this point, I'm going to be sorely disappointed if John Blake isn't a throwaway character from Batman #13 transformed to new prominence by the film.
Most-Read TV/Film Stories Today:
The Dark Knight Rises Plot Thickens: Batman's First Encounter With John Blake Revealed
It has been officially announced that Joseph Gordon Levitt's character in The Dark Knight Rises won't be The Riddler, or Alberto Falcone, or Black Mask but somebody called John Blake. All of those months of unlikely sounding rumours just weren't true – who'd have guessed it?
New The Dark Knight Rises Trailer
"My mother warned me about getting into cars with strange men."
Three Star Trek Sequel Factoids: Who Is Cumberbatch Playing? Which Aliens Are Returning? Is Nimoy Really Coming Back? 
Most of the principal photography for the Star Trek sequel has now been completed, with just a little more on-location work to come in May. Before we know it, there will be official images, footage and – dah dah! – a title.
Most-Read Comic Stories Today:
Last Week's Comics In Nineteen Panels 
I think we might need a separate column just to keep up with the AvX tie-ins every week.
A Sneak Peek At DC's Free Comic Book Day
The following article may have minor spoilers, but the major ones have been removed to protect the innocent.
Scott Lobdell To Take Over Superman From Jurgens And Giffen
Bleeding Cool heard that the New DCU Zero issues in September, now confirmed by DC artists, may lead to some creative changes in their wake.