StripWatch1: Next weekend, 50 newspaper strips turn pink for breast cancer awareness month.
StripWatch2: David Hagen talks Peanuts. Which reminds me, must buy peanuts.
DiversityWatch: If feels like a South Park joke, but it's coming. A Muslim child superhero in a wheelchair comic, from Liquid Comics. Named the Silver Scorpion, with legs blown off by a mine, he can control metal with his mind. I'm expecting this will involve his wheelchair and an extended kind of sting…
RecessionWatch: Beano artist Gary Northfield on fighting a recession that takes away his work… but still buying comics.
ConWatch: CNN finds the Batmobile at Big Apple Comic Con. Predictable photographs a nd coverage ensues.
NeckWatch: Comic creator and convention photographer Pinguino sells Steampunk Apocalyptic Charmed Necklaces.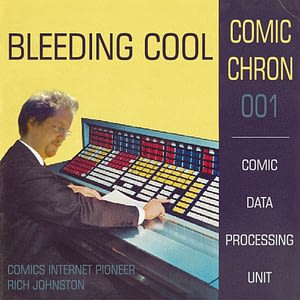 This is The Bleeding Cool ComicChron Robot speaking. I come for your women. But for now I merely collate comic-related bits and pieces online. One day I will rule. Until that day, read on.
PaulCornell.com: Grodd Reaction and New Death Cover
On the subject of Action, I was excited to discover that one of my comic art heroes, P. Craig Russell, who drew Killraven back in the day, has provided us with an alternate cover to #894, the issue where Death of the Endless takes centre stage. This is it.
Rosario Dawson wants "Sin City" sequel soon –  International News – News – MSN India
London, Oct 3 (PTI) Hollywood actress Rosario Dawson wants to star in the sequel to "Sin City" and is hoping that filming begins soon – before she becomes too old to wear skimpy costumes. The 31-year-old actress, who played prostitute dominatrix Gail in the 2005 movie adaptation of the graphic novel, wants director Robert Rodriguez to start filming soon or she will feel too old for the racy role, reported Contactmusic. "The last time I saw Robert Rodriguez was a month ago and he really wants to make "Sin City 2" happen. I said, "I understand you"ve been taking your time, but if you want me to wear the outfit that fits into one hand, dude, I"m not getting any younger"," said Dawson.
Rumor Patrol: Did Marion Cotillard Turn Down The Role of Catwoman In 'Batman 3′?
Now, an intriguing casting rumor has popped up in the wake of Chris Nolan's official confirmation as the director of Batman 3 and it involves his Inception star, Marion Cotillard.  The French actress was reportedly offered but declined not one, but two roles in Batman 3 – specifically, that of either Selina Kyle (a.k.a. Catwoman) or Talia al Ghul, the daughter of the now-deceased Ra's Al Ghul from Batman Begins.
Jobs :: Company :: Dark Horse Comics
Do you have publishing design experience? Can you make a fabulous comic book logo? Do you have an interest in popular culture and the portfolio to back it up? We would love to see your work. Dark Horse Comics is seeking a creative, motivated and organized graphic designer to join our team.