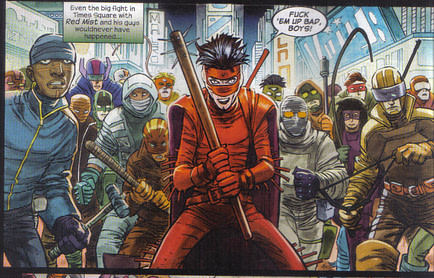 Bleeding Cool has received an early copy of CLiNT#2 out in a week. So what's the score?
Cost: £3.99
Pages of Kick Ass 2 #1: 8
Pages of Turf #2: 14
Pages of Rex Royd: 11
Pages Of Chosen American Jesus #1: 10
Pages Of Nemesis #2: 25
Pages of Prince Philip Presents: 3
Pages of debut comics: 22.
Note that this is not actually presented by Prince Philip, to avoid the legal issues that happened with Huw Edwards in #1: 1
Flashforwards in Kick Ass 2: 3
High point. The big battle between self-styled heroes and villains in Times Square which this series seems to be building up towards.
Low point. The dialogue about fancying Aunt May.
Explosions: 1
Blows landed: 7
Articles about Hot Moms: 1
Articles about Midgets: 1
Adverts for Kick-Ass related stuff: 3
Realisation in the Pegg and Frost interview that Pegg's appearance in Edgar Wright's video for Bastardo was based on his actual job as a waiter in a Mexican restaurant: 1
Level of disappointment that the interview didn't pick this up: 60%
Real ball-breaking Ennis-like scene in Frankie Boyle, Jim Muir and Mike Dowling's Rex Royd which still seems mad just writing this: 1
What is it? Oh no spoilers.
You can white it out. Oh okay. Rex Royd brings future generations, including Jesus, to the Garden of Eden to string up God, as he is raping Eve, with Jesus screaming that God raped him too.
Really? Yes.
Blimey. I know.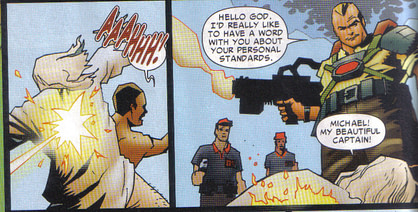 Well it wouldn't be CLiNT without rape references. Makes Mark Millar look positively demure.
Anything good in the Charlie Brooker interview? Actually yes, basically explaining how and why the 11 O'Clock Show as so awful despite having good people working on it.
What about this piece on real life superheroes? Possibly the highlight of the mag. A reporter embedding himself with these Kick-Ass-wannabees facing up against drug dealers.

Do they win? What do you think.
What's the collection of short articles at the back called? Flicker.
Of course it is. Anything blatantly offensive? Sexy Chavs, featuring a pinup of supposed shoplifting ladies.
And what about Mateus Santalouso's three pages at the pack. Bit of a cheap gag really but lovely art.
Overall? Something you where when painting.
No, I mean overall impression. Oh okay. Better articles than the first issues in general I suppose, it is a shame they didn't reletter the books to take advantage of the larger page size, but I'm happy to keep picking this up.