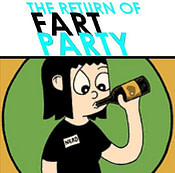 It didn't exactly get sent back to the stone age, but Julia Wertz's humorous autobiographical collection Fart Party Volume One is making it's way to the present from the past.
Collecting new material plus highlights from her mini comics of the same name, Fart Party was originally published by the Atomic Book Company who are now using Kickstarter to fund a reprinting. The minimum pledge is one dollar, but pledges of fifteen dollars get you a signed copy of book one plus free shipping. higher incriments offer more goodies, and there's even a retailer special to pick up 24 copies for a pledge of $165. (That makes it a little under seven dollars per copy; you might want to get your holiday shopping done with this.) The deadline for pledges is August 30th at midnight EDT.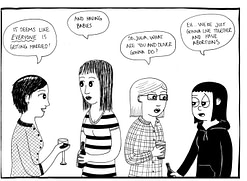 The Kickstarter site, which also successfully funded the first Reading With Pictures anthology, works by collecting funds to meet a minimum cost for a project. If the minimum is met, the project is carried out; if it doesn't make the minimum, no one gets charged.
Although Wertz doesn't consider Fart Party a webcomic, she does make her comics available online. The stories are marked with a blend of acerbic wit and foul-mouth funny making, ranging from the misadventures of living in a closet to the artist's obsession with bears. Imagine Garth Ennis writing Cathy, and you're about halfway to approximating the wildly inappropriate candor of Ms. Julia Wertz.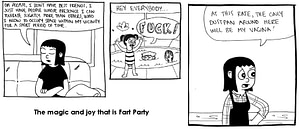 Greg Baldino lives and writes in Chicago, where he laughs like hell at Julia Wertz's comics. His fiction and journalism has appeared in many publications internationally. He can be contacted at greg.baldino@gmail.com
Enjoyed this article? Share it!