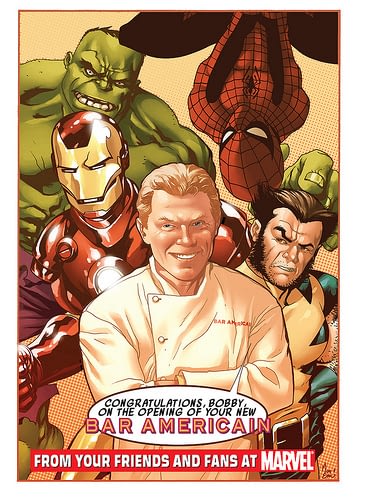 CHEF:
Via Senior Marvel VP C.B. Cebulski, this artwork (left) was created by Mike McKone, Emily Warren and Chris Eliopoulos.
It was commissioned through Marvel to create a gift for the chef Bobby Flay to commemorate the opening of his latest Bar Americain at the Mohegan Sun last November.
It's now hanging on his wall.
MORAN:
Dez Skinn, editor and publisher of Warrior and Comics International, is to sell an original pages of Marvelman art on behalf of a hard-up friend. The first page of the third chapter by Garry Leach.
I also remember it as the page which you could use to instantly tell how well the comic in question has printed, as to the definition of Liz Moran's nipple (see right).
Eclipse failed on both issue and collection, Warrior and the French collections did not.
BAGWELL:
I earlier talked about the success of Thomas Nachlik of Flying Friars past at Top Cow. Well now Bagwell, of Chase Variants past, is moving from strength to strength. He is to work on an upcoming serial at 2000AD, Indigo Prime: Reboot (page below)

I happen to think that Bagwell is one of the finest new comic book artists of his generation and it was a previlege to work on a couple of projects with the man. Any excuse to see more of his work is a pleasure.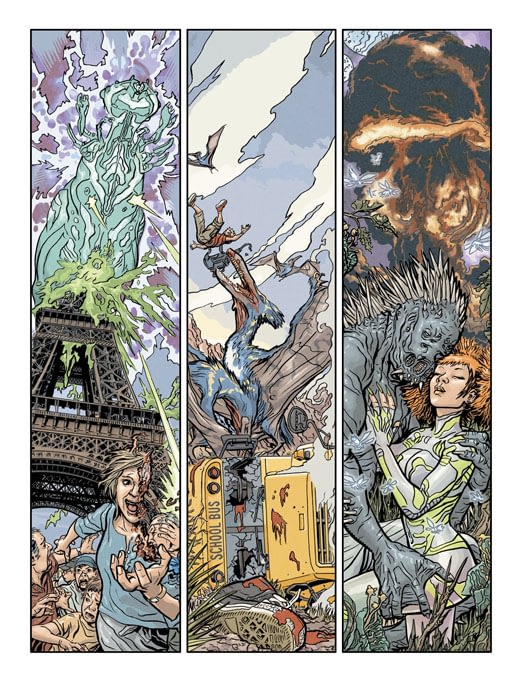 Enjoyed this article? Share it!