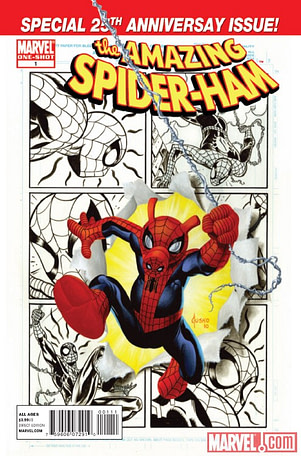 AnniversayWatch: This is the printed cover for today's Amazing Spider-Ham.
Now, Bleeding Cool may be well known for typos, but still Marvel, that's one hell of a front page misprint.
How ModernJournalismWorksWatch: This is a remarkable article. The headline is that Matt Smith has been losing viewers for Doctor Who compared with David Tennant in the role, with the headline "New Doctor Matt Smith is turn-off for Tennant fans" following up with "die-hard fans of Doctor Who appear to have deserted the BBC series in droves" and then "The latest series… has lost 1.2 million viewers" saying "Tennant's last full series, in 2008, drew an average audience of 7.2 million."
Of course by the end of the article, including timeshifted viewing, the BBC is quoted as saying "Consolidated figures show both series have so far averaged an extremely strong 7.8 million."
Which means there's no story. If anything it's that some viewers have switched from live broadcast to timeshifted viewing. Which isn't exactly a headline.
WidowWatch: Does Natasha Romanova, the Black Widow have an Earth Prime equivalent posing for the covers of Devo albums? It seems so.
PrintWatch: Batman/Superman Annual #4, picked by Bleeding Cool as a speculator opportunity is getting a second print. Will that destroy the market or just highlight it?
UniversityWatch: The Green Street Arts Center at Wesleyan University launches graphic novel classes this summer. As well as West African drumming. Your choice.
>HateWatch: Kevin Nolan reprints a litany of hate mail he received for his work on New Mutants #51 back in the day. He also writes "someone at Marvel also told me that a reader ripped up a copy of the book and sent the pieces to the editor without comment."
And what was the art like? Well, beautiful of course…,
ConWatch: Kusi News covers the battle for San Diego Comic Con by interviewing Robert Scott of Comikase.