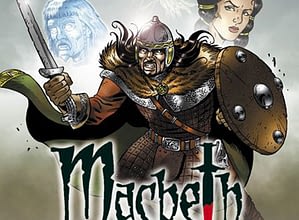 Classical Comics, who specialise in adapting Shakespeare plays as graphic novels, in three different levels of text for educationanal purposes, have hired classical Shakespearean Sir Derek Jacobi and Juliet Stevenson to play Macbeth and Lady Macbeth respectively in an upcoming motion comic version of their Macbeth graphic novel.
The DVD containing the show will allow people to watch the comic one panel at a time, progress through at normal speed, and contain live context notes to explain certain words and phrases.
Oh and look, they've got a back cover quote from Jacobi himself.
The concept of Classical Comics is truly inspirational, creating, as it does so magnificently, an accessible and fascinating mix of visual and audible drama. The stage and the page brought vividly to life. The artwork of Jon Haward is both dramatically compelling and beautifully illustrative. His pictures illuminate the words to perfection and bring these great works leaping to mind and eye. This format is immediate, vital, energetic and engaging. Highly recommended for any student of Shakespeare!

Sincerely,

Derek Jacobi
(Last Updated
March 1, 2010 8:11 am
)
Related Posts
None found