Yesterday, Bleeding Cool ran The Fifty Dollar Club – recent comic books that have risen from their floppy retail prices of a couple of dollars to requiring the approval of President Ulysses S. Grant to purchase a copy. But what about those waiting to be promoted into ithat heady company – or those who have been relegated down? On the verge of joining the club, or riddled with the memories of what once was. Let's take a look at… the forty dollar club, comics selling for between thirty and forty dollars apiece
Kick Ass #1 $49.99. First print of course, this creator-owned comic from Marvel by Mark Millar and John Romita Jr with a film out any day now. I've seen a not-ready version of the film and am seeing a finished version shortly. And while I'm not allowed to say anything about the film yet – I will say that I expect the price on this comic to rise, not fall. It's about to join the $50 Club any day now.

Preacher Preview #1 $49.99. Six months ago this going for $80. Interest is waning, on this giveaway preview of the book – that showed a few early versions of panels that didn't make it to the final issue. Let's see if anyone else will pick up the TV series now that HBO have said no.
Goon #1 $49.95. this is a massive drop here for this very rare Avatar book, feauturing an early version of the Goon, all but disassociated by the creator Eric Powell, but which six months ago was selling for $170.
Walking Dead #7 $48.47. Some issues are rarer than others. Issue 7 seems to be needed to fill a number of holes in various collectors' longboxes.
Transformers 1 $48.73. Pure nostalgia in comic book form. It reeks of American childhood – or or my own childhood that I wished was spent in America. And you can spare it with $50 and still get change.
Walking Dead 3 $47.82. As the Walking Dead issues begin to fill the charts. For those who really want more than just the first two issues of this comic.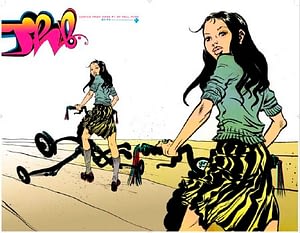 THB 96/7 $47. Paul Pope's back catalogue of THB work is in great demand, but is regularly out of print. As a result, his work is scattered through hot comics lists – how else are people going to be able to read it?
THB: Comics From Mars $46. Another one there.
Deadpool #54 $46. Ah yes, Deadpool Vs Punisher, with a Steve Dillon cover as well. A combination of fanbases that makes this the most valuable Deadpool issue right now.
Sonic The Hedgehog #48 $45 – Just one of the many issues of this videogame adaptation with a huge fanbase with fan too much money to spend collecting this childish treasure. A full set could set you back over a thousand dollars.
THB P-CITY Parade 1997 $42.05. Hey, I think I've still got this somewhere.
Ultimate Spider-Man 1 $42. This is where youe money might go if you're a bettering man. With Spider-Man 4 centred around this interpretation of Spider-Man, it should be on the rise. And with writer Bendis linke with actor Zac Effron, there are all sorts of possibilities.
Cry For Dawn #1 $41. Joe Linser's epic creation is still much loved.
Iron Man #282 $40.89 – First War Machine. Expect this to be one of those really key issues when Iron Man 2 hits.
Sonic The Hedgehog #1, $4 and $5 $40 each. No I don't know why #48 goes for more than these. It just does.
Grimm Fairy Tales #3 $40. Not as valuable as its older brothers. But you wouldn't kick it out of bed for that.
Enjoyed this article? Share it!