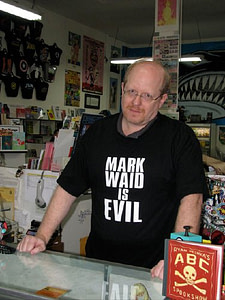 It would have had to be yesterday that Mark Waid sent a call across Twitter to block my account wouldn't it? The day I also used Twitter to warn comic fans, publishers and professionals about a current scam artist operating, who has already taken people for many thousands.
My relationship with Mark Waid has always been a bit of an uppy-downy thing. Maybe an emphasis on the "downy". He's stated he has a problem with the concept of gossip columnists in general, a position I can certainly understand, if not agree with. Though there are other gossip columnists he seems to have less of an issue with.
Certainly we've had a few clashes. An erroneous report on the status of a Top Cow book he was writing, the nature of his Superman pitch alongside Mark Millar, Grant Morrison and Tom Peyer, and the details of a serious criminal offense by a DC employee decades ago.
But there have also been moments of cooperation. When we found ourselves fighting on the same side. An uneasy alliance to be sure, but an alliance nevertheless.
And there have certainly been a few people wanting to patch things up between us, be an intermediary. An old friend tried to introduce us to each other at a convention, but my hand remained unshook.
Which is fine. I don't have some clingy need to be the man's friend, I'm not curled up at nights crying into the pillow asking why Mark Waid doesn't think I'm the bees knees. And I certainly hold no grudge against Mark. I read and enjoy a lot of his comics, especially the recent Irredeemable. And the company of which he is now Editor In Chief, Boom! are putting out some insanely fine comics and shaking things up in a most entertaining fashion.
But this is where I think things went wrong yesterday. I'd been planning a rather sweet positive comics industry story that made mention of a single tweet from Mark Waid. I wrote the piece up, included the tweet, and passed it by someone involved, stating I'd run it by Mark before doing anything else with it. I'm not sure, but I think this person may have then sent it to Mark themselves. And Mark may have thought I was planning to run this piece without even talking to him. This is of course pure supposition.
(UPDATED – Mark Waid has posted on a Boom! forum "sorry you're falling for Rich's claptrap, suppositions, imagined scenarios and motivations, Matt. If you went to his Bleeding Cool story to get your backstory, then I'm afraid you've been had. More on this soon.")
But shortly afterwards, Mark Waid twittered $10 from me to HERO INITIATIVE charity for everyone who permanently tweetblocks richjohnston. Do a good deed for older creators, then DM me!
Cue a bunch of people following – some because they have a problem with me, some because they love Mark and some who have no idea who I am but they wanted to help raise money for a good cause, supporting comics creators in need of financial help. $540 later, including Andy Diggle and Howard Porter. After a few hours of retweeting Mark put a stop to it, claiming he didn't want Twitter to ban me as a result, and didn't want it to seem like he was bullying me.
Which is possibly the nicest thing Mark Waid has said to me since CrossGen. And was useful to point to when Twitter did try to ban me as a result of at least 20 blocks.

And bless, a couple of people said they didn't want to block me, but wanted to donate $10 independently anyway. Also, doing a little checking (and yes, I know, this is slightly obsessive behaviour), about half the people who told Mark they'd block me… didn't.

So to make up for that, if Mark Waid does a Twinterview with me, I'll donate $100 to Hero from my pocket.

My other Twitterbattle this week was over the Swipe File feature. Now, I've worked my life in advertising, where a Swipe File is a folder you use to keep ideas, you see something interesting, you save it for later, for inspiration. No prejorative needed, it's the way things work.
And in comics, The Comics Journal ran a Swipe File to show homages, coincidences and actual swipes. When the Swipe Of The Week, also running similar pieces finished, I "swiped" it for Lying In The Gutters and continued to run a mixture. I felt context defined it, it asked people to see if they could see similarities, whether cultural, thematic or at the lightbox – and even ran incredibly tangential images for fun. And now at BleedingCool, I ran an actual caveat to hammer this message home.
Not enough it seemed. After I made an error over dates on one piece (making it less likely to be an actual swipe than more likely) some people took me to task. Stated that since "swipe" was clearly a prejorative, "Swipe File" could be nothing more. That it is the most negative criticism a comics artist can receive. A few compared it to using the word "rape" which I thought was a bit far. I argued, and still believe, that context is everything in this case. That there's a caveat for a reason. And the point is for people to make up their own mind, and I felt that changing the title would be dumbing it down.

However, I could well be wrong. It's happened before.

So here's your chance. I'm running a poll. You can vote for Swipe File or Separated At Birth (itself swiped from Private Eye magazine, so at least there's that.) No other options.
Your judgement will be final. Even if some of your twitterblocks aren't...
Image copyright Boom! Studios.