Marvel publisher two X-books last week: Marauders #7 and X-Men/Fantastic Four #1. Which will take the top tubed-meat-themed honor in all of comics? We'll find out here in your favorite weekly X-Men recap column…
---
Sworn to sell comics for Marvel executives who feared and hated the fact that Fox owned their movie rights, The Uncanny X-Men suffered great indignities, but thanks to a corporate merger and a line-wide relaunch, the X-Men can finally get back to doing what they do best: being objectively the best franchise in all of comics.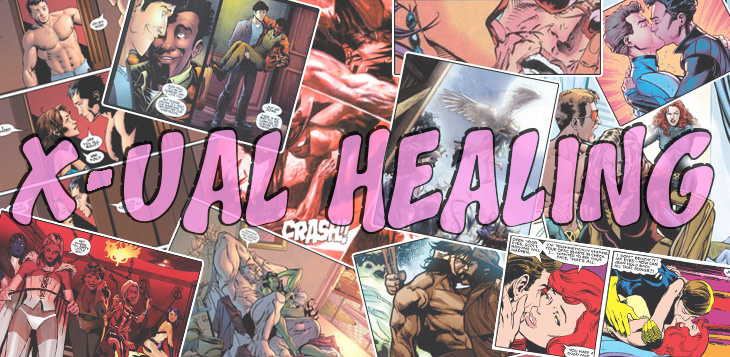 ---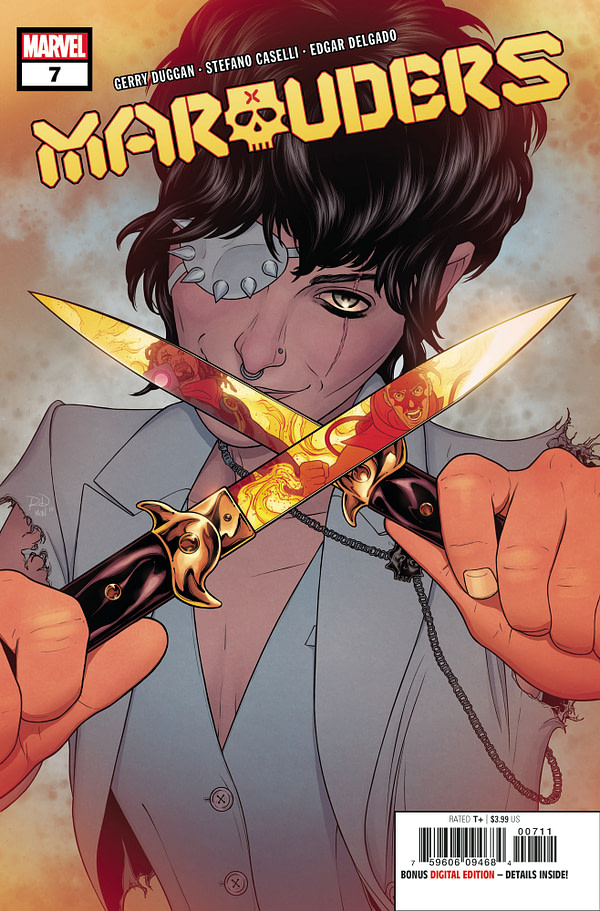 MARAUDERS #7 DX
DEC190788
(W) Gerry Duggan (A) Stefano Caselli (CA) Russell Dauterman
THE TREASURE OF ISLAND M!
As Verendi's plans against Krakoa grow, the Marauders find themselves missing something vital… something that brings Storm and the White Queen to blows. Artist Stefano Caselli (AVENGERS, AMAZING SPIDER-MAN) joins the crew of the craziest X-series of them al!
Rated T+
In Shops: Feb 05, 2020
SRP: $3.99
What happened in Marauders #7?
This week's issue opens with a message secretly sent to Kitty Pryde by the government official whose reports we've been reading in past issues of Marauders, warning her about the plot by Homines Verendi to use contaminate Krakoan drugs to kill a bunch of people and spark an international incident. Unfortunately, this message surely won't reach her because she died last issue, right? Along with Lockheed, at the hands of Sebastian Shaw?
At the White Palace in Hellfire Bay, Callisto pays a visit to Emma Frost, who is hanging around in her underwear, working with Jumbo Carnation on fashion designs. Emma wants Callisto to become her White Knight. She offers her a fancy coat Carnation created for her, but while Callisto does accept the position on a trial basis, she also slices the coat into a vest, which Carnation approves. In exchange for the vest/coat, Callisto gives Carnation her knife so he can stab someone in the balls the next time they try to kill him.
At Emma's request, Callisto heads to Island M where she greets the arriving Marauders (sans Kate Pryde) on their boat and Christian Frost on his submarine. Christian and Iceman make out. Callisto throws a knife at Storm, which Storm catches, and then they hug. Kate Pryde isn't there yet, which concerns Bishop, but no one else seems to notice. Bishop tells Pyro to sail the Marauder back to Krakoa because he's heading back to Madripoor.
Speaking of which, in Madripoor, Homines Verendi are watching this through the Fantastic Voyage style micro-submarine manned by Yellowjacket that infiltrated Pyro's body last issue. Verendi makes a deal to trade their new intel on mutants with the Russians in exchange for the Russians' mutant power canceling tech.
Bishop takes a Krakoan gate to Madripoor, first tossing a grenade out of it to blow up the soldiers that are waiting for him at Verendi's behest. Verendi inner circle member Manuel Enduque is waiting for Bishop as well, and he's aware of the Krakoan law against killing humans. There's no law against headbutting them in the face though, so Bishop kicks his ass. Bishop finds a contract on Enduque for salvaging a Verendi ship off the coast of Madripoor… the one Kate Pryde sank on last issue? Bishop infiltrates the salvage crew dressed as a Verendi member.
At a golf course in Arizona, Callisto meets with Masque and tells her the deal with Emma Frost seems legit, and has purchased or rented the golf course as a home for the Morlocks. Masque is a little offended that Kate Pryde chose the name Marauders for her group, due to the old version of the Marauders slaughtering the Morlocks, but Callisto is okay with it. A report from the U.S. government X-Desk agent from earlier reveals that the country exchanged marked currency with Krakoa for mutant drugs and the bills are now circulating around Arizona near the golf course where the Morlocks live.
At a Quiet Council meeting on Krakoa, Kate Pryde is missing. Off the coast of Madripoor, to locals are fishing and pull up Lockheed, who they think is dead.
Was it any good?
After last week's shocking cliffhanger, Marauders #7 kept us waiting to find out the fate of Kaye Pryde and Lockheed. Lockheed's body was recovered at the end of the issue, but we don't know whether he's alive or dead. It was nice to see Callisto and find out what's been going on with the Morlocks, and Callisto's interaction with Storm was particularly great. There wasn't a lot of action in this issue, but the last story arc of Marauders did a good job of sort of building up slowly to a big payoff that tied a lot of different plotlines together, so there's no reason not to have faith that this storyline will do the same. But in terms of week-to-week excitement, this issue was more buildup and less payoff.
---
Read more X-ual Healing here: