Teen Titans is wrapping up the Djinn War storyline in April's Teen Titans #41, and you know what that means! Yes, we all know it's impossible to end a truly impactful story without killing off a character, and it seems that's exactly what DC plans to do, according to DC's April solicitations. Victory comes at a terrible cost, the solicit for Teen Titans #41 reads, as one of the Teen Titans won't be making it back. Who is going to be killed off? Place your bets now, folks.
And as if that wasn't bad enough, one particular Teen Titan is having a really bad day in Teen Titans Annual #2, also in stores in April. It seems that Batman is none-too-pleased with what Damian Wayne has been up to lately, and after he confronts him, it looks like Damian might no longer be Robin? Check out the solicits below.
TEEN TITANS #41
written by ADAM GLASS and ROBBIE THOMPSON
art by EDUARDO PANSICA and JULIO FERREIRA
cover by BERNARD CHANG
variant cover by KHARY RANDOLPH
At the gates of heaven itself, the Teen Titans must battle Djinn's older brother Elias with the fate of the world hanging in the balance! But victory comes at a terrible cost—because one of the Teen Titans won't be making it back!
ON SALE 04.15.20
$3.99 US | 32 PAGES
FC | DC
This issue will ship with two covers.
Please see the order form for details.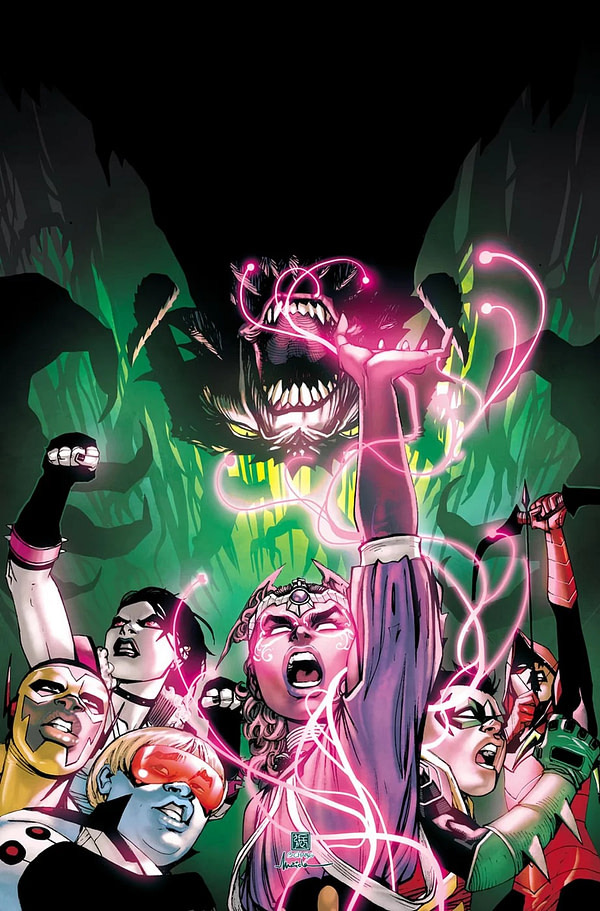 TEEN TITANS ANNUAL #2
written by ADAM GLASS and ROBBIE THOMPSON
art by JAVIER FERNANDEZ
cover by BERNARD CHANG
After Batman discovers the Teen Titans' most shocking secrets, he arrives at Mercy Hall…and he wants a word with Robin. Don't miss the confrontation between father and son that will alter the very course of the DC Universe. Will the Teen Titans ever be the same?
ON SALE 04.29.20
$4.99 US | 48 PAGES
FC | DC