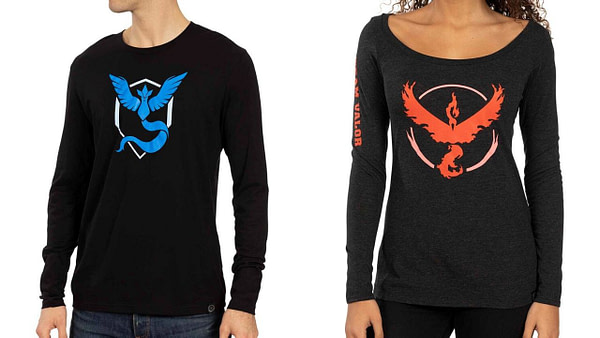 If you've ever wished there were official Pokémon Go merchandise, we've got good news for you. Starting today, The Pokémon Company International is debuting a set of Pokémon Go goodies inspired by the popular mobile game.
This new line is brand-new, and hasn't been made available for purchase before. As for Pokémon Go itself, it's been downloaded over a billion times.
You can head over to the official Pokémon Center website to peruse the new selection, where each style comes in denominations including Team Valor, Team Mystic, and Team Instinct options. Your team logo and monster are emblazoned on each. It's still pretty low-key though, in case you're keeping your love for the game on the DL.
Fleece Varsity Hoodie
Fitted Long-sleeve T-shirt
Relaxed Fit Crew Neck T-shirt
Fitted Scoop Neck Long-sleeve T-shirt
Fitted V-neck T-shirt
Additionally, you can grab a 27 oz. water bottle or a 9FORTY Baseball Cap by New Era, just in case you're not into shirts or hoodies to show your love with. The line is pretty affordable, ranging from $25 for T-shirts to $55 for fleece jackets emblazoned with the team of your choice.
Now you can wear your team colors with style, and just in time for the winter months to settle in. Head into the cold with your favorite team and you'll be the envy of the entire town. Next stop: parading around in your Poké-duds and recruiting other trainers because of how cool you look. Hey, it could happen!
Are you planning on getting your own Pokémon Go merch before it sells out? If so, you'd probably better hurry. This collection is bound to sell out fast, as the cool stuff often does.