Erik Burnham's Writer's Commentary on Chastity #3 on sale now from Dynamite. He writes.
Holy cow, it's time for another commentary. It's been a while since I've done one of these – I hope I still remember how… though you'll never know about all the edits I make to this document if I don't tell you about them. Anyway, hello! Erik Burnham here, and welcome to some behind the scenes on Chastity #3.
You may be wondering what I'm doing here, since I didn't work on the first two issues. Simply put, something happened, as occasionally it does in the world of freelancing.
When something happened here, artist Daniel Maine decided to add plotting out the rest of the book in addition to drawing it just so it would stay on time, making him the real Hercules. I'm just doing some dialogue so he can keep the panels coming for issues 4 and 5!
Since Daniel is plotting and drawing, I was sent a rough plot, the completed pages of the issue, and told "go." It was an interesting experience. But, after catching up on issues 1-2, it was also kind of fun.
But before we get to the meat of the issue, I can't forget the rest of the crew: Mohan handled the colors, Carlos M. Mangual lettered the book, and Matt Idelson wrangled all the cats there were to wrangle as the editor in charge.
We have covers by Catherine Nodet (on Cover A), Ale Garza and Oracle (on Cover B), and our own Daniel Maine along with Bryan Valenza (on Cover C). Now, let's jump in.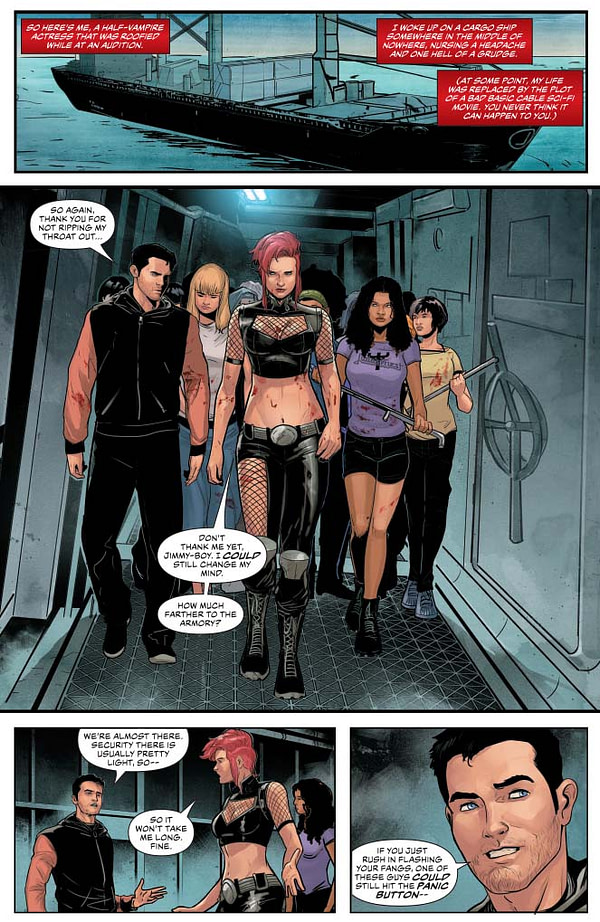 PAGE 01
So here's where I set the stage for any new readers, and also play catch up for myself, via Chastity's narration.
PAGES 02-03
An action movie beat on page two brings us to Chastity finding her crossbow on page 3. The armory still has one more bit I'm proud of…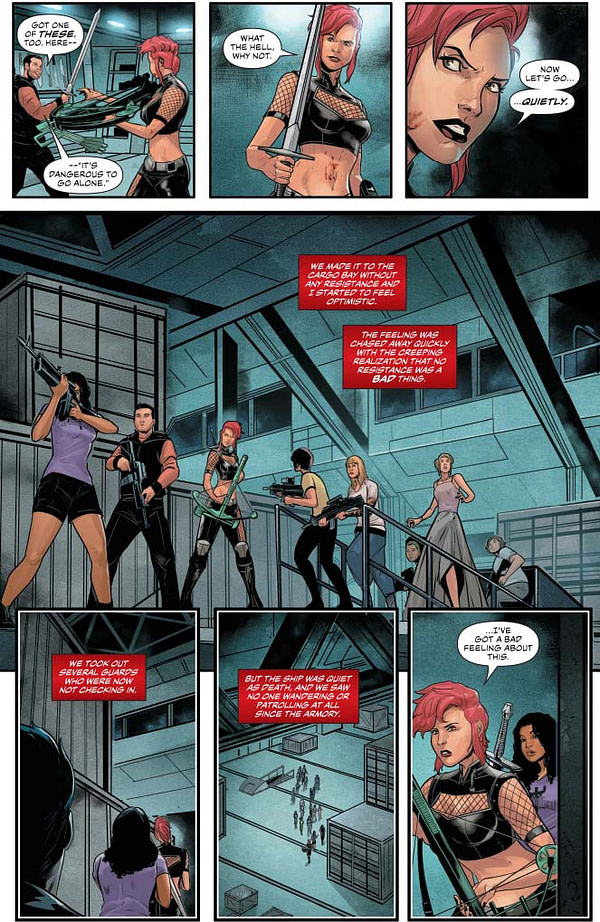 PAGE 04
…And yes, it's the Legend of Zelda joke that opens the page. Given that I started off with a silly pop culture comment in panel one, I decided to close the page with one in panel seven. "I've got a bad feeling about this" may be on the nose, but sometimes things are a cliché for a reason.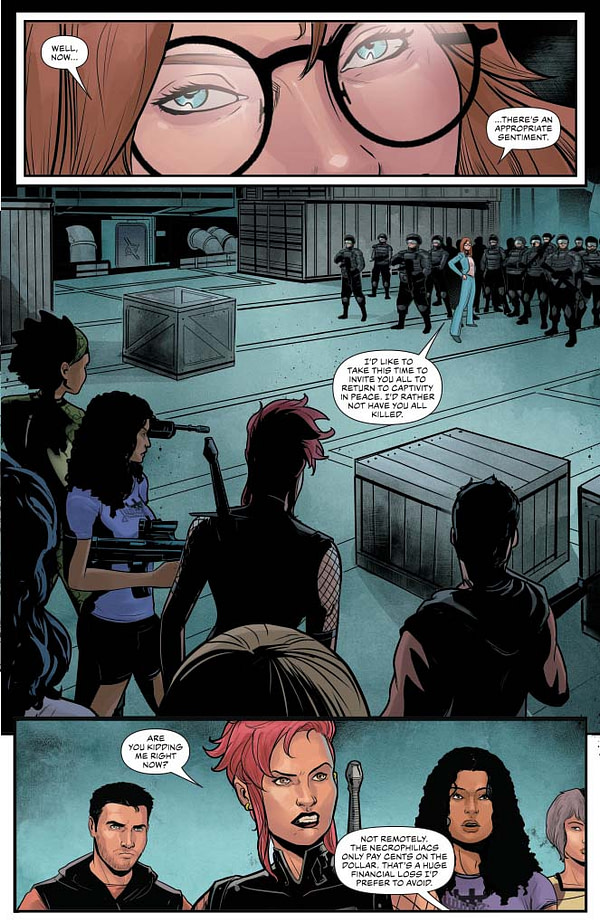 PAGE 05
And here's our villain, Miss Valentine. Daniel has some fun stuff planned for her – both later in the issue and in issue 4… but I'm getting ahead of myself. And how about that necrophiliac joke? I don't know whether or not I should be surprised it made the final cut!
PAGES 06-07
It was a lot of silly fun to have this many sound effects going on the page at once, and I will leave it at that.
PAGES 08-09
And here's Chastity tearing through the bad guys. Daniel has a wonderful grasp of action – and since he's the one plotting it, it's all seamless. The only time there's been any difficulty for me is when his plot calls for a ton of things to be said on a many paneled page. I don't want to cover up too much of the art (who would?) But thankfully, it's all worked out.
And hey, during all that talk Chastity has leapt at Miss Valentine. Could the series be over at the literal midway point?
PAGE 10
Surprise! Valentine is not what she seems! Guess we'll find out later. Maybe next issue. (Chastity #4, on sale in December!)
PAGES 12-13
Okay, it's not all fun and games and ripping bad guys apart. There's a little collateral damage here. Not everyone is going home. This is a thing that I appreciated about Daniel's choice; if people are shooting at each other, someone will be shot. It won't all be the villains.
PAGES 14-15
And now we go from a very human moment to one of my favorite bits of over-the-top action, Chastity using a dead man as a club and then toppling shipping containers to cover an escape.
PAGES 16-17
And not much of an escape. The survivors flee to a radio room, and Chastity bars the door behind them. But they can't call out, and the thugs are still coming after them with a battering ram to the door.
PAGES 18-19
Daniel gives the heroes a moment to worry on these pages, to reflect on being wounded and trapped, before he reveals the bad guys have a laser saw and can get into the room. They're almost out of options.
PAGE 20
…Though they do have one, and I think we hinted at it pretty well without spelling it all the way out. If you aren't sure what their plan is by the last panel… come back in December and you'll see it for sure!
Okay, that's it for Chastity #3. Again, it was an interesting experience for me – and as I write this, I only have one issue left to dialogue. Can't wait to see what Daniel does with it!