Look, we know Marvel likes to publish as many Spider-people books as possible. You've got what, like five or six ongoing Spider-Man comics starring some version of Peter Parker or another. One written by a famous guy's kid starring Peter Parker's kid. Miles Morales has his own book and stars in others on occasion. Ghost-Spider has her own book. Even the pig guy has his own book. Spider-Verse attempts to deal with this Crisis of Infinite Spider-Men in its own way, and we've got a preview below of the Spider-Verse #2 by Ryan North, Pere Perez, Jordi Tarragona Garcia, Marte Gracia, and Joe Sabino.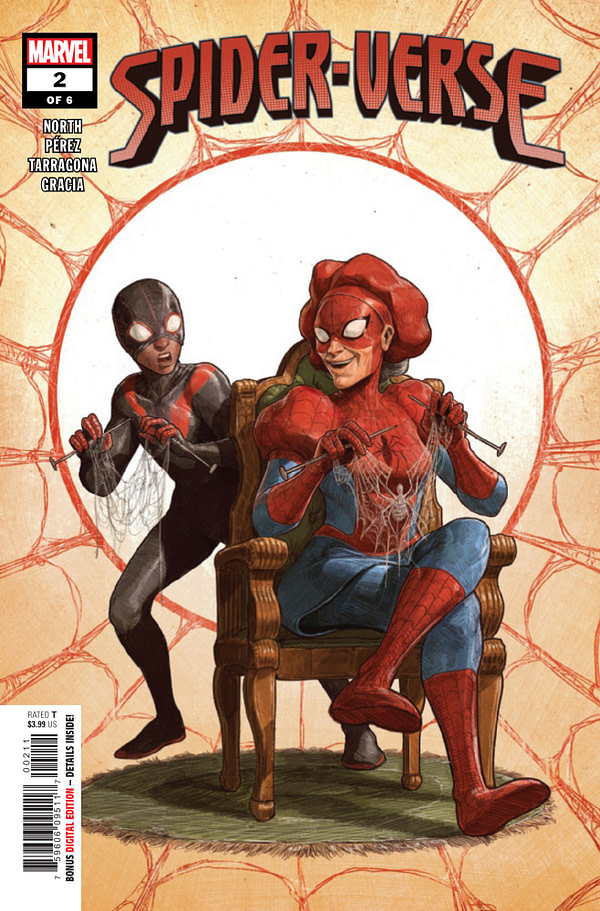 So there's a web of life, you see, and it connects… you know what, just accept it's a thinly-veiled excuse to have as many Spider-People in the multiverse as possible.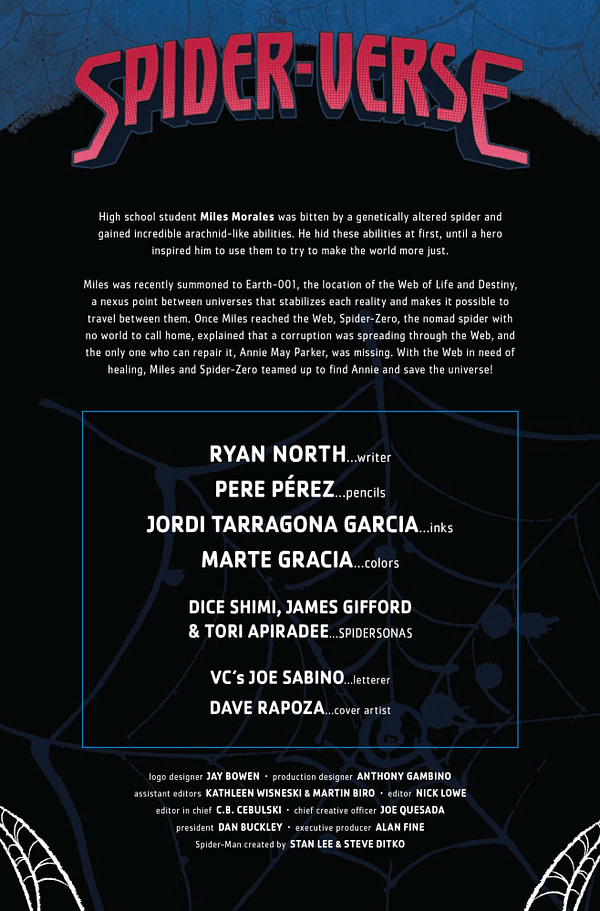 Like this world, where Aunt May is Spider-Man. Er, Spider-Woman. Spider-Aunt. Aunt Spider. Whatever.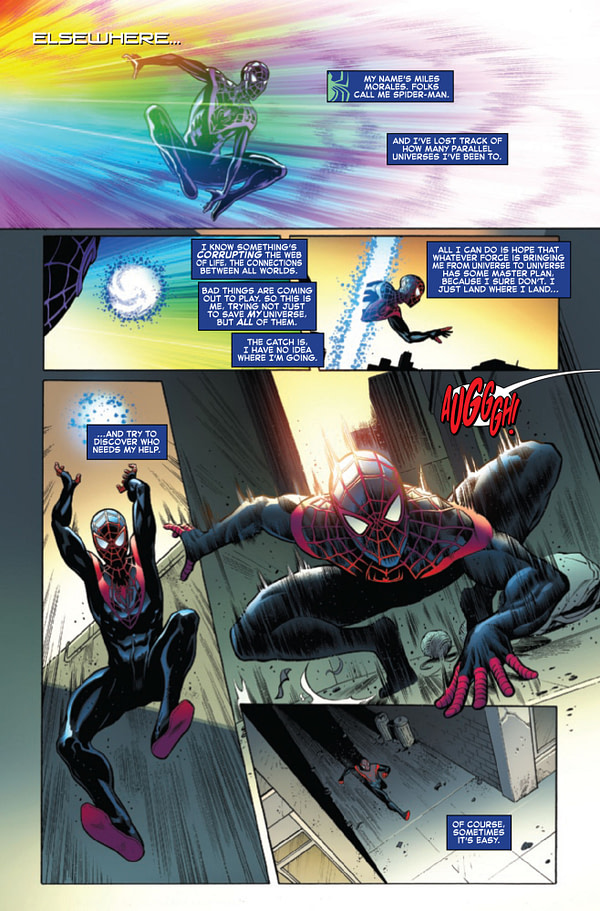 And she's fighting what appears to be Aunt May as Carnage Carn-Aunt? Aunt Carnage? You get the idea.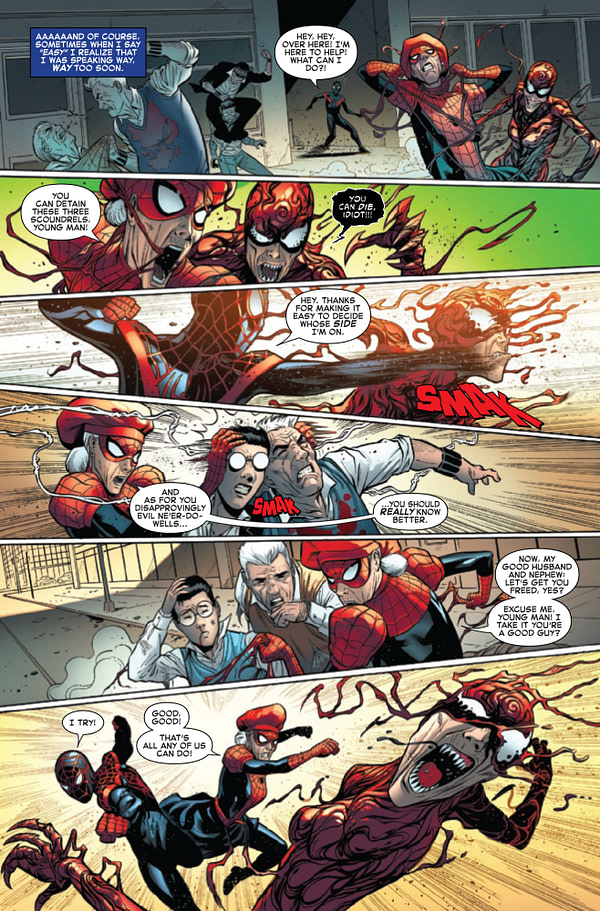 Miles is happy to help, of course. But then another Spider-Person appears. This one is also a Miles Morales? We guess?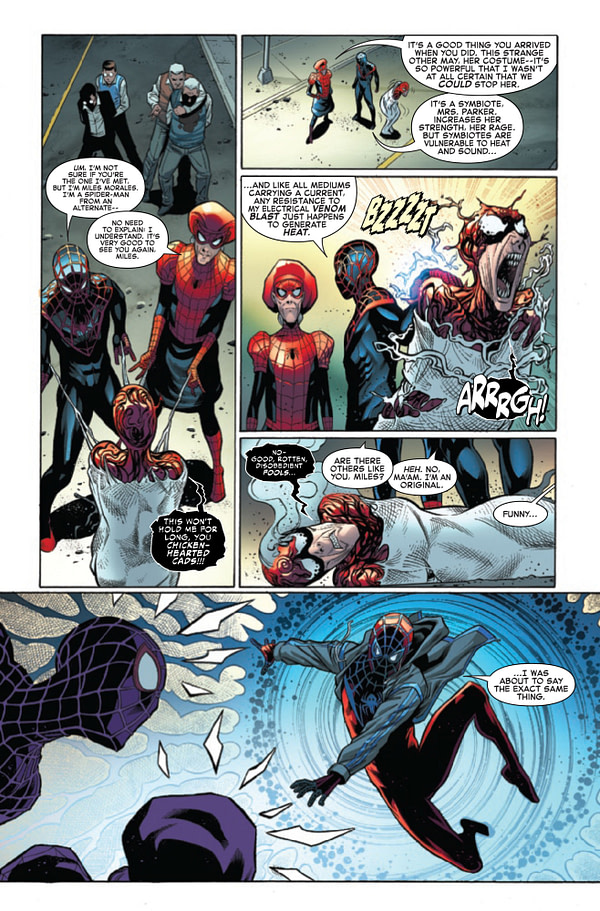 Spider-Verse #2 hits stores on Wednesday.
SPIDER-VERSE #2 (OF 6)
SEP190863
(W) Ryan North (A) Pere Perez (CA) Dave Rapoza
• The entire SPIDER-VERSE is in trouble including a world where Aunt May got the Spider-Powers (like you saw in SPIDER-GEDDON).
• But don't think that this is just a cute and charming story as it introduces some of the scariest villains in Marvel History!!!
• All this, AND several lucky Spider-Fans bring their Spider-Sonas to the Marvel Multi-Verse!!!X
Rated T
In Shops: Nov 20, 2019
SRP: $3.99