With Netflix's Lucifer currently filming Tom Ellis' final run as the devilish lead, you would think the team would take some time off to celebrate Halloween of all seasons. But proving that there's no rest for the "wicked," series writer/producer Chris Rafferty tweeted out a look at the holiday table read.
Of course, this is Lucifer and it is Halloween… so you knew it was going to be a little "different":
When you have a #Lucifer table read on #Halloween 😈🎃 #LuciferSeason5 pic.twitter.com/FlXlNcbHbQ

— Chris Rafferty (@chris_rafferty) November 1, 2019
Last week, singer-The Voice judge/coach-talk show host-Lucifer superfan Kelly Clarkson kept her promise by visiting the set (with her mother and sister) and offering fans a look at how their Ellis-led tour went.
But with Clarkson wasn't going to leave the set without a little bit of news for viewers to chew on – and in this case, the news came from a great source: Ellis himself. With the final season upped to 16 episodes, Ellis revealed how Netflix intends to run the season – and if you're a fan of AMC's The Walking Dead, you're pretty familiar with how this works:
"Season 5 of Lucifer is going to be split into two halves. Netflix are gonna drop eight episodes and then there's gonna be a little break, and then they're gonna drop another eight episodes."
In case you hadn't heard, the final season is going to include a turn to the "noir" for one episode this season – this one, with a little musical style.
Filmed in black-and-white and set in an alternate 1940's where our favorites will be playing different versions of the characters we're used to, Ellis' Lucifer Morningstar and Lesley-Ann Brandt's Mazikeen aka Maze will be teaming up for a duet – as you can see for yourselves in the following ET-exclusive image: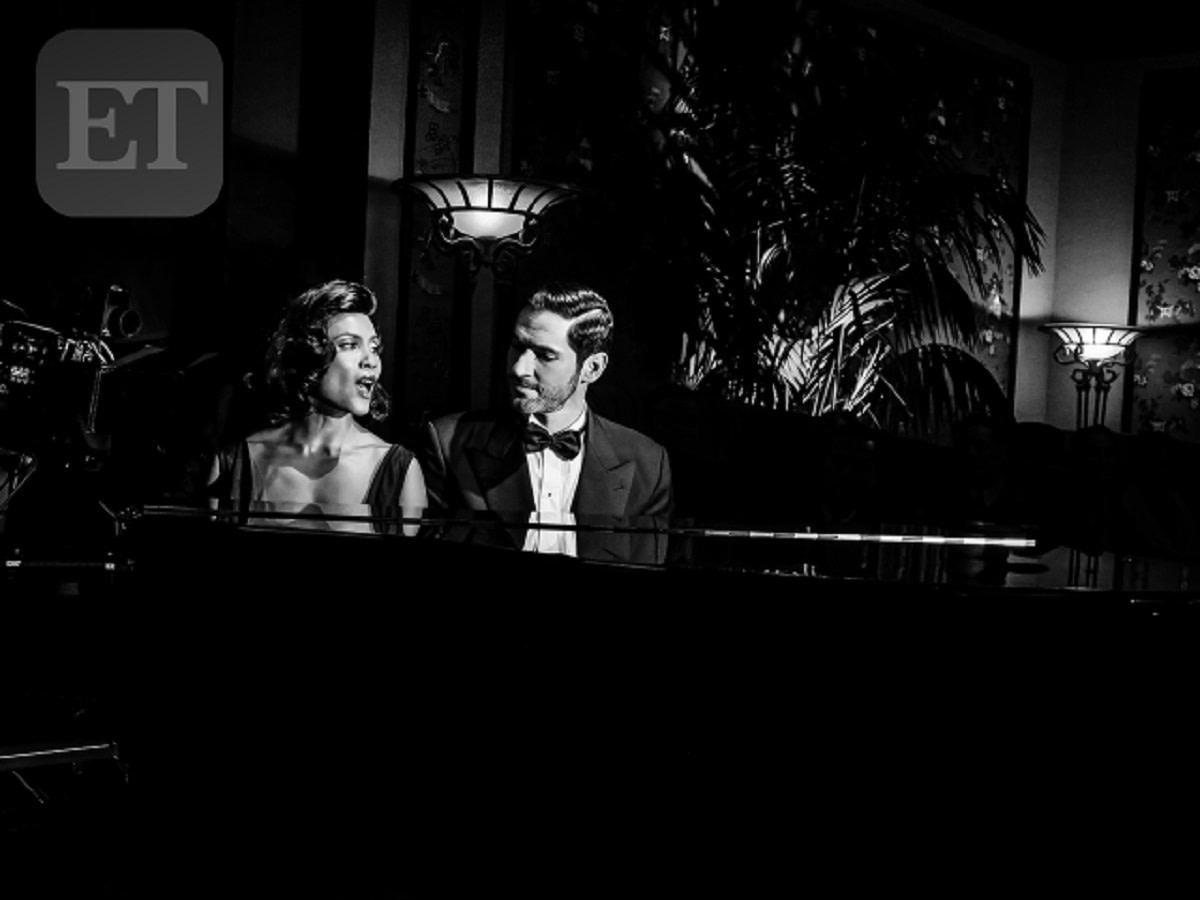 Since we don't want to spoil the great work ET did for this behind the scenes look, we'll highlight two quotes that caught our eye:
"The lovely thing about this episode is you see a lot of our regular characters in a different light. The thing about Lucifer is that he's timeless, so he's been coming back to Earth all this time. There's an element to Lucifer where he seems to be from the Oscar Wilde period. And to see the other characters fall back into that style is quite interesting."

– Tom Ellis

"The storyline is really the genesis of the Maze that fans have come to know and love, but we track it back to its origin point and how the relationship between Maze and Lucifer was really forged and why she would help, you know?"

– Lesley-Ann Brandt
If that's not enough, let Ellis offer you a little "soft shoe" tease of just how special the episode's going to be:

TVLine reported Battlestar Galactica star Tricia Helfer is returning to the role of "Mama Diablo" – marking her return to the character since her last appearance at the end of the third season. To go along with their reporting, the site also released an exclusive image of Helfer – who looks like she stepped off the set of Pleasantville: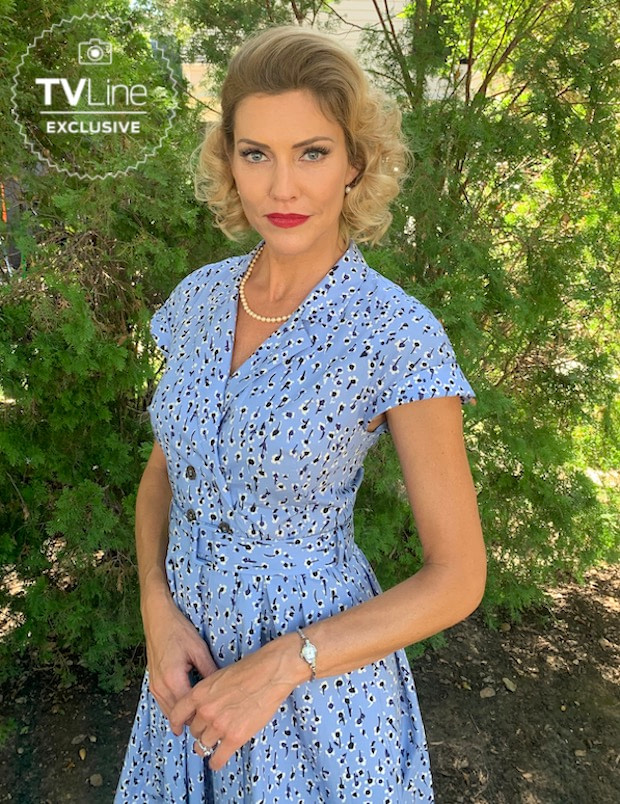 #Lucifer Season 5 starts filming tomorrow!! Can't wait @tomellis17 @LaurenGerman @Aimee_Garcia @RachaelEHarris @dbwofficial @kevinmalejandro @LesleyAnnBrandt @Henderson_Joe @Ildymojo pic.twitter.com/b9JWOT2EKj

— See What's Next (@seewhatsnext) September 6, 2019
Here's a look back at the shooting script info on the season opener, sporting the curious-sounding title "Really Sad Devil Guy" – written by executive producer Jason Ning (The Expanse) and directed by Eagle Egilsson (Gotham). Following the opener, viewers can look forward to "Lucifer! Lucifer! Lucifer!", "¡Diablo!", "It Never Ends Well for the Chicken", and "Detective Amenadiel" (so much to unpack in those titles).
What? A sad 😈 guy? Who could that be @jkning ? 🤔 #LuciferSeason5 #lucifer pic.twitter.com/MRLsCGoBNV

— Lucifer Writers Room (@LUCIFERwriters) August 29, 2019
Here's the official announcement of the final season's increased episode order; followed by the tweet announcing the series' return to Netflix for a fifth and final season, as well as the official statement from the streamer at the time of the series' renewal:
#Lucifer Season 5 just got a HELL of a lot better — and bigger! We've added six more hours, for a grand total of 16 episodes! pic.twitter.com/HILzaacpsb

— See What's Next (@seewhatsnext) July 26, 2019
thanks to the lucifans, #lucifer's story will come to an end the way it should: the fifth and final season is coming to @netflix. pic.twitter.com/EvknS5AVHK

— Lucifer (@LuciferNetflix) June 6, 2019
"We're thrilled that Lucifer fans around the world have embraced this series on Netflix, and we can't wait to give them the big finish they've all been waiting for."
Showrunners and executive producers Ildy Modrovich and Joe Henderson expressed their gratitude to not only Netflix but also the dedicated fanbase for giving them the opportunity to end the show on their terms:
"We are so incredibly thankful to Netflix for resurrecting our show last season, and now letting us finish the story of Lucifer on our terms. Most importantly, we want to thank the fans for their incredible passion and support. The best is yet to come!!"
Which means the creative team will have six additional hours to not pull a Dexter (thought we were going Game of Thrones there, didn't you?) and land the series finale closer to the Breaking Bad airstrip.

So while we look, here's a look at the official trailer/overview for the fourth season of Lucifer:
Reeling from the aftermath of Chloe seeing his devil face, Lucifer faces a new challenge: Eve, the original sinner herself, is back. Does she want revenge for when he tempted her out of Eden oh so many years ago… or something else entirely?