Bleeding Cool was the first to tell you about 5G, break down the DC Comics Generations timeline and work out what 5G was, giving a few details along the way. Comics Beat followed up, talking about a new Crisis for DC Comics in 2020. But may they have had a little help with a preview of today's Tales Of The Dark Multiverse: Knightfall?
Just as Bleeding Cool promised, DC Comics seems to be setting up the Dan DiDio and Kenneth Rocafort-created character Tempus Fuginaut, originally seen as a bit of a Galactus figure, as DC's equivalent of Marvel's Watcher instead.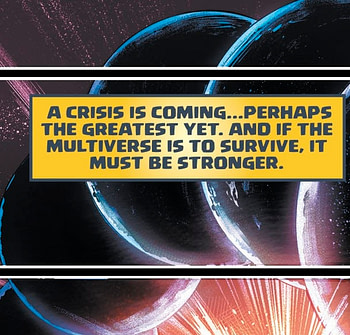 And in Tales Of The Dark Multiverse: Knightfall, published today, has Tempus Fuginaut foreseeing a new Crisis event.
Ever since the sixties, DC Comics has run Crisis storyline that saw parallel universe versions of different characters and teams find common cause to team up, culminating in Crisis On Infinite Earths in the eighties, which would later spin out Zero Hour, Identity Crisis, Infinite Crisis, Final Crisis, Flashpoint, New 52 and Rebirth,
Not so final after all it seems. And it will involve Tempus Fuginaut recruiting individuals from the Dark Dimensions to fight for… whatever it is he wants them to fight for.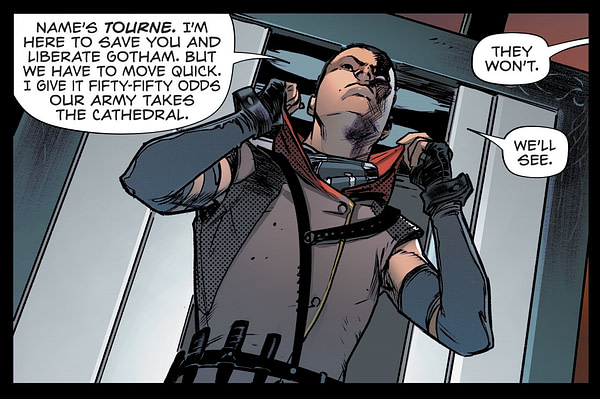 Could Tourne, son of Bane, be amongst them?
Will check out Flash Forward #2 as well, I guess, see if that holds any clues…
UPDATE: There he is…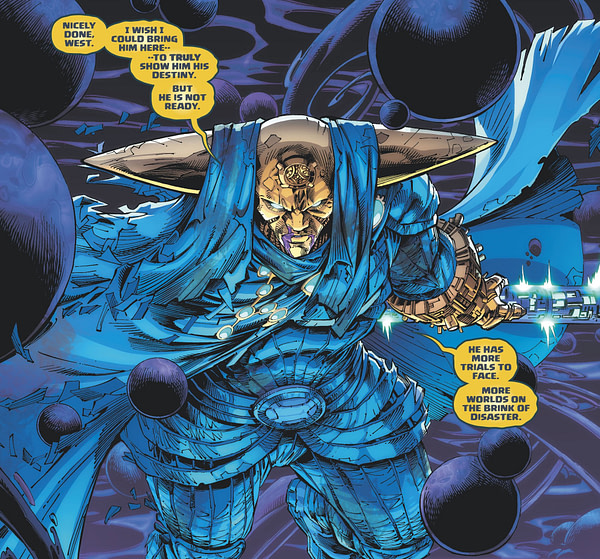 What a Watcher…
FLASH FORWARD #2 (OF 6)
(W) Scott Lobdell (A) Brett Booth, Norm Rapmund (CA) Evan Shaner
When the border between the Multiverse and the Dark Multiverse starts to buckle, who do you turn to? The answer: Wally West. Once the Fastest Man Alive, he's now a man with nothing left to live for. Will Tempus Fuginaut's chosen champion rise to the occasion and fight back the demons of the darkness, or will Wally's own demons win the day?In Shops: Oct 16, 2019
SRP: $3.99

TALES FROM THE DARK MULTIVERSE BATMAN KNIGHTFALL #1
(W) Scott Snyder, Kyle Higgins (A) Javi Fernandez (CA) Lee Weeks
Don't miss this twisted tale from the pages of the game-changing event "Batman: Knightfall"! Thirty years after Bruce Wayne was broken and failed to take back the mantle of the Bat, Jean-Paul Valley, now known as Saint Batman, has turned Gotham into the city of his dreams. In his new order, killing has become commonplace and criminals live in constant fear-all in the name of justice. But just when all seems lost, a new hope for Gotham City rises…the son of Bane!In Shops: Oct 16, 2019 SRP: $5.99