This week's The Batman's Grave when it wasn't reinventing the Wayne family graves, alongside the freakiest gift that loving parents can get their child, and getting thematically interrupted by adverts for chocolate bars, had Alfred Pennyworth destroying the entire concept of The Batman.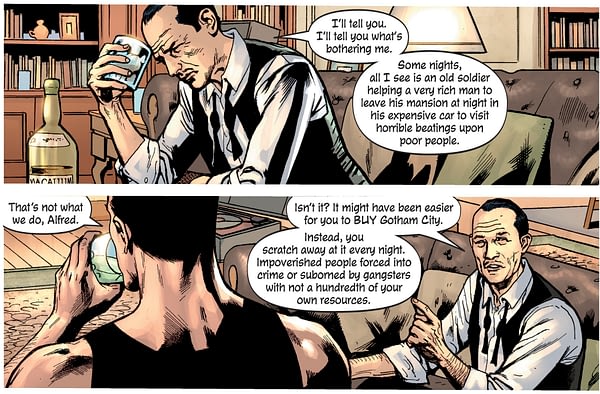 It would have been cheaper to buy Gotham. Or, at least, buy off Gotham.
A rich guy beating up poor people … I am rather reminded of the Hank/John exchange that Schmoyoho autotuned.
As Warren Ellis posted to his e-mail newsletter,
It appears, by the way, that that book launched pretty well, so thanks for that.  I hope that drunk Alfred talking shit at Batman brought you some amusement. Next issue: Alfred's hangover.
That should have been in the solicitation.
BATMANS GRAVE #1 (OF 12)
(W) Warren Ellis (A) Kevin Nowland (A/CA) Bryan Hitch
The World's Greatest Detective must try to inhabit the mind of a murder victim to solve a case-without filling the empty grave next to those of his parents. Can Batman imagine the life of a corpse with a half-eaten face without dying himself?
Warren Ellis and Bryan Hitch, one of the most legendary creative partnerships of the modern age, reunite in this maxiseries about life, death and the questions most are too afraid to ask.In Shops: Oct 09, 2019
SRP: $3.99

BATMANS GRAVE #2 (OF 12)
(W) Warren Ellis (A) Kevin Nowland (A/CA) Bryan Hitch
A man was murdered, and the Batman is in his head-and he knows how it happened. All he has to do now is survive his own deduction. Don't miss the second chapter of this new thriller from writer Warren Ellis and artist Bryan Hitch!In Shops: Nov 13, 2019
Final Orders Due: Oct 21, 2019
SRP: $3.99