A number (but not all) of the DC Comics Year Of The Villain moved on from getting an offer from Lex Luthor (although today's Catwoman showed that moment too) as titles this week and last,  looking towards the next phase of the crossover, noted something happening across the DC Universe
Actually, a fiction-within-a-fictional Harley Quinn noted it first last week, in Harley Quinn #66, before it was a thing.
The symbol of the Legion Of Doom, of Lex Luthor's belief that reality tends towards doom – or at least it should. Being mocked by Harley Quinn and Booster Gold. And she was right, it also appeared in last week's Deathstroke #48.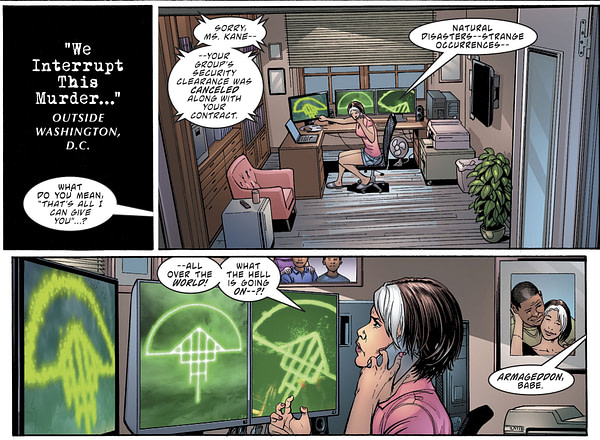 And this week, all over the place, the symbol of the Legion Of Doom lit up the sky. In Supergirl #35…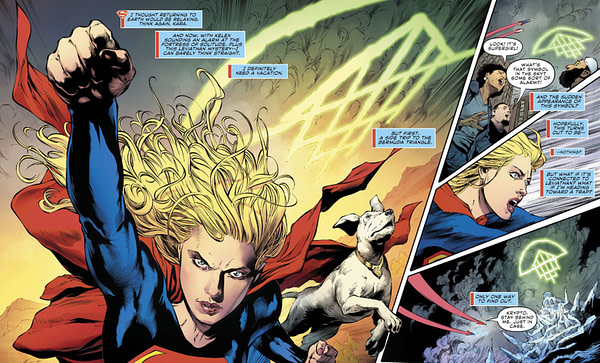 Whether in the Bermuda Triangle…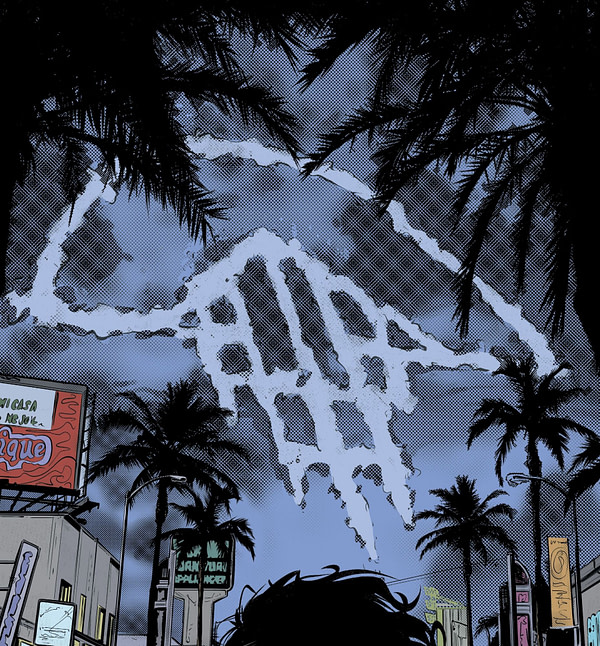 South America for Catwoman #16…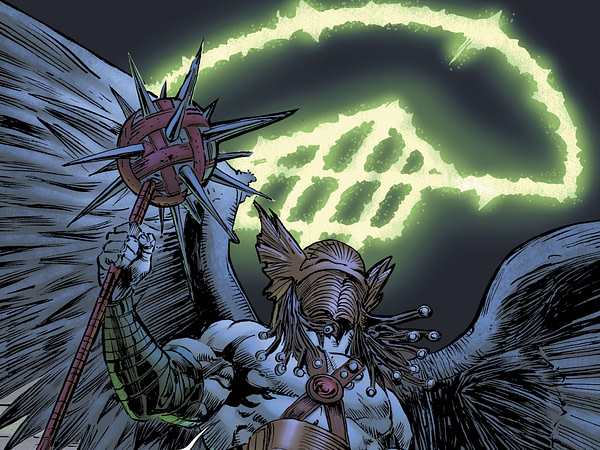 Or in deep space for Justice League Odyssey #14… the symbol has been appearing and appearing today, ahead of the Hostile Takeover month for Year Of The Villain.
Even beyond the limits of the known universe…
Look for this symbol to pop up everywhere for a month or so…
HAWKMAN #17 YOTV
(W) Robert Venditti (A/CA) Pat Olliffe, Tom Palmer
Lex Luthor gave the Shadow Thief the power to defeat his archenemy, Hawkman, but too bad for the Shadow Thief that Hawkman received a gift of his own from a much more formidable foe-and now nothing can stand in Carter Hall's way!In Shops: Oct 09, 2019
SRP: $3.99

JUSTICE LEAGUE ODYSSEY #14 YOTV
(W) Dan Abnett (A/CA) Will Conrad
An unknown warrior assembles Green Lantern Jessica Cruz and various heroes to form a new JLO as guardians of the Ghost Sector. Vastly outnumbered against Darkseid's savage para-angel strikeforce, they're going to have to fight their way through Darkseid's new multi-planet realm of Apokolips to take control of Sepulkore or die trying. What choice do they have? The entire universe is depending on them…In Shops: Oct 09, 2019
SRP: $3.99

SUPERGIRL #35 YOTV
(W) Marc Andreyko (A) Eduardo Pansica, Julio Ferreira (CA) Jesus Merino
As Supergirl gets drawn deeper into Leviathan's plans and the search for her foster parents, the newly sentient Brainiac-1 drone realizes the one thing he needs to unlock the power of millennia of Kryptonian science is the Girl of Steel herself! With her focus on her Earth family, will the distraction make her an easy target for the mad A.I.? And how will Leviathan respond as she gets closer and closer to their plans?In Shops: Oct 09, 2019
SRP: $3.99

CATWOMAN #16 YOTV
(W) Joelle Jones (A/CA) Jo?lle Jones
Selina Kyle joins the Year of the Villain! Finally, Lex Luthor's gift to Catwoman is revealed. While she wants to remain on the side of good, some habits are too hard to break, and some treasures too tempting. Plus, the gift puts Catwoman one step ahead of her top criminal rival in Villa Hermosa, the diabolical Raina Creel. In this big new story arc, Eisner-nominated writer/artist Jo lle Jones brings together the many plot threads she's been building since the series' launch, prepping Catwoman for her next grand adventure. But will she come out the other side as a hero…or villain?In Shops: Oct 09, 2019
SRP: $3.99

DEATHSTROKE #48 YOTV
(W) Christopher Priest (A) Carlo Pagulayan, Fernando Pasarin (CA) Ed Benes, Richard Friend
Deathstroke is back and more ruthless than ever as he challenges the Legion of Doom and continues a bloody rampage to attain the power that Lex Luthor gave to Slade's son, Jericho. Meanwhile, the tragic deaths of two teenagers in a sleepy Arkansas county lead a local police chief to discover a secret that could cost him his life.In Shops: Oct 02, 2019
SRP: $3.99

HARLEY QUINN #66 YOTV
(W) Sam Humphries (A) Sami Basri (CA) Guillem March
The trials are over, and Harley Quinn has won! Or has she? Now imbued with the awesome power of the Angel of Retribution, Harley is given an impossible choice-and a chance to raise a loved one from the dead! Choose wisely, Harley…the fate of the universe hangs in the balance!In Shops: Oct 02, 2019
SRP: $3.99