Gambit is a master thief and a fellow X-Men. Remy Lebeau has the uncanny ability to charge any object with kinetic energy. This then can turn that object into a weapon. Gambit is a master thief, master card thrower and tries to be a master of love. Mezco Toyz has announced Gambit as their next One:12 figure. And this figure is not holding back either as it has over 28 points of articulation. Gambit does come with two heads, one semi-neutral and the other smirking. He comes with seven interchangeable hands, as well as a set of cards, bo staff, and kinetic mutant power effects. I think this figure goes great with the kinetic effects that they chose as it really can change the feel from a figure to something more dynamic. As always he comes with a base that shows off the X-Men logo as well as an adjustable posing post. I do love the paint scheme on him as well and the use of the metallic on his chest. This figure would be perfect for any fan of the X-Men, Marvel or Gambit.
The Gambit One:12 figure by Mezco is priced at $85. He is set to ship between April and June 2020 and his pre-orders are online and available here.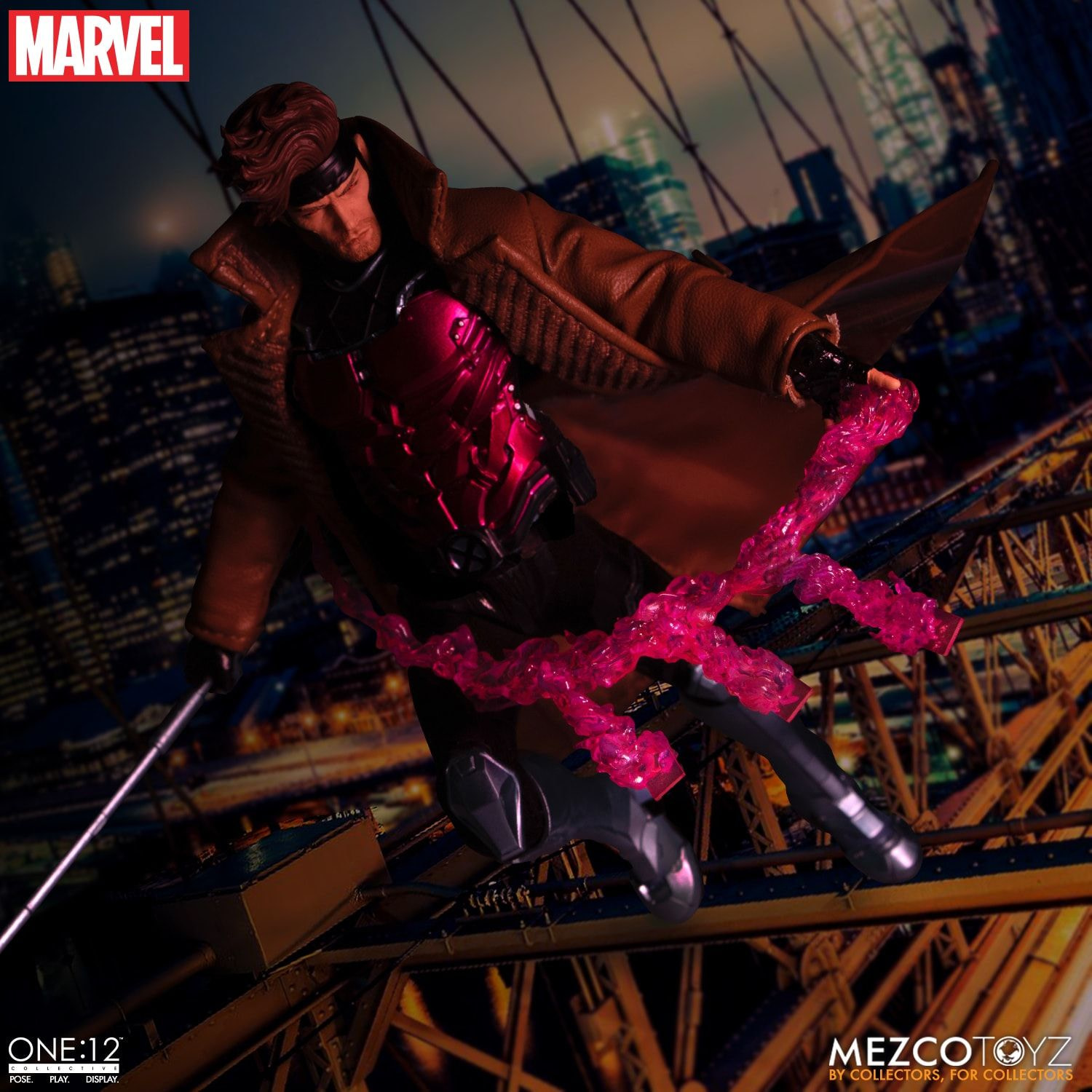 "Playin' for keeps is still playin', mon ami, so take a card…ANY CARD!"
The One:12 Collective Gambit is outfitted in a black mission suit with an X-Men issued armored vest and removable leather-look overcoat. Complete with 2 head portraits, the master of kinetic energy comes complete with a bo staff and a variety of throwing cards and throwing card FX.
Remy LeBeau, the master thief better known as Gambit, possesses the mutant ability to charge inanimate objects with kinetic energy he can create and control. An agile and intelligent member of the X-Men, Gambit is also a master at card throwing, hand-to-hand combat, and the use of a bo staff.
THE ONE:12 COLLECTIVE GAMBIT FIGURE FEATURES:
One:12 Collective body with over 28 points of articulation
Two (2) head portraits
Hand painted authentic detailing
Approximately 17cm tall
Seven (7) interchangeable hands

One (1) pair of fists (L&R)
One (1) pair of posing hands (L&R)
One (1) baton holding hands (L&R)
One (1) card holding hand (L)
COSTUME:
X-Men issued armored vest
Black mission suit
Elbow armor
Wrist guards
Combat gloves
Belt with X-Men insignia
Knee armor
Leather-look overcoat
Boots
ACCESSORIES:
One (1) bo staff
One (1) single throwing card
One (1) charged single throwing card
One (1) stack of throwing cards
One (1) charged stack of throwing cards
Two (2) charged throwing card FX
One (1) One:12 Collective display base with logo
One (1) One:12 Collective adjustable display post
Each One:12 Collective Gambit figure is packaged in a collector friendly box, designed with collectors in mind