Omega the Unknown was a comic published by Marvel Comics from 1976 to 1977, written by Steve Gerber and Mary Skrenes and drawn by Jim Mooney, ran for 10 issues before cancellation for low sales. Despite its short run, it has remained as a cult classic. Steve Gerber promised to wrap up its unfinished plotlines in The Defenders but was fired in 1978 and never completed the storyline. In late 1978, editor Al Milgrom assigned writer Steven Grant to complete the story in two issues of The Defenders in 1979, at the end of which most of the original series' characters were killed. A 10-issue series revamping the character was published from 2007 to 2008, by Jonathan Lethem and Farel Dalrymple.
Omega the Unknown is a superhuman bio-engineered by aliens who decided to create an ideal race as their legacy to the cosmos. Their penultimate model, later called Omega, was placed on the planet Srenesk to learn. He commandeered a Protar starship and fled to Earth after inadvertently destroying the world on which he was placed. The Earth was the home of the final "model" in his series, the artificially created boy James-Michael Starling, whom Omega sought to protect from the Protar. While on Earth, Omega was employed for odd jobs by a New York City pawn-broker, and had a number of battles with local beings. He battled the Hulk, Electro, Blockbuster, and Nitro. While later embroiled in a rematch with Blockbuster, the second Foolkiller saved Omega's life by murdering Blockbuster. Omega was finally shot dead in Las Vegas by the Las Vegas Police while battling Ruby Thursday. James-Michael Starling, who had inherited Omega's power, learned the true origin of himself and Omega but refused to accept the truth. He threatened to use the power of Earth's biosphere against the Defenders. Seeing the error of his decision, he ended his own life when he turned the power inward and self-destructed.
Why revisit all this? Because Marvel Comics appears to be. Not openly, not yet, but it looks at if he may be part of the upcoming Annihilation: Scourge event. Somehow, somewhere. Because arel is republishing Omega The Unknown #1 as part of their Annihilation True Believers dollar line in their December solicitations. As well as issues featuring Nova, Annihilus, James Jameson -Man Wolf, Odinpower, Moondragon, Mantis, Super-Skrull and Super Adaptoid. Expect them all to play a role in the event… but which issue for Omega The Unknown? Would this be too on the nose?
ANNIHILATION – SCOURGE OMEGA #1
Matthew Rosenberg (W) • Manuel Garcia (A) • SPOILER Cover by Josemaria Casanovas
Variant Cover by Arthur Adams
In the face of the Annihilation, there is no more room in the cosmos for heroes or villains – only survival.
40 PGS./ONE SHOT/Rated T+ …$4.99
Here are those True Believers: Annihilation solicits…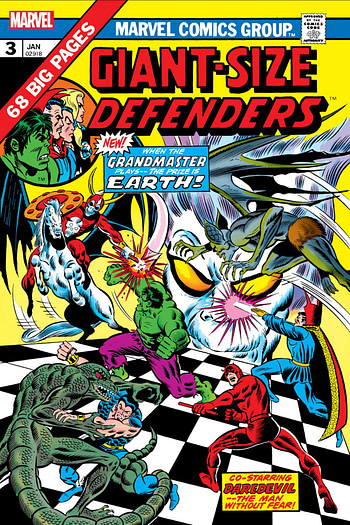 GIANT-SIZE DEFENDERS #3 FACSIMILE EDITION
Written by STEVE GERBER, JIM STARLIN, LEN WEIN, BILL EVERETT & STAN LEE
Penciled by JIM STARLIN, BILL EVERETT & STEVE DITKO
Cover by SAL BUSCEMA
It's Daredevil's first adventure with the Defenders! No, not Jessica Jones, Luke Cage and Iron Fist — we're talking the original Defenders: Doctor Strange, Hulk, Sub-Mariner, Valkyrie and Nighthawk, the greatest non-team in comics! And now, the Man Without Fear must join them in a cosmic game of chess played between the ever-manipulative Grandmaster and the playful Prime Mover! The rules are simple — Daredevil and the Defenders vs. a dangerous group of aliens…with the fate of the Earth at stake! And among these enemies is a major threat with a big future ahead of him — Korvac, from the year 2977! One of the biggest power players in the Marvel Universe makes his debut in this action-packed classic! It's one of the all-time great Marvel comic books, boldly re-presented in its original form, ads and all! Reprinting GIANT-SIZE DEFENDERS #3.
64 PGS./Rated T …$4.99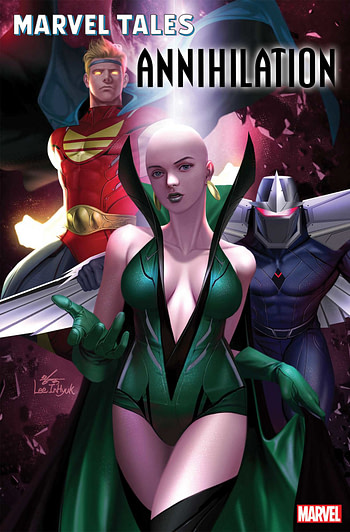 MARVEL TALES: ANNIHILATION #1
Written by STEVE GERBER, MARK GRUENWALD, RALPH MACCHIO & DANNY FINGEROTH
Penciled by DON HECK, JIM STARLIN, JOHN BYRNE & MIKE MANLEY
Cover by INHYUK LEE • VIRGIN VARIANT COVER BY INHYUK LEE
Three of the major players in Marvel's next cosmic epic star in classic adventures, as we celebrate the 80th anniversary of the House of Ideas with the era-spanning MARVEL TALES! This anthology series shines a spotlight on fan-favorite characters, features timeless stories and highlights some of our most impressive talent from the past eight decades. First, former villain and future Guardian of the Galaxy Heather Douglas first takes on the name of Moondragon — and is rudely interrupted by the Man Without Fear in DAREDEVIL (1964) #105! Then Quasar, newest head of security at Project PEGASUS, is the victim of mistaken identity when the Thing comes a-calling — and a-clobberin' — in the John Byrne-illustrated MARVEL TWO-IN-ONE (1974) #53! And in DARKHAWK (1991) #6, the fledgling hero with a space-faring destiny joins Daredevil and Captain America in battle with the U-Foes!
80 PGS./ONE-SHOT/Rated T …$7.99
ANNIHILATION TRUE BELIEVERS MONTH!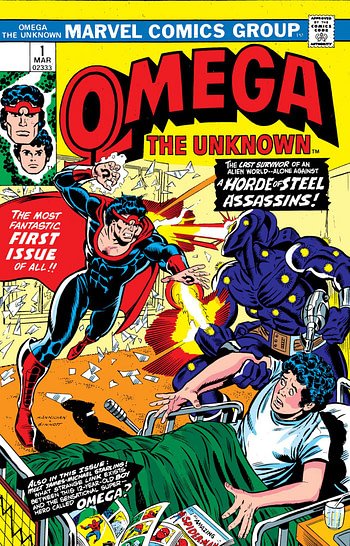 TRUE BELIEVERS: ANNIHILATION – OMEGA THE UNKNOWN #1
Reprinting Omega the Unknown (1976) #1
32 PGS./Rated T …$1.00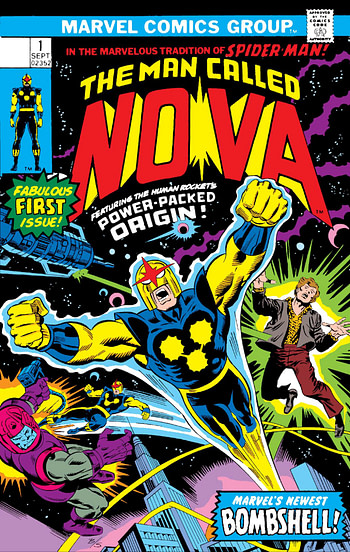 TRUE BELIEVERS: ANNIHILATION – NOVA #1
Reprinting Nova (1976) #1
32 PGS./Rated T …$1.00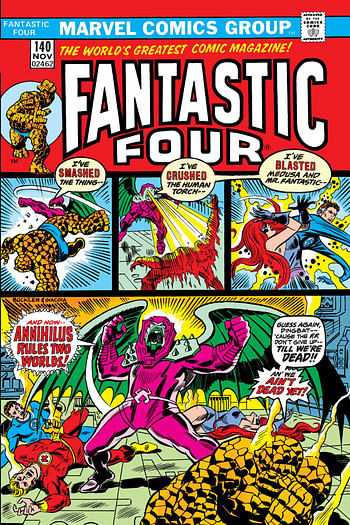 TRUE BELIEVERS: ANNIHILATION – ANNIHILUS #1
Reprinting Fantastic Four (1961) #140
32 PGS./Rated T …$1.00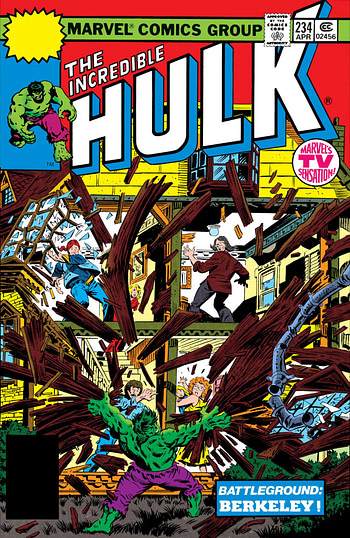 TRUE BELIEVERS: ANNIHILATION – QUASAR #1
Reprinting Incredible Hulk (1968) #234
32 PGS./Rated T …$1.00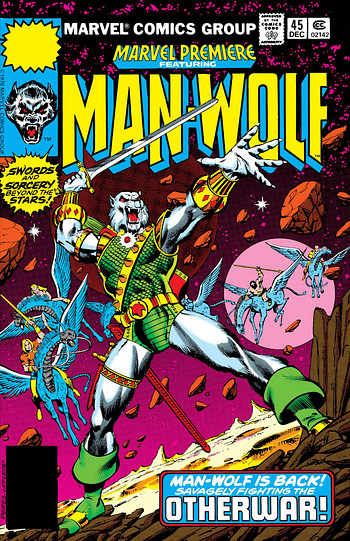 TRUE BELIEVERS: ANNIHILATION – MAN-WOLF IN SPACE #1
Reprinting Marvel Premiere (1972) #45
32 PGS./Rated T …$1.00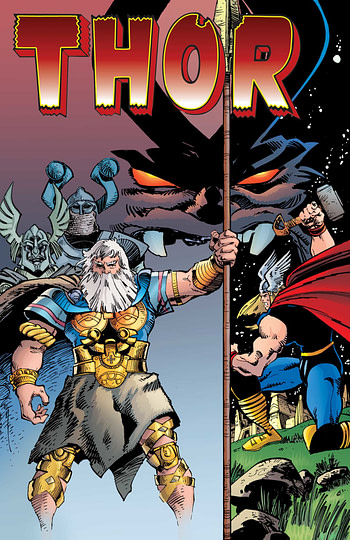 TRUE BELIEVERS: ANNIHILATION – ODINPOWER #1
Reprinting Thor (1966) #349
32 PGS./Rated T …$1.00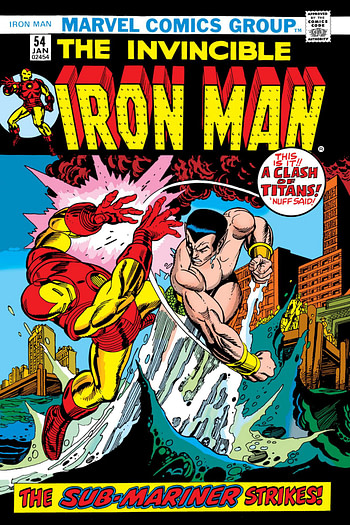 TRUE BELIEVERS: ANNIHILATION – MOONDRAGON #1
Reprinting Invincible Iron Man (1968) #54
32 PGS./Rated T …$1.00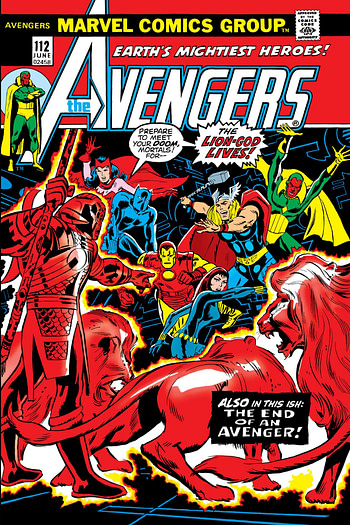 TRUE BELIEVERS: ANNIHILATION – MANTIS #1
Reprinting Avengers (1963) #112
32 PGS./Rated T …$1.00
TRUE BELIEVERS: ANNIHILATION – SUPER-SKRULL #1
Reprinting Thor (1966) #142
32 PGS./Rated T …$1.00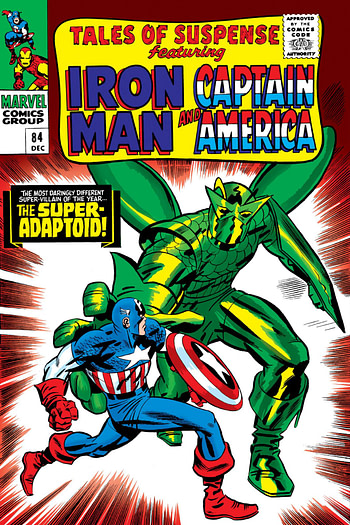 TRUE BELIEVERS: ANNIHILATION – SUPER-ADAPTOID #1
Tales of Suspense (1959) #82,# 84
32 PGS./Rated T …$1.00