The Walking Dead has been around since 2010, 9 years and 9 seasons of survival against people and walkers . I have been a fan of the series since the beginning but the show started to get boring in the later seasons. I have to admit though, this newest season of the show caught me off guard. It was an absolute pleasure to watch the Walking Dead after the series did it's jump to the future. After Rick's departure,  his legacy lives on and it is great to see the way they try to handle his legacy. There was a lot of twists and turns throughout season 9 and I honestly am looking forward to season 10. Funko is dropping a new wave of Walking Dead Funko Pop Figures for the newest season. Two fan Walking Dead favorites make their return with older versions of Michonne and Daryl Dixon. We will also be getting Daryl's dog, which is kind of odd but a good set to go with Dixon. Two new characters will be getting their Funko debut in this wave as well. First is Judith Grimes the child of Rick Grimes who is a little asskicker herself. Lastly, we are getting the Whisperers Leader Alpha, and her design is pretty awesome with the walker face mask. Walking Dead fans should be glad to still be getting Funko Pops for their series.
As far as I have seen these are all set to release as a common drop so they are up and available for preorder and located here. This newest wave of Walking Dead Funko Pops are set up for release this December 2019.
"Your communities are a shrine to a long-dead world. My people, the Whisperers–we live as nature intended." – Alpha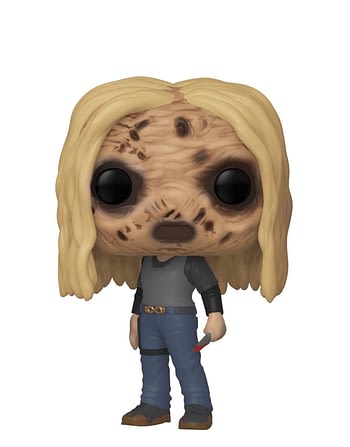 Coming Soon: Pop! TV—The Walking Dead
Bring home some of your favorite The Walking Dead characters including Pop! Daryl, Pop! Dog, Pop! Alpha with a mask, Pop! Judith, and Pop! Michonne.
Enjoyed this article? Share it!