Amazon officially leaked the next Dungeons & Dragons module information we already kinda knew about with the next Rick and Morty adventure. Back at D&D Live 2019: The Descent in May, it was announced that there would be a complete module created revolving around the Adult Swim series, with Kate Welch leading the team on the design and structure of the adventure. But we didn't really know much about it after that beyond the fact it would be coming out in late 2019. This week, Amazon leaked the info on a new listing, including box art, revealing the release date of November 19th. We have the product details below, but this looks like it will be a cool addition to the game with one of the best Dungeons & Dragons crossovers they could do.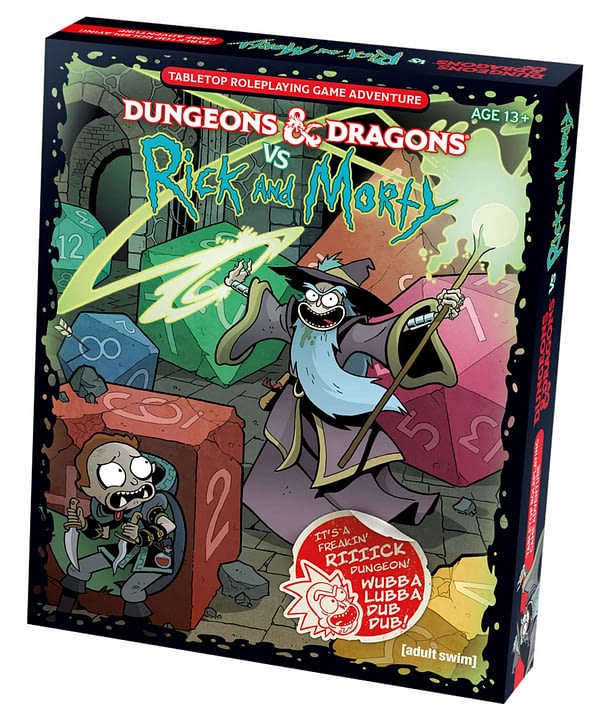 This tabletop roleplaying game boxed set blends the world of Dungeons & Dragons with mad narcissistic genius, Rick Sanchez's power gaming sensibilities, nostalgia, sarcastic metacommentary, and the reasons why people play D&D in the first place.

• Following the hugely popular comic book series Rick and Morty vs. Dungeons & Dragons, this boxed set is co-authored by Jim Zub (co-writer of comic book series) with new art by Troy Little (illustrator of comic book series).

• This complete campaign experience includes the following components: (1) 64-page rulebook annotated by Rick (2) 32-page original adventure for levels 1–3 (3) 4-panel folding Dungeon Master screen featuring new art (4) 5 ready-to-play character sheets (6) 11 dice
Enjoyed this article? Share it!