Perfect World Entertainment and Panic Button have launched Torchlight II on the Nintendo Switch, PlayStation 4, and Xbox One.
The game was originally developed by Runic Games, but thanks to Panic Button and Perfect World, the award-winning dungeon crawler has made it to consoles. The console edition features brand new content, including exclusive pets for each platform. Torchlight II is rated T for Teen and available for digital download worldwide on for $19.99 USD.
"We're excited to welcome gamers back to the world of Torchlight," said Yoon Im, COO of Perfect World Entertainment. "Panic Button Games has done a phenomenal job of bringing the magic of Torchlight II to consoles. Now a new generation of players can discover why the game is a beloved cult classic for RPG fans!"
"Developing Torchlight II for consoles has been a labor of love for our team," said Dan Hernberg, Head of Production at Panic Button. "As long-time fans of the Torchlight series, we were thrilled when Perfect World chose us to bring this iconic game to new platforms. We hope Torchlight fans are ready to relive the adventure. Gold and glory await!"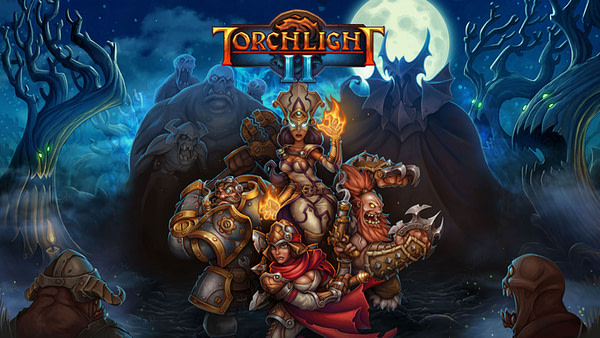 Torchlight II on consoles brings new trophies and achievements, plus four exclusive pets – the Unicorn for Nintendo Switch, the Faerie for PlayStation 4, the Molten Imp for Xbox One, and the Yapper goblin for those who pre-purchase the game on any platform.
The game's key features include:
Action-Packed Multiplayer

Play co-op with up to 4 players online. Experiment with hero synergies and take on the fiercest opponents together, for the world's most awesome loot.

Customizable Characters

Create and customize a character from one of four distinct classes. Each class can be played as either male or female with customized features. Robust skillsets and powerful equipment provides tons of opportunity for unique character builds.

Open, Dynamic World

Explore vast overland areas and multiple hub towns. Fight through rain and snow, day and night. Level randomization ensures fresh new layouts, paths, loot, and monsters every time you play.

Pets and Fishing

Empower your pet with special transforming consumables. Pets can fight by your side or sell loot while you're out adventuring.

New Game Plus

Once you've completed Torchlight II's primary campaign, you can start again with the same character for a significantly greater challenge. You'll keep all of the skills, gold, and gear you worked so hard for.
Check out the launch trailer below.