This is the Top Ten Bleeding Cool Bestseller List, as compiled by a number of comic stores from their sales on Wednesday and Thursday. It measures what are known as the "Wednesday Warriors", those who can't wait till the weekend to get this week's comics. Powers Of X takes the top, with Event Leviathan starting to get some attention, but the biggest surprise will be the success of Once & Future by Kieron Gillen and Dan Mora from Boom Studios…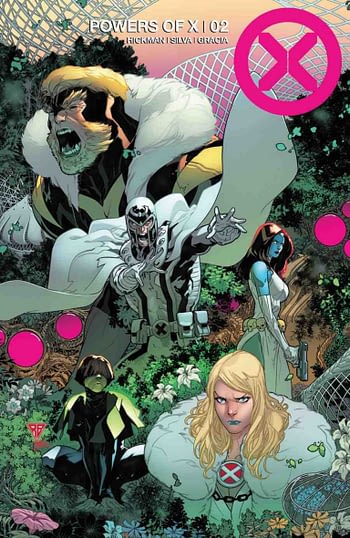 Top ten bestselling comics of the week
Powers Of X #2
Event Leviathan #3
Once & Future #1
Fantastic Four #13
Silver Surfer: Black #3
Detective Comics #1009
Amazing Spider-Man #27
Flash #76
Catwoman #14
Absolute Carnage: Scream #1
Thanks to the following retailers…
Who had this to say:
Big week for Marvel at FFF with 7 of the Top Ten spots going to the House of Ideas. Powers of X was our big seller this week. People keep coming back and we're still getting new readers a lot of whom have lapsed and are back for some Hickman goodness. If they weren't here for X-Men, then it was probably Spider-Man as both Absolute Carnage tie-ins from this week sold very well. Scream was our third bestseller this week which sounds insane but true.
Amazing hit just under Scream's numbers and Symbiote Spider-Man had sold out by Wednesday for it's last issue. We didn't order super heavy for it, but between subs and shelf readers we were out super quickly. House of X #2 managed to break into this week's Top Ten thanks to the bombshell it dropped last week. Batman made an appearance with both Event Leviathan and Detective hitting #6 and #7 on the Top Ten. Uncharacteristically low for the Dark Knight. Of course Once and Future sold very well for us as I'm sure it did for every store in the country. We sold close to the same amount of all of the Powers covers combined with one cover of Once and Future.
—-
Hickman's X-Men relaunch remains untouchable for a fourth week in a row, and despite the fact that Powers of X does seem to sell a little slower than House of X (RIP to everyone only reading half the story), it still sold twice as much as this weeks second place seller, Event Leviathan. Momentum doesn't seem to be slowing at all, and we've been sold out of Powers since late in the day Wednesday. The Absolute Carnage tie-ins Scream and Separation Anxiety performed a lot better than I expected them too, and markedly better than the War of the Realms tie-ins did. I think there's notably more excitement around this event, given the sheer popularity of Carnage. Otherwise, everything was business as usual, besides Silver Surfer Black picking up a little steam. Good for it.
—-
No Superman or Supergirl? What the heck? That took the steam out of this week's sales.
—-
We're a little off from regular sales patterns this week (with the exception of POWERS OF X #2 ruling the roost.
DETECTIVE COMICS is smack in the middle of the list, rather than it's usual stomping grounds in the top five. Meanwhile, Kieron Gillen and Dan Mora's new book through Boom! Studios, ONCE AND FUTURE, fiercely locked down the second place slot. SILVER SURFER and FANTASTIC FOUR fill out the rest of the top half of the list.
Towards the bottom half we see DC's Superman-ish event EVENT LEVIATHAN, as well as a surprisingly low placement for AMAZING SPIDER-MAN.
Notable Sales:
Tales to Astonish #42 gd/vg $90 We just got in a small collection with some nice silver books from 1959-1962. It's all pretty low grade, but I think we can get some people interested in most of it.
We sold an entire run of the first Micronauts series. All 59 issues with both annuals. Nothing special except for issue #8 which is the first appearance of Captain Universe. I'm sure it made one specific person very happy to have the whole run.
Enjoyed this article? Share it!