Jim Calafiore writes;
Not that I wasn't going there already. There's plenty of people who figure my ticket's pretty much punched at this point. But the dispensation of my theoretical soul aside, I mean I'm visiting Hell in my new project, Ned, Lord Of The Pit: a comedy of terrors, live and looking for support right now on Kickstarter. Just click the link: nedlordofthepit.com to check it out. (And if you're nice enough to back the physical book, you'll get a special extra Bleeding Cool-exclusive goodie. Just message me through the campaign after backing to let me know you found it through Bleeding Cool, and you're golden.)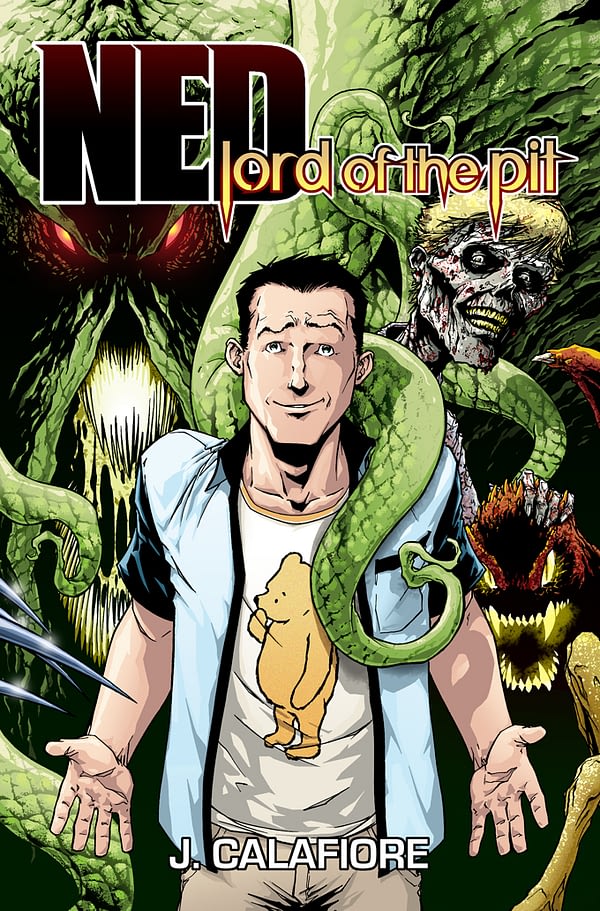 As you can guess from the title, NED is not the name of a person you'd expect to be the ruler of a Pit in the bowels of Hell. (Actually, I'm not sure I want him near the bowels of anything.) Or involved in the supernatural at all for that matter. He agrees wholeheartedly, and would prefer it not be so. But in this original 144-page graphic novel written and drawn by me, I don't give him much of a choice. And I make him deal with a lot: nasty demons; friendly demons; couch-potato demons; bickering angels; curious police detectives; an irritating zombie roommate; parental issues; and worst of all, a seven-year-old's birthday party. Oh yeah, and dark forces that agree he should not be a Pit Lord… permanently. He's got to find a way out of this before it gets him killed.
I've been working in the comic industry for over 30 years, on more books than I can name. But what the hell, here's some: Aquaman, Deadpool, Batman, Batgirl, Black Panther, Exiles, Secret Six, and Gail Simone and my creator-owned Kickstarter-funded Leaving Megalopolis. (Shameless self-promotion has gotta be one prerequisite for damnation, right?) Working in comics all these years has been great. I've gotten to draw almost every character at Marvel or DC. I love comics; it's all I've ever wanted to do since I can remember wanting to do something other than soil my diaper… though I guess that wasn't really a conscious decision (I swear). Now I find myself back doing what I started way back when I broke into comics at Caliber Press, (RIP Gary Reed, one man I'm sure I won't be bumping into while dipping my toes into the Lake of Fire). And all I want to do is just keep making comics. My own comics. Working on something that's all mine is gratifying; telling a story I want to tell, and the way I want to tell it. And I love horror and the supernatural, especially mixed with humor. It's almost subversive; make with the funny, then hit with the scary, or the weird, or the surreal. If I had to pin it down, I'd say NED is more Buffy than Ash, but a bit of both.
Please give the campaign a look. The 144 page full-color graphic novel will also include behind-the-scenes extras. And I'm dragging some friends to Hell with me. Comic industry greats Alan Davis, Mike McKone, Tom Raney, Matt Clark, Sean Chen (and more to come) will be doing guest pin-ups for the supplements. At least I won't be alone…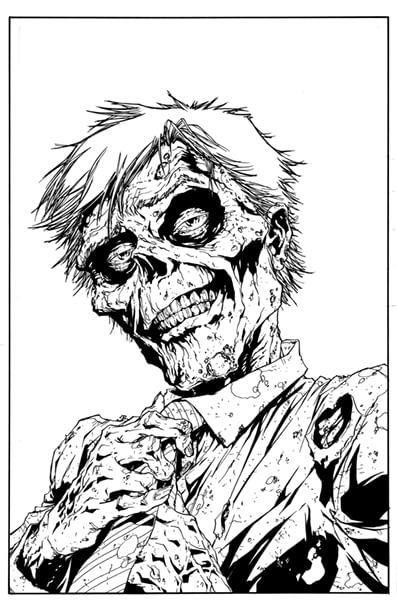 Enjoyed this article? Share it!