Spawn #300 hit Final Order Cut-Off last weekend, and there were plenty of covers for retailers to up their orders on. And they did. Even though they din;t know what the main cover looked like. Why? Because, Todd McFarlane hadn't finished drawing it yet. Here he is below, this week, still inking the cover…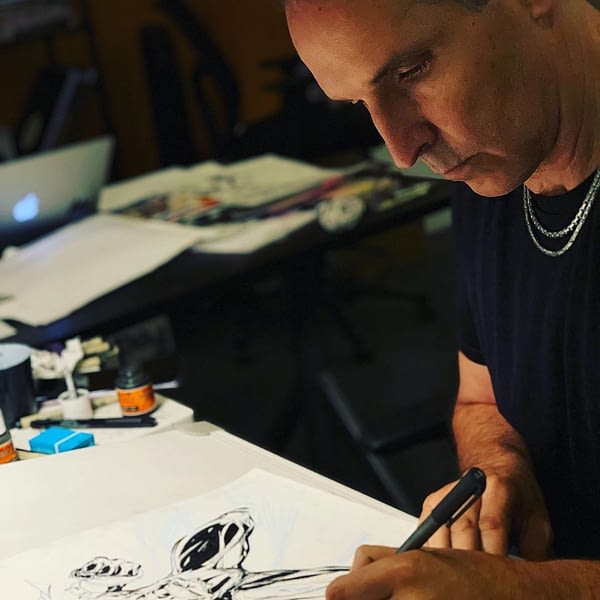 So at least we get to see his knee. But Spawn #300 dominated with just a little input from House Of X, Powers Of X, DCeased: Die Another Day, Harley Quinn & Poison Ivy, Something Is Killing The Children. But mostly Spawn.
Greetings from the coal face of the direct comics market. Where retailers try to increase their orders of certain comics ahead of sale. Where supply and demand and most accurately reflected, where you can see which books are hot, where new orders are coming in and how retailers are reacting to new, unanticipated desire! And courtesy of stats from Diamond Comic Distributors.
TOP 25 ADVANCE REORDER COMICS/GRAPHIC NOVELS/TPS

| | | |
| --- | --- | --- |
| Publication | Price | Publisher |
| SPAWN #300 CVR M CAMPBELL VIRGIN | $7.99 | IMAGE COMICS |
| HOUSE OF X #4 (OF 6) | $4.99 | MARVEL COMICS |
| SPAWN #300 CVR Q BLANK SKETCH CVR | $7.99 | IMAGE COMICS |
| SPAWN #300 CVR N CAMPBELL B&W | $7.99 | IMAGE COMICS |
| SPAWN #300 CVR O OPENA VIRGIN | $7.99 | IMAGE COMICS |
| SPAWN #300 CVR P OPENA B&W | $7.99 | IMAGE COMICS |
| DCEASED A GOOD DAY TO DIE #1 ANDREWS VAR ED | $4.99 | DC COMICS |
| SPAWN #300 CVR J PARODY VAR MCFARLANE | $7.99 | IMAGE COMICS |
| HOUSE OF X #1 (OF 6) 3RD PTG SHALVEY VAR | $5.99 | MARVEL COMICS |
| POWERS OF X #1 (OF 6) 3RD PTG SHALVEY VAR | $5.99 | MARVEL COMICS |
| SOMETHING IS KILLING CHILDREN #1 FOC FRISON VAR | $3.99 | BOOM ENTERTAINMENT |
| HARLEY QUINN & POISON IVY #1 (OF 6) POISON IVY CARD STOCK VA | $4.99 | DC COMICS |
| HARLEY QUINN & POISON IVY #1 (OF 6) HARLEY CARD STOCK VAR ED | $4.99 | DC COMICS |
| SPAWN #300 CVR G CAMPBELL | $7.99 | IMAGE COMICS |
| ABSOLUTE CARNAGE SYMBIOTE SPIDER-MAN #1 AC | $4.99 | MARVEL COMICS |
| SPAWN #300 CVR A MCFARLANE | $7.99 | IMAGE COMICS |
| SPAWN #300 CVR K 25 COPY INCV CAPULLO & MCFARLANE VIRGIN | $7.99 | IMAGE COMICS |
| SOMETHING IS KILLING CHILDREN #1 CVR A DELL EDERA | $3.99 | BOOM ENTERTAINMENT |
| LEGION OF SUPER HEROES MILLENNIUM #1 (OF 2) | $4.99 | DC COMICS |
| SPAWN #300 CVR H OPENA | $7.99 | IMAGE COMICS |
| HOUSE OF X #4 (OF 6) MOLINA CONNECTING VAR | $4.99 | MARVEL COMICS |
| MARVEL COMICS PRESENTS #7 2ND PTG SIQUEIRA VAR | $4.99 | MARVEL COMICS |
| SPAWN #300 CVR I ALEXANDER | $7.99 | IMAGE COMICS |
| HOUSE OF X #4 (OF 6) HUDDLESTON VAR | $4.99 | MARVEL COMICS |
| DOOMSDAY CLOCK #11 (OF 12) VAR ED | $4.99 | DC COMICS |
TOP 25 REORDER COMICS/GRAPHIC NOVELS/TPS
| | | |
| --- | --- | --- |
| Publication | Price | Publisher |
| BOYS OMNIBUS TP VOL 01 (MR) | $29.99 | DYNAMIC FORCES |
| POWERS OF X #1 (OF 6) | $5.99 | MARVEL COMICS |
| BATMAN LAST KNIGHT ON EARTH #2 (OF 3) | $5.99 | DC COMICS |
| BATMAN WHITE KNIGHT TP | $19.99 | DC COMICS |
| HOUSE OF X #1 (OF 6) 2ND PTG LARRAZ VAR | $5.99 | MARVEL COMICS |
| HOUSE OF X #2 (OF 6) | $4.99 | MARVEL COMICS |
| SECRET WARS TP | $34.99 | MARVEL COMICS |
| ABSOLUTE CARNAGE #1 (OF 5) AC | $7.99 | MARVEL COMICS |
| BOYS OMNIBUS TP VOL 02 (MR) | $29.99 | DYNAMIC FORCES |
| CONAN THE BARBARIAN ORIGINAL MARVEL YEARS OMNIBUS HC VOL 02 | $125.00 | MARVEL COMICS |
| MARVELS MONSTER-SIZED HC | $75.00 | MARVEL COMICS |
| BERSERK DELUXE EDITION HC VOL 01 (MR) (C: 1-1-2) | $49.99 | DARK HORSE COMICS |
| BOYS OMNIBUS TP VOL 01 PHOTO CVR ED (MR) | $29.99 | DYNAMIC FORCES |
| AUTHORITY OMNIBUS HC | $99.99 | DC COMICS |
| DC SUPER HERO GIRLS TP VOL 04 PAST TIMES AT SUPER HERO HIGH | $9.99 | DC COMICS |
| EC ARCHIVES CRIME SUSPENSTORIES HC VOL 04 (C: 0-1-2) | $59.99 | DARK HORSE COMICS |
| BATMAN LAST KNIGHT ON EARTH #1 (OF 3) 2ND PTG (MR) | $5.99 | DC COMICS |
| BATMAN HUSH COMPLETE TP | $24.99 | DC COMICS |
| HELLBOY OMNIBUS TP VOL 01 SEED OF DESTRUCTION (C: 0-1-2) | $24.99 | DARK HORSE COMICS |
| AMAZING SPIDER-MAN OMNIBUS HC VOL 01 NEW PTG | $100.00 | MARVEL COMICS |
| UMBRELLA ACADEMY TP VOL 01 APOCALYPSE SUITE | $17.99 | DARK HORSE COMICS |
| BATMAN LAST KNIGHT ON EARTH #2 (OF 3) VAR ED | $5.99 | DC COMICS |
| BERSERK DELUXE EDITION HC VOL 02 (MR) (C: 1-1-2) | $49.99 | DARK HORSE COMICS |
| JOKER TP BLACK LABEL | $14.99 | DC COMICS |
| MISTER MIRACLE TP (RES) (MR) | $24.99 | DC COMICS |