Event Leviathan saw its third issue published yesterday. The identity of Leviathan is still up in the air. Bleeding Cool had previously run the idea that it may be a minion of Amanda Waller, who has used her access to gain real power behind-the-scenes, along the lines of an episode of Sherlock. But Bleeding Cool reader Nicholas Hartz had a pretty decent theory. He told us,
I'm calling Leviathan being Maxwell Lord. All other organizations except Checkmate were attacked. They dropped the Janus Directive clue which was all of the organizations being brought under one umbrella. He could read and manipulate minds to find out who each hero is. He could play with their minds to keep him off his tracks. The father issues definitely involve Mac as his father killed himself after finding out his company was producing items that caused cancer. Alex Maleev said it was crucial that his cover to the second book was set up to look like the cover to JLI, and it provided a clue. Just seems to roll itself up into Max being the Villian.
It's a good theory… and Maxwell Lord will be appearing in the Wonder Woman 1984 movie. In the comics, he was last seen as the head of Checkmate, against Waller, who imprisoned him and made him part of an upcoming Task Force XI. Which might make it personal. And his powers might have revealed whatever secrets Waller has…
Any other takers?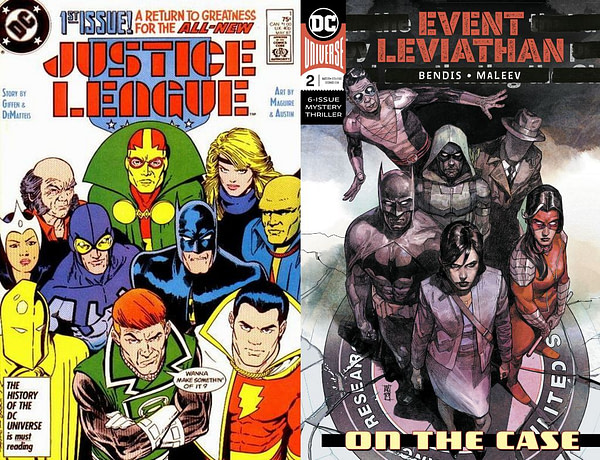 EVENT LEVIATHAN #3 (OF 6)
(W) Brian Michael Bendis (A/CA) Alex Maleev
From the award-winning team of writer Brian Michael Bendis and artist Alex Maleev, it's DC's biggest whodunit in years! The world's greatest detectives-Batman, Green Arrow, Lois Lane, Plastic Man, the Question and Martian Manhunter-have gathered to solve the mystery behind the true identity of Leviathan's leaders and the destruction of the world's top intelligence agencies! Red Hood is their leading suspect-and he is on the loose! Plus, the Silencer takes her shot! This mystery will unleash a new evil on the DC Universe! In Shops: Aug 14, 2019 SRP: $3.99