When Benjamin married Alicia Masters, he took a vow to love his wife for better or for worse. But when you get married, it's not just your partner who you're committed to for the rest of your life. There's also their family, as Ben soon learns when the Hulk attacks the newlyweds on their first vacation together to consummate their marriage, as we see in this preview of Fantastic Four #13 by Dan Slott and Sean Izaakse.
The recap page gets us caught up. Ben and Alicia didn't get to have a honeymoon after their wedding because it was interrupted by Doctor Doom trying to capture Galactus and convert him to a clean energy source. But once a year, Ben turns from a rocky orange monster with a rocky orange penis into a man with a regular penis, which makes it the perfect time for the couple to take a vacation and consummate the marriage. Unfortunately, before they could get settled in, The Hulk crashed the party, and he wasn't looking for a threesome. It turns out he's being mind-controlled by Alicia's stepfather, the Puppet Master.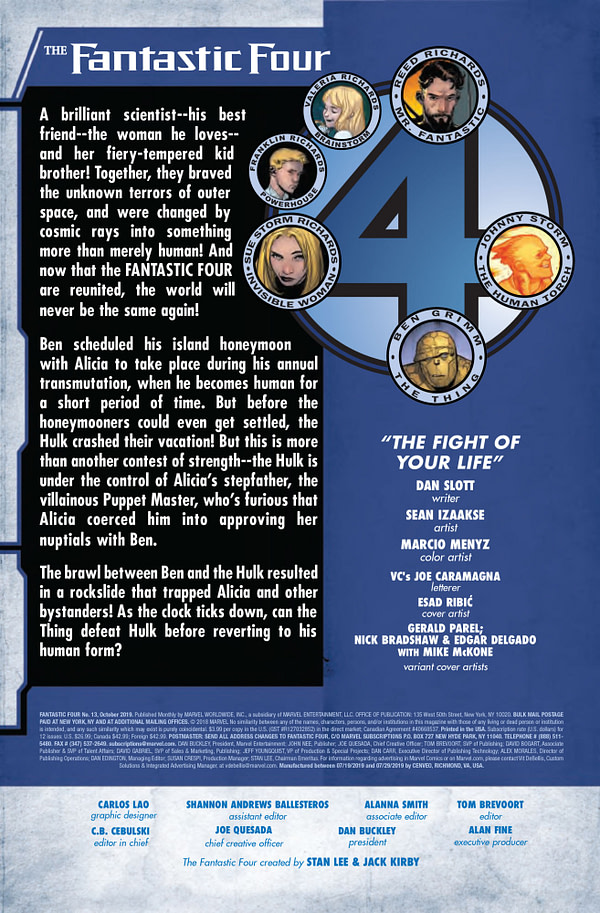 And Ben has less than an hour to stop the Hulk before he turns into a man, and while that's much better for lovemaking, it's not nearly as good for battling a gamma-powered brute.
Ben quickly works out what's going on when "Hulk" shows concern for Alicia, trapped beneath rubble by the fight.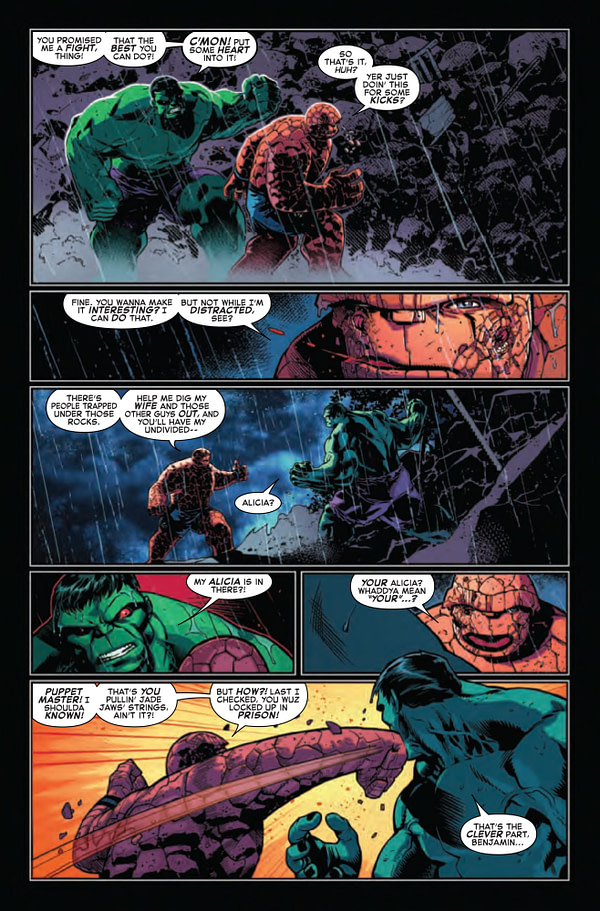 And he tries to appeal to the Hulk to break free of Puppet Master's control.
Unfortunately, beating up Ben is too much fun and the Hulk is kinda on board with this.
So it looks like Ben will have to do things the old-fashioned way when Fantastic Four #13 hits stores on Wednesday.
FANTASTIC FOUR #13
JUN190969
(W) Dan Slott (A) Sean Izaakse (CA) Esad Ribic
The clock is ticking down. The moment is almost at hand. That do-or-die instant where Ben Grimm will either find the will to win –
or be annihilated by the fighting-mad Immortal Hulk!
Rated T
In Shops: Aug 14, 2019
SRP: $3.99
Enjoyed this article? Share it!